It's BN Style Spotlight; this is a periodical feature on the style page that will provide detailed analysis of the personal style of a budding fashion star. We kicked off our premiere feature with Ifeoma Williams – View post HERE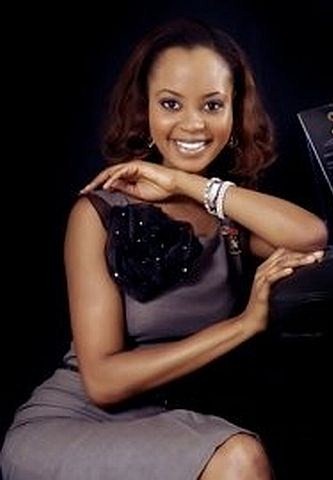 For our second feature, it should come as no surprise that we chose Omowunmi Akinnifesi. She is no stranger to BN; her photos and fabulous dresses have graced our pages on numerous occasions!
In 2005, it was her beauty and poise that won her the Most Beautiful Girl in Nigeria Crown, but it's her remarkable style that awards Omowunmi the BN Style Spotlight.
This former beauty queen, CEO of Elle Poise and Lagos State Environment Ambassador, continues to generate media attention for her beauty, style and grace.
When it comes to style, we all can learn a thing or two from Omowunmi. She never fails to dazzle on the red carpet; this and the strong likelihood that she's wearing MAI, are the only two predictable things about her style; as she constantly serves up different looks for us to be wowed by.
While Omowunmi favours classic pieces like the sheath dress, pearls and a white blouse, she still manages to keep her style fresh. This she does with bold colours, fun patterns and cuts; which highlight her petite frame and draw attention to her best features; like her shoulders and slim waist.
In the words of Coco Chanel; "A girl should be two things: Classy and fabulous". It will be accurate to say, that Omowunmi fulfils Coco's criteria.
Read on as I analyze her personal style and determine what indeed, makes her style BN worthy!!!
RED CARPET DIVA: On the red carpet it's 'lights, camera, action!' It is glamour personified; you are who you wear! With celebrities like Omowunmi, consistency on the red carpet can be difficult. You have to aim to bring something fresh, so your style doesn't become boring to watch; while staying true to your personality, so that your image remains identifiable with your style. This is one trick Omowunmi Akinnifesi has up her sleeves; and it seems like fashion designer, Ohimai Atafo has something to do with!More than half of the time she's on the red carpet, she is draped in one of his designs.
With her red carpet style; she loves to bring in the wow factor with elaborate focal points! Either it's in the colour, or in the intense display of exquisite feminine details or in the dress's flirty cut. On the carpet, her style aims to accentuate the curves outlining her petite frame, and emphasise her perfect shoulders!
THE GIRL NEXT DOOR: With her casual style Omowunmi favours simple, classic cuts and a pair of heels. Her casual pieces are highlighted with statement necklaces, which draw attention to her neckline. She opts for bold colours, prints and details to add an interesting dimension to a classic cut.
BEJEWELED PRINCESS: Omowunmi likes to emphasise her neckline; either in leaving it bare or with embellishments! A dress with a heavily embellished neckline can be tricky to pull off! With dresses like that, the key is to keep accessories simple; so that the look has just one major focal point! We all can definitely use Omowunmi's style as a fashion tutorial! She is one lady who knows her maths; when to add, and when to subtract!
ANKARA FLAVOUR: When dressed in African prints, Omowunmi gives it her individual flavour! By imbibing her preferred dress cuts to her western and ethnic influenced traditional pieces. She keeps to flattering her figure, drawing attention to her neckline, and to her soft feminine details; like bows and frills.
HER INNER 'COCOLET': Coco Chanel remains one of the greatest fashion icons of all time. She revolutionized what was thought of as fashion; giving it depth and a life of its own. With her, came the infamous Little Black Dress (LBD), bell bottoms, the Chanel No 5, the Chanel jacket and the Chanel suit. She believed that elegance could be attained by the sheer act of simplicity.
Omowunmi's style reflects Coco's style philosophy; she exudes sophistication with her minimalist approach to accessorizing. Omowunmi understands the beauty of a bare neckline, that pearl stud earrings will be the better complement to a single strand pearl necklace, than chandelier earrings. She understands that the luxury of a piece of jewellery is not seen through its weight; but how the wearer is able to keep it in balance with the rest of the look!
My conviction that Omowunnmi is a scholar of the Coco Chanel Institute of Style, is made certain with her love for pearls. One of the easiest ways to channel the fashion Icon is to layer on pearls, while keeping everything else relatively simple; this Omowunmi does while exuding every bit of confidence!
GET THIS OMOWUNMI AKINNIFESI LOOK:
I particularly adore this look on her. She wears all white the way it should be worn; with sophistication!! I am also loving the Coco Chanel inspired layered pearl necklace!
Channel this look by Omowunnmi with less than $150:
Frill Detailed Blouse: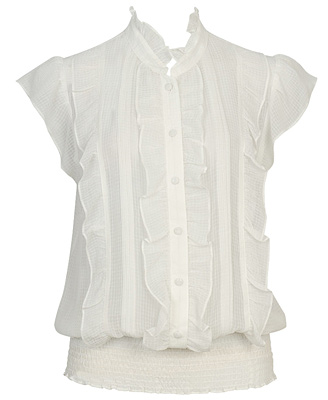 This Frill detailed blouse is a close resemblance to Omowumni's. Like hers, its cap sleeve and has a high neckline.
Purchase here for $22.80
White Wide-leg Pants: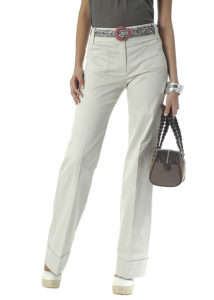 Omowunmi opts for white wide leg pants as a perfect complement to her blouse. The cut and the fit are very flattering; they give her height and help streamline her petite silhouette. These white pants from Mango will do exactly the same!
Purchase here for $16.90
Clutch: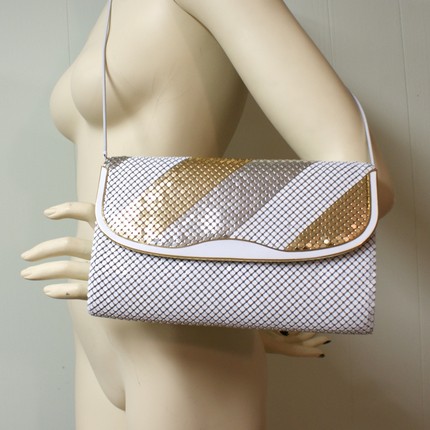 Already, the frills in her white blouse add texture to her look. But, she decided to add a little more with her metallic patchwork envelop clutch. This 80's vintage metal mesh clutch will equally give the texture and edge you need to pull off  this classic all white get up!
Purchase here for $18
Shoes: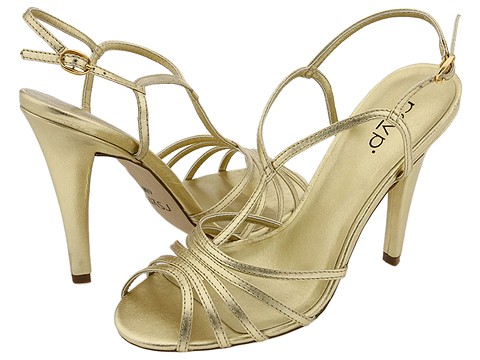 When building a shoe collection, after your first two purchases in colours black and brown; a bright colour and metallic should follow. Invest in a solid pair of gold shoes to play an idle complement to this great outfit, and to glam up a mini dress!
Purchase here for $57.65
Belt: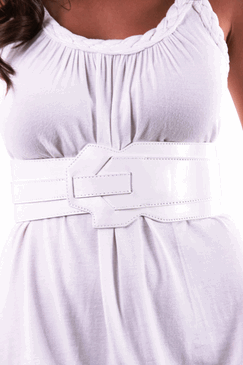 Omowunmi loves to draw attention to her slim waist line. Here, she is able to do so with a wide waist belt. Wearing a top and a bottom that are suitably lose fitted, she makes the right choice in cinching her waist; as it gives her silhouette some defintion. I like that she opts for a belt with no fuss and colour intrusions. Like her belt, this one will equally do the same, in an all white ensemble!
Purchase here for $21.90
Pearls: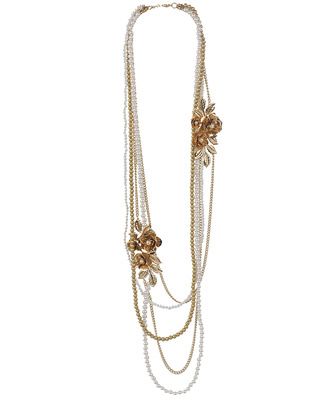 Complete this look with layered pearls! Like with Omowunmi's, this equally has gold accents!
Purchase here for $8.80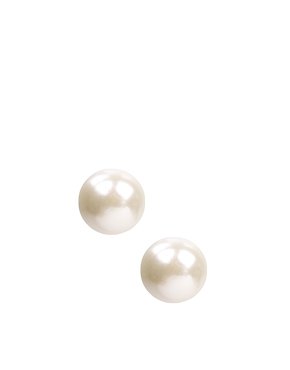 A pair of pearl stud earrings is uniquely adequate to balance off the chic look!
Purchase here for $7.36