"Are you tired of the constant excuses being given for the incompetence of PHCN, we are forming this group as a voice for our generation. It is time for something to be done,the 7th oil producing nation is one of the world's worst electricity providers. The time has come, Nigeria belongs to all of us and if we do not speak out now,its the same burden we will all have to bear. So join,tell your friends, family anybody you can, enough is enough. Our voice may be small now but as the group grows and the word is spread, the government will hear our words and something will be done. LIGHT UP NIGERIA so progress in all the other sectors can advance also.
Energy is the engine that drives industrialization, which improves communication, helps innovation in science and Technology, provides sound healthcare delivery system and improves citizens' standard of living. Since energy is the engine that drives industrialization, a sound energy policy would indirectly create jobs even in unexpected sectors."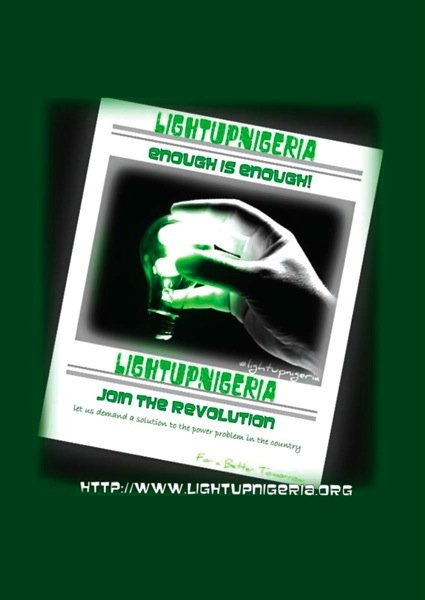 Those are the words from the Light Up Nigeria facebook group.
The electricity situation in Nigeria is dire. It affects every facet of life and business. Starting a new business? Well, take your business plan and multiply you costs by 2 because you are going to need that allocation to handle all the alternative energy costs (diesel, petrol, inverter, solar power etc…). You will need this because reliance on the government-supplied power will kill your business before it starts. Therefore, it is great to see people pushing for a change.
Light Up Nigeria is a youth and online driven initiative to change the electricity situation in Nigeria.
Connect via Twitter and #Light Up Nigeria or via Facebook

Visit the Light Up Nigeria website
Eldee introduces Light Up Nigeria

Amara Nwankpa of lightupnigeria.org tells us more about the Light Up Nigeria Movement