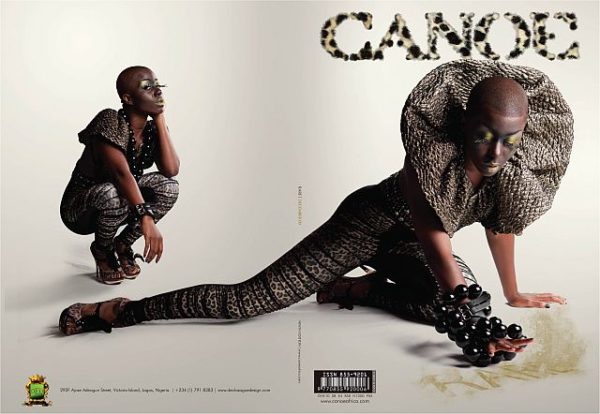 CANOE Quarterly Magazine finds something to be cheerful about despite the state of the economy. Its new edition, titled the RARE Issue, continues in the publication's mission to celebrate Africa.
CANOE has become quite famous for both its articles and its design. And its ninth edition does not disappoint. The 196-page new issue, titled the RARE Edition, features wrap-around art – meaning the illustration covers the entire front cover, spine and back cover. Photographed by Ghana's Steve Ababio, the model wears an edgy outfit by internationally-renowned designer Deola Sagoe; an outfit which itself brings to mind the word exotic – and yes, rare.
"At CANOE, we do things differently," editor-in-chief and founder Kweku Nkwaye Ansah has said to his creative staff. With his design team, the best photographers on call and a host of contributing photographers, he has made the magazine a reflection of the editorial: cool, smart and above all, classy; taking traditional print and coffee-table books as inspiration, to create a truly collectable item, and in the process, developing CANOE's own imitable style.
The RARE Issue aims to inspire with its usual mix-up of articles and features: from an in-depth sit-down interview with Ghanaian man of style and owner of MVP Hair Products, Sandy Osei-Agyeman, to Dambisa Moyo, a Zambian woman with a much impressive resume, who turned her thoughts on Foreign Aid to Africa into one of the year's best-selling and most controversial books.
"With the current state of the economy within Africa and globally," says Ms. Emmanuella Esele Iyoha, Managing Editor of CANOE, "it was a bit daunting to find anything worth celebrating. And as a luxury publication, it was doubly hard. But in the course of preparing this issue, we came across features that we knew would appeal to our CANOE reader, and yet send across the message – We Africans are a resilient people and somehow we always manage to pull through the direst situations."
The issue highlights the efforts of young Africans like Noella Coursaris Musunka, an international fashion model, who at the age of 26 has put her spotlight on the world stage to good use by creating an educational foundation and has begun building a school for girls in her hometown of Kalebuka, in the Democratic Republic of Congo. Also Corneille Nyungura, a musician of Rwandan origin, who survived the Rwandan genocide of 1994 that claimed the lives of his whole family.
"As a people, we still celebrate this spell joyously," says Kweku Ansah. "However, let's approach the New Year with thought and caution. As we cut our losses, rebuild the broken and correct the errors we made, let's remember that 2010 can only be better with our cohesive efforts. Let's search and develop things we are good at. The CANOE philosophy is to focus on our strengths, work closer together and not sink the boat."
CANOE will debut this special cover edition at its CANOE 53 SAILS FASHION FAIR, on the 19th of December in Accra-Ghana. The RARE Edition will thereafter be available at select stores and on newsstands from the 20th of December. The magazine is also available for order and subscription at: www.canoeafrica.com
About CANOE:
CANOE Quarterly Magazine is an African luxury lifestyle magazine celebrating our great continent and its people in a uniquely deserving manner, with a purpose to correct the distorted international media image of Africa. In its 2 years of publication, CANOE has attracted a Rolodex of print and editorial content and can now be seen in the following countries: Nigeria, Ghana, Liberia, Sierra Leone, South Africa, Botswana and Zambia with a subscription base in the UK, USA, CANADA and other parts of Europe. In the course of the year, Kenya, Mozambique and Egypt will also be introduced to this quarterly edition.
________________________________________________________
BellaNaija.com is the online media partner of several magazine publications. Therefore, we publish press releases related to each new issue of the magazines.