All the holidaymakers have left and it seemed like the buzz had left Lagos for a bit. Not to worry, this weekend, our beloved city is BACK!
There are lots of great outing options this weekend. Check on it below!
___________________________________________________________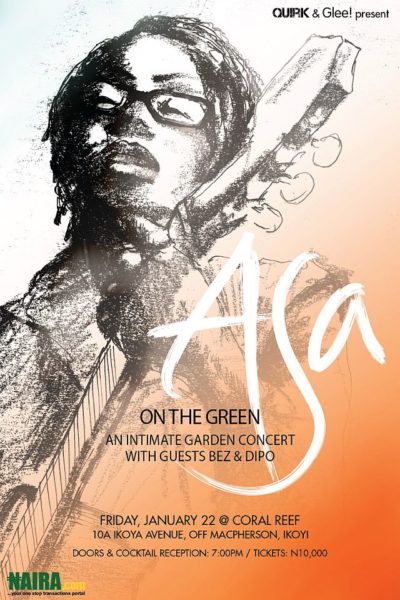 The president is missing, the youth are trying to blow up the world, the Super Eagles are beyond belief. Fire on the mountain and we all need a little relief.
On Friday, January 22, Asa brings it, performing on the green at Coral Reef, Ikoyi for the third concert by Quirk and Glee! One of the most talented singers to come out of Nigeria in recent times, Asa sings plain spoken words of truth and hope. Join us on the green for a night of her soulful music with the diverse and vibrant audience all our concerts draw.
The night will begin with a cocktail reception from 7-8, after which singers Bez and Dipo will open the show. These two singers are the future of Nigerian soul and r&b, showcasing two divergent but exciting possibilities for our music.
Tickets are N10,000 per person. They are available for purchase immediately at Naira.com, a one-stop shop for all electronic transactions. It provides a safe and secure online portal for purchasing goods and services and accepts most major card and payment platforms.
Also find tickets at Jazz Hole, Awolowo Road, Ikoyi or Chamscity, Isaac John Road, Ikeja GRA. Alternatively, call Tomi at 0802.313.8309 or Tola at 0813.661.1633 for information and tickets.
The event is supported by Naira.com – a one stop transaction portal where you can buy an endless variety of items as well as concert or air tickets.
Friday, January 22
Doors and cocktails at 7:00PM
Coral Reef
10A Ikoya Avenue,
Off Macpherson, Off Queen's Drive,
Ikoyi, Lagos
___________________________________________________________


A fashion showcase of children's ethnic wear – bebeGrafiti – designed for children aged 4-16 encouraging them to embrace African culture through fashion and view it is HIP, TRENDY and FASHIONABLE for the 21st century.
Date:
Sunday, January 24, 2010
Time:
2:00pm – 4:00pm
Location:
POSH CAFE – MEGA PLAZA- THIRD FLOOR, VICTORIA ISLAND, LAGOS
___________________________________________________________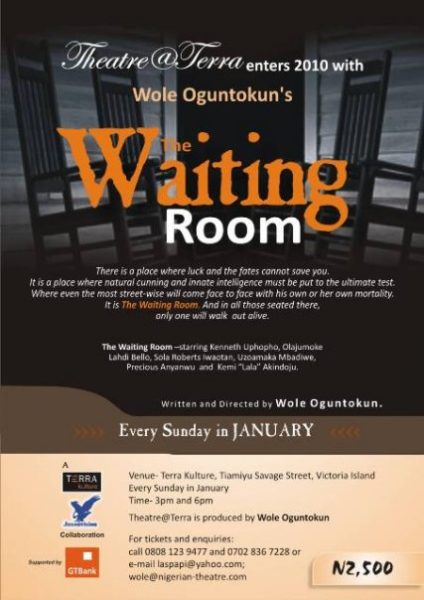 [email protected] presents the premiere of – The Waiting Room – written/directed by Wole Oguntokun
Every Sunday in January
Time: 3PM and 6PM
Venue: Terra Kulture, Tiamiyu Savage Street, Victoria Island, Lagos
Price: 2500 Naira
Email: laspapi @ yahoo .com