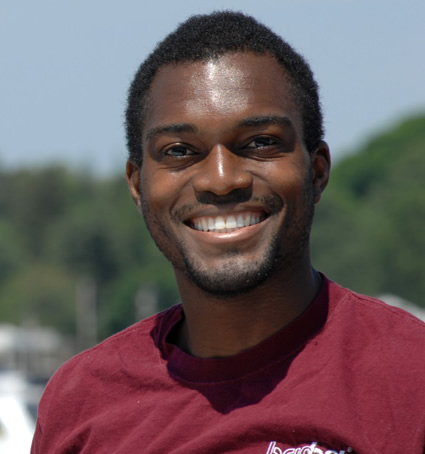 After graduating from Yale Law School in 2009, Seun Adebiyi is attempting to compete as Nigeria's first Winter Olympics delegate as a skeleton sledder. Seun swam competitively for years, but missed qualifying for the 2004 Summer Games by a tenth of a second in the 50-meter freestyle. However, while preparing for the Winter Olympics, he found a lump in his groin. Further tests revealed he has stem cell leukemia and lymphoblastic lymphoma, two aggressive forms of cancer that ultimately require a bone marrow transplant.
According to Perez Hilton, Seun wrote a letter to pop star Rihanna asking for her help finding a bone marrow donor. Along with Greys Anatomy star Justin Chambers, Rihanna has joined his mission to recruit 10,000 donors through DKMS Americas, the world's largest bone marrow donor center. "Leukemia interrupted Seun's dream of being the first Nigerian in the Winter Olympics," says Rihanna. "But together we can help him make his dream come true! We need to find him a bone marrow donor! Please sign up with DKMS!"
Seun and his mother, an Oxford educated professor were in Nigeria in December to hold the first-ever bone marrow drive. Seun  has taken a leave from his job at Goldman Sachs which donated $10,000 for the  drive  and moved to New York City, where he is undergoing chemotherapy treatments at Memorial Sloane Kettering — and waiting for a donor.
For those in the United States and would like to help Seun and many other people of African descent in his position please visit  dkmsamericas.org for a registration kit or donate $65 to offset the cost of the kits. Please follow Seun's journey at http://nigeria2014.wordpress.com/.
[youtube]http://www.youtube.com/watch?v=Qtx00Wa6i1w[/youtube]