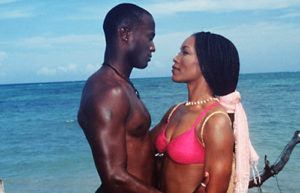 A friend asked for my help on this matter and I felt I needed to ask you guys to help out.
As a single girl living and working in Lagos, life can be tough. You finish school, got a job, say your prayers, take your vitamins and other things Mummy told you to do but somehow the good guys still managed to get snagged…by the bad girls!
…leaving you the dysfunctional, maniacs, psychos, stingy-oes, commitment-phobes … need I go on? Remember Slutty Sadie in school that you thought no guy would ever touch with a ten foot pole? Well, hello? Not only did she get married to a Jimmy Jean-Louis lookalike but he has the dough of Chris Aire to match! (No! Get out of here!) Someone once told me 'smart girls get married not necessarily good ones!' heh heh! I'm tempted to think its true. (hmm… Mummy didn't tell me about that one!) Or how many nice guys do you know that are married to women whose other names are synonymous with 'hitches'? Anyway, I digress. That is not my premise for today.
What my friend told me was this; After several attempts at kissing frogs, she has finally met one that could be a potential prince. According to her, he is cute, with eyes like liquid chocolate, a smile like sunshine and a body to die for. A little gruff but there's nothing a little feminine grooming can't fix. The only snag is that he is younger than her… and I mean WAY younger… like 9 years! Since my friend is fit, firm and takes good care of herself, she really doesn't look her age… until you look a little closer! But even then she's not bad looking at all. However she gets hit a lot by men that are younger than her and when she tells them straight up how old she is (She's in her early 40's) most of them don't seem to mind. Well, this particular young guy has been persistent and if the truth be told, she is flattered and a little sweet on him too but can she take it a notch higher by actually dating him? She sees visions of herself being abused publicly, being called 'agbaya', cradle snatcher, desperado, old mama, cougar and other choice names reserved by different people in society for her ilk. What's your take on this?
Seriously can you date a guy that is nine years younger than you? Tell the truth…And shame the devil!