We first featured Bunmi Koko when we conducted an exclusive three-part coverage of Young Africa Fashion Weekend(YAFW) where designer; Bunmi Olaye showcased the debut collection which was well received by BN readers.  View post HERE:
Fast forward to a year after the label was founded, Bunmi Koko is fast establishing itself as a leading label with former Spice girl; Mel B as muse and No 1 ambassador of their designs and out with a spectacular new collection titled "The Geisha Reform".
BN chats with Creative Director of Bunmi Koko; Bunmi Olaye:
Ijeoma: When was Bunmi Koko established?
Bunmi Koko: Bunmi Koko was founded in March 2009. The whole concept for Bunmi Koko is to build a luxury global fashion & art empire. At the moment we specialise in couture women's wear (including bridal & evening wear) and ready to wear fashion, whilst having a sister side to the company in illustration services. Our illustrations can be used for a variety of things from magazine editorials, advertisement, book covers, CD covers, movie posters, merchandise (invitations/wedding cards) and special commissions. This mix of art and fashion is key to our brand philosophy and all products and services aim to have our company slogan ingrained in them, which is 'Luxuria, Art, Elegans' (luxury, art, elegance).
IJ: What is the story behind the name Bunmi Koko?
BK: The name Bunmi Koko was inspired by the Creative Director's first name "Bunmi", which means 'God gave me' in Yoruba. 'Koko' is the affectionate nickname given by her partner, Francis Udom. "Koko" means 'my other half' in Efik, which is the Nigerian dialect in Calabar/Akwa Ibom. Hence, the full meaning of the name Bunmi Koko is "God gave me my other half".
IJ: Why was Mel B chosen as the labels muse?
BK: Very often muses are not chosen. A relationship that a muse has with a designer is normally sparked by initial interest from the muse herself on the product and what has become an evident relationship with Mel B and Bunmi Koko is her love of our designs and the fact she feels great in our luxury garments and is never disappointed with the product. Mel is a fan of the label, like most women who have come into contact with Bunmi Koko, we are thrilled that she loves the brand so much.
IJ: What is the influence your Muse has on the designs?
BK: There is no direct influence from our muses, however all our creations and designs are thoroughly researched and then applied to whichever collection/clients we are working on. This approach to detail produces innovative and directional concepts. As a female, I am also inspired by the curves of a woman's body and I know how to create shapes in ways that flatter women of all shapes and sizes.
IJ: What is the inspiration behind The Geisha Reform?
BK: This collection takes inspiration from a wounded Geisha's tale, agony and love concealed by beauty of masking. A moving work of art in 1940's Kyoto, Japan. A fusion of themes of inspiration linked the mix of traditional Japanese costume, interior deco and old English architecture. Wrap over details, oversized deep pleating and folding, forming the most beautiful structures and silhouettes.
IJ: What is the personality embodied in The Geisha Reform?
BK: The Geisha's Reform collection is a fusion of themes which link the mix of traditional Japanese costumes, interior decor and old English Architecture. I was inspired by the solemn beauty of a Geisha woman and her alluring beauty, however the reforming and twist is the other influences of architectural structure which are seen on the shoulder pleating and the wrap over details are not worn in the traditional sense.
IJ: What are your plans for the line?
BK: Bunmi Koko's intention is to be a luxury lifestyle brand with products ranging from Fashion (Womenswear, Menswear, Kids wear, Lingerie, Accessories – Bags, Belts, Hats, Scarves, Gloves, Jewellery, Eyewear, Swimwear and Footwear), Beauty (Fragrance, Cosmetics, Scented Candles). We also plan to expand our illustration portfolio to include Fashion (print design on T-shirts and scarves), Multi-Media, Bespoke, Stationary, Greeting Cards, Books and Exhibition), which stems from the creative director's artistic background.
Our ongoing projects include the following; Matriarchy Collection June 2010, Official Launch of Bunmi Koko Label 2010, Spring/Summer 2011 Collection, Bunmi Koko Illustration Launch, and finally we are to showcase in AFRICA FASHION WEEK 30th June – 3rd July, Sandton Convention Centre, Johannesburg during FIFA World Cup, 2010.
My review of  the collection:
The Geisha Refom ready-to-wear collection from Bunmi Koko is in every sense wearable! The collection features carefully constructed cuts, geometric patterns, a soft palette of blues and pinks and textures creatively combined to produce pieces which outline perfectly the female frame. Like with her introductory collection, she also features a few white pieces. The cuts are made to flatter as she uses figure enhancing slash belts for a lot of the dresses.
I love the subdued sexiness I get with the pieces in this collection, from the flirty short lengths, to the plunging backs and the key-hole detail on the bodice of some pieces. Keeping in line with the current fall trends, the collection features a cape and a jumpsuit which are the darker pieces in this collection.
What I find most striking in this collection are the sleeves of each piece; the soft pleats embodied in the pieces give them more of an appeal. I am a huge fan of the pink pieces in this collection; they are in my opinion lust worthy!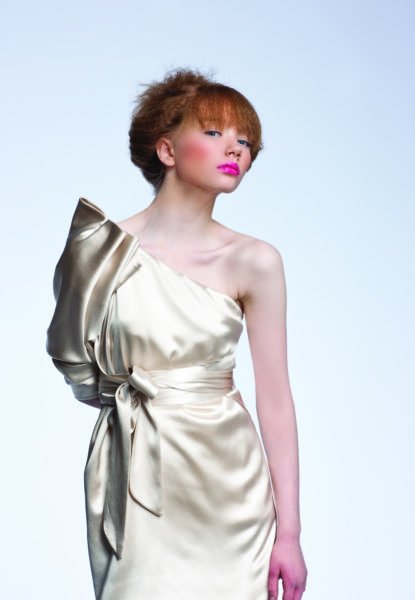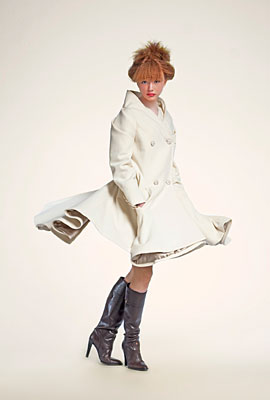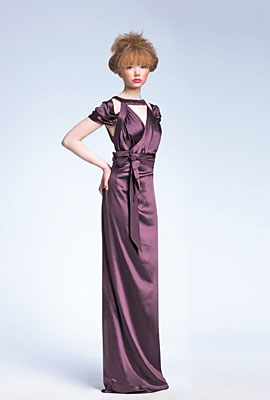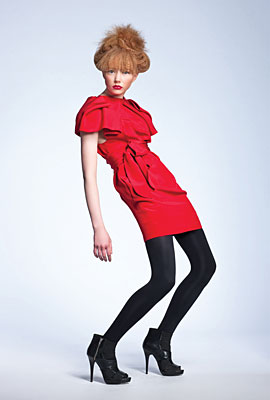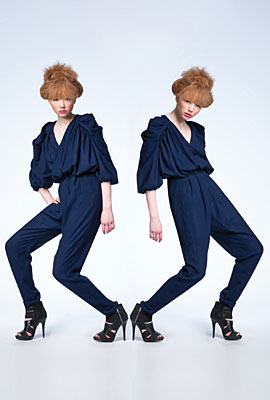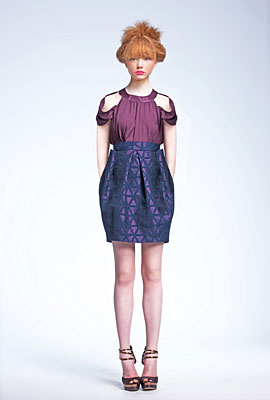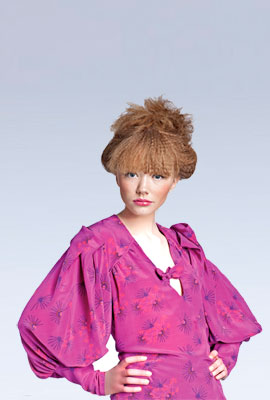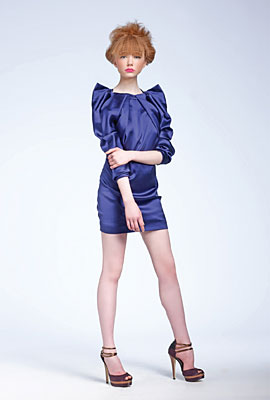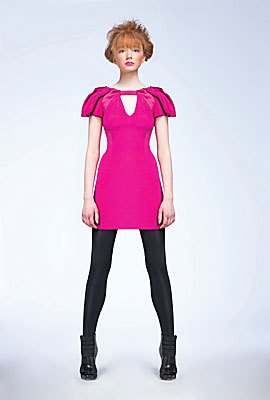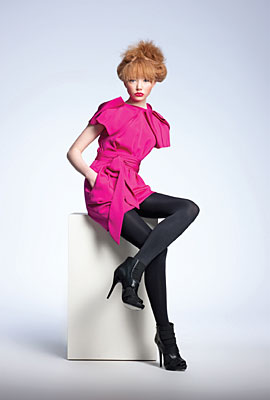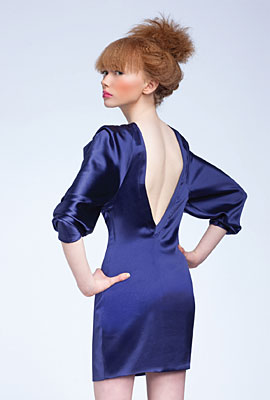 Muse; Mel B in Bunmi Koko creations: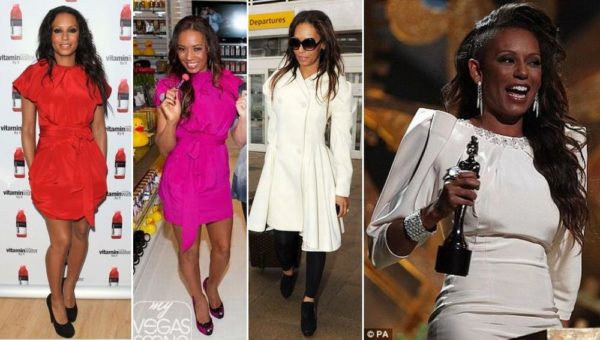 Visit the Bunmi Koko website HERE:
To enquire about clothing items: [email protected]