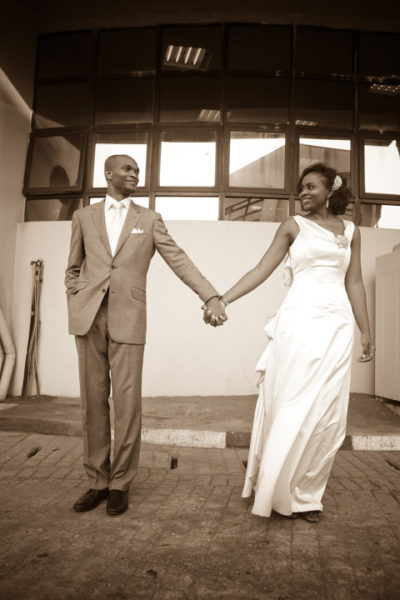 From a short holiday to a lifetime romance. Mayowa Akintobi was on holiday in Nigeria and she met Lekan Fabode, almost immediately, they both knew that they were fated for each other. The couple had multiple connections but somehow they had never met before that time. Indeed, it was simply meant to be. After dating for a year, the groom moved to the US and their beautiful relationship blossomed even more. After an utterly romantic proposal, Mayowa and Lekan began planning their wedding.
On the 17th of December 2009, they celebrated their traditional engagement in the midst of family and friends. The colours of the day were rich and earthy – Chocolate Brown, Ivory and Sage Green. Mayowa simply glowed in her ivory and brown iro and buba with matching gele. Her diamond accessorizes were given a traditional accent with a coral bead necklace. Lekan matched his bride as he was dressed in a regal brown and ivory agbada with matching fila.
Mayowa and Lekan's white wedding held on the 19th of December 2009 was a classic and stunning event with glamorous vintage elements. The church blessing was held at Archbishop Vining Memorial Cathedral and the reception was at All Season's Plaza in Ikeja , Lagos.
The beautiful bride, Mayowa was so stunning in her Renella De Fina wedding dress. With its asymmetrical neckline and  scooped back with a dramatic bow, the dress was classic yet modern. Mayowa added special elements to create a gorgeous and unique look. A crystal brooch was added to the front of the dress and a lace insert was added to the back. The result was showstopping. Her hair was styled in romantic curls embellished with a crystal hairpiece while her bouquet of red roses completed the look. The groom, Lekan kept the classic theme in a dapper grey suit paired with a cream tie and pocket square. The colours of the day were Red, Burnt Orange and Cream with Gold accents. Mayowa's bridesmaids perfectly showcased the colours in knee-length red and burnt orange dresses.
Mayowa and Lekan's reception was fab and fun. They danced and enjoyed the day with their family and close friends. As the day transitioned to evening, they changed into their reception outfits and proceeded to enjoy a fun wedding party.
An absolutely beautiful, fairytale romance and wedding!
Wishing Mayowa and Lekan a blessed, happy, fruitful,  joyful and FAB life together.
___________________________________________________________________________________________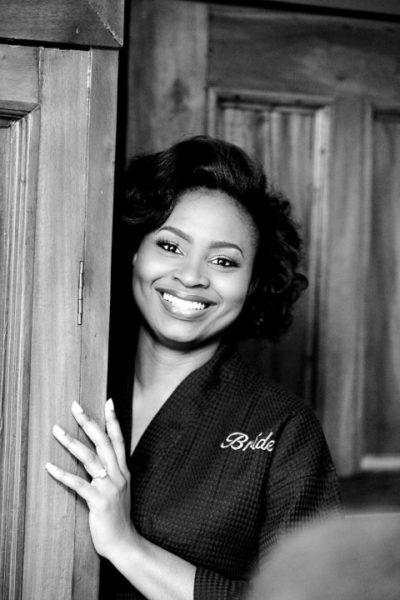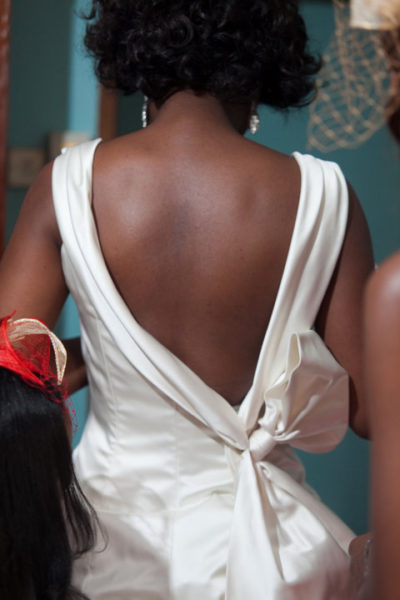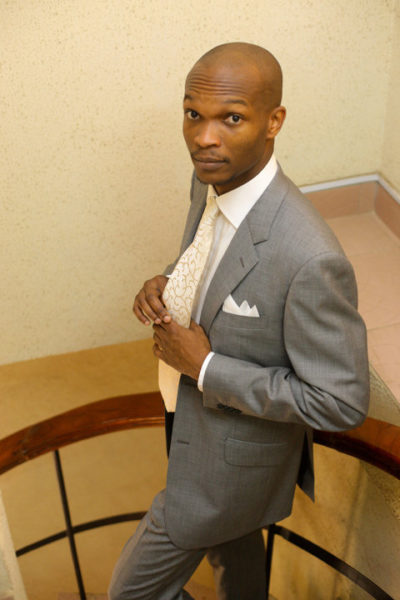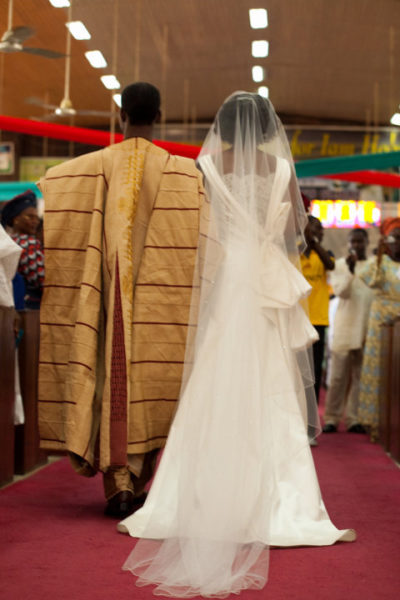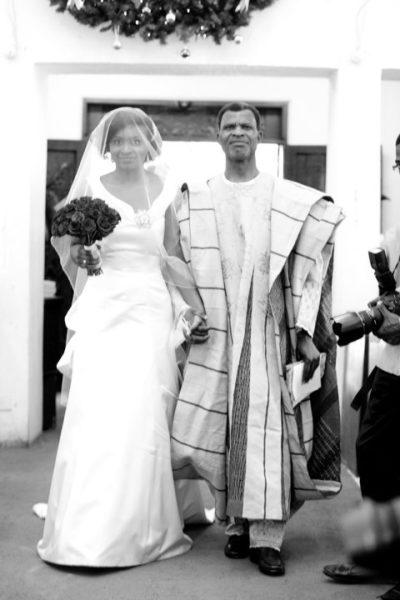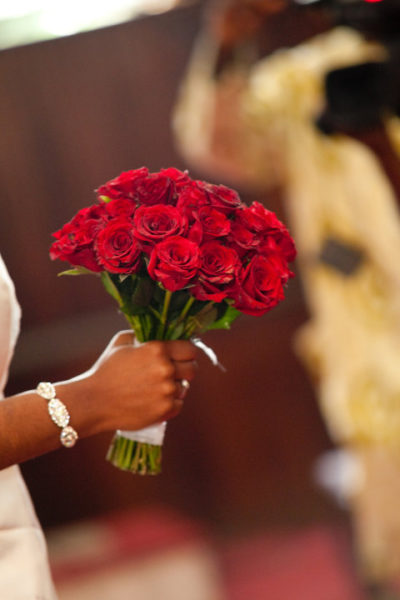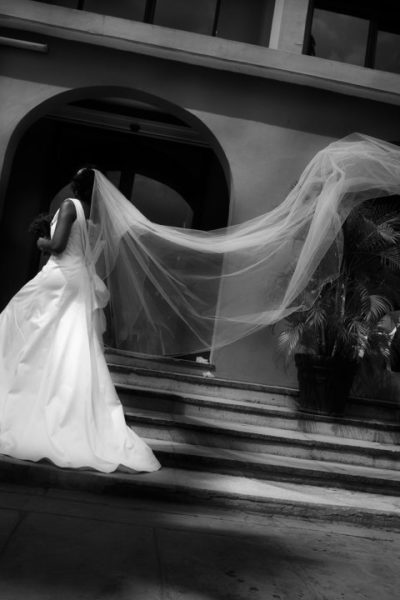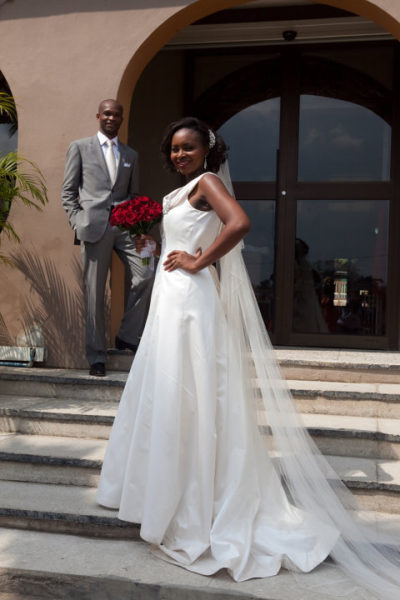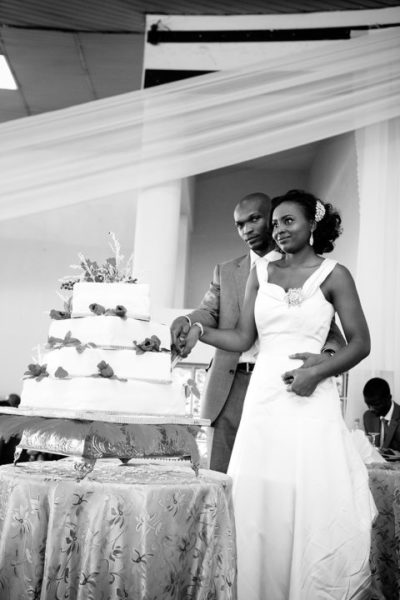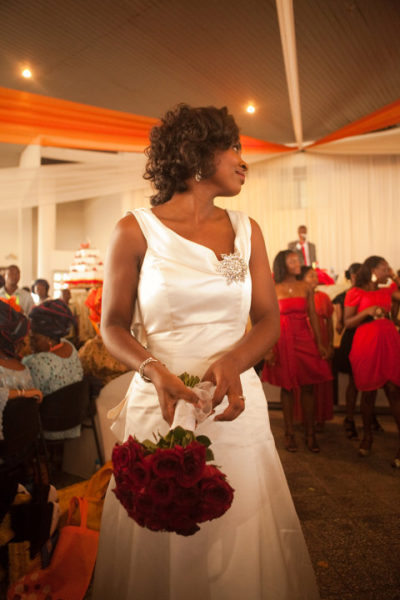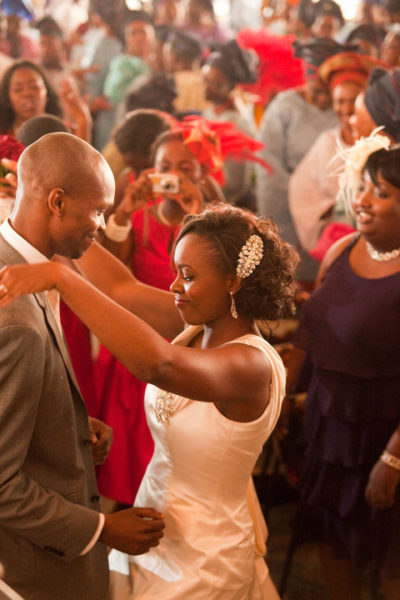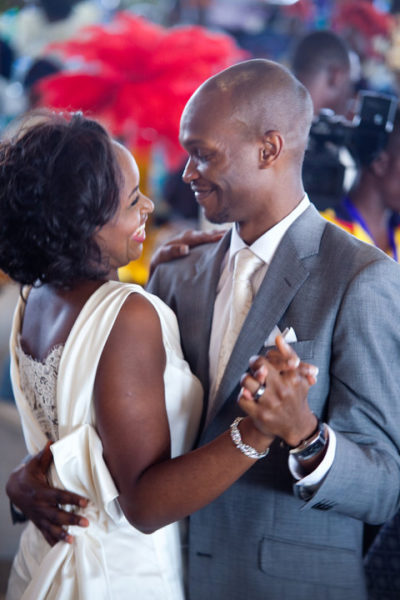 Traditional Engagement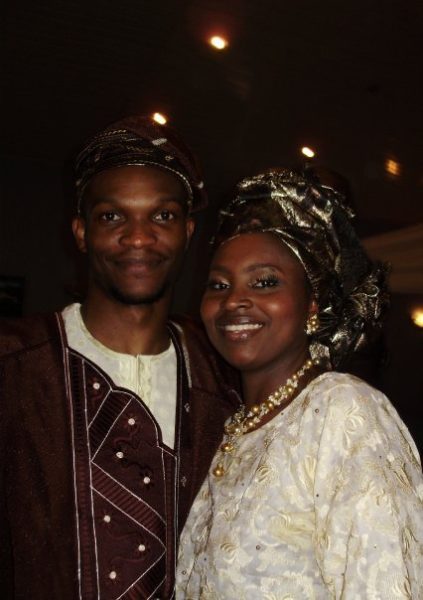 Wedding Dress: Renella De Fina (from Dimitra's Bridal Couture in Chicago)
Reception Dress: Peridot & Ruby
Jewellery: Priscilla of Boston
Hairpiece: Vintage
Photography by Atunbi