Designers are, in a way, storytellers; the infusion of their inspiration with their talent creates pieces which embody multi dimensional perspectives and narratives. British African designer, Anita Quansah hopes her fashion and jewellery tell timeless historical tales.
Anita Quansah crafts eclectic, stylish and expressive one-off pieces of clothing and neck pieces that fuse together timeless sophistication with great originality using recycled and vintage materials.
Since graduating from Chelsea College of Art and Design London with a degree in  Textile Design,  Anita Quansah has been working to develop and promote recycled textiles, by collaborating and creating intricate embroidered pieces for some of the leading textile and fashion design houses.
With the knowledge and inspiration gained from this experience, Anita moved on to design a collection of jewellery and fashion which she  says embodies "a bit of bohemian tribal fusion". The designs are effortless chic with a modern twist with each piece handmade in UK using vintage fabrics fused with reclaimed textiles, incorporating mixed metals, silver, gold, gunmetal and the introduction of colourful elements such as pearls, beads, rhinestones, ribbons and fringing giving the collection a sense of modernity with a hint of the past.
Her work is simply outstanding! Her jewellery speaks for itself, the elaborate structure, intricate craftsmanship and single descriptive narratives which as a collection create a mystical book of fairytales. Then there's her clothing which  juxtaposes her jewellery with its simplicity in its lines and cuts, but there's still that magnetic factor, you are drawn to its details. It is the same with her jewellery, always clearly articulated in a manner that generates a steer!
BN talks to Anita Quansah on her label, inspiration and her love for story telling:
Ijeoma Ndekwu: Why did you get into fashion, jewellery and interior designing?
Anita Quansah: I love fashion and all things beautiful. I guess this passion for design and creativity stems from my early childhood, watching my grandmother a seamstress teaching and making the most beautiful clothes from very interesting and embroidered textiles. Her Passion for creativity, her energy and her determination is what drove me to start experimenting at a very young age. I guess also being brought up around women and watching their different styles evolve also had an impact on me.
Also after years of selling my Luxury handmade couture fabrics to renowned fashion designers, I wanted to create a fashion line that people could not only learn about the intricate techniques used and see the true value of it, but also fall in love and own a piece of true wearable art. Then in 2004, Anita Quansah London the fashion line was launched. Since then, the line has proven very successful, sold out in the Laden Showroom London which was the first ever boutique that stocked the line, then from then, I went on to sell on Asos online which too was very successful and now I am designing a range of neck pieces to accompany the fashion line.
IJ: "Green fashion"; why do you choose to work with recycled materials?
AQ: Recycling has always been my passion .Over years of exploring and experimenting with reclaimed and vintage materials, I have realised that possibilities are endless, if you allowed yourself to view and use materials in an unconventional ways, by experimenting and allowing even simple mistakes to shape each piece. What others discard, I have re-used to create unimaginable rare luxury statement pieces which are truly one of a kind. Also I like to believe that by working this way, I am doing my bit for the planet.I try to encourage others too. There is a lot we can achieve by recycling. Many designers are now resorting to this mode of working. It is easier to work with. You will be amazed how much material and fabrics are discarded each time.
IJ: How do you source for your fabrics?
AQ: I source my materials from fabric and charity shops, vintage stores, some donated and inherited.
IJ: What is the design process? I'm guessing it differs with clothing, jewellery and interiors-Yes/No?
AQ: Because my pieces are not commercial and they are one off pieces it takes time to create. Each piece within the collection whether it's fashion, interior or jewellery is designed and handmade solely by me in my studio. Some pieces can take a few days, some hours, and some weeks. For the interior and fashion pieces, each piece is individually hand embellished free hand using reclaimed and vintage fabrics to add texture in a similar way that painters add colour by painting onto a canvas, by using a variety of techniques such as appliqué, and fabric manipulation and embroidery. These two aspects (Fashion and interior) of my design work side to side. The design process is the same, from the physical craftsmanship to the end product. The Jewellery design is totally different; it involves techniques which are equally challenging. For me Luxury is time, so products that take time to create should be appreciated. The physical craftsmanship hours, fine fabrics and years of knowledge involved in creating all my pieces is a luxury that I personally honour and hope others will as well.
IJ: What has been the response to your designs?
AQ: My designs have generated a lot of good interests, it has definitely got people discussing and questioning the processes involved. I have had a lot of happy clients whom have bought my designs and getting great buzz from wearing them. I have worked with many fashion stylists on different editorials such as German and British Vogue, Vision, German Tush, Muse, Dare 2 Magazine.
IJ: Which do you have the most fun designing; interiors, clothing or jewellery?
AQ: I am passionate about what I do, so I enjoy each aspect of my work whether fashion, interior or jewellery. Each design evokes a different feeling which is out of this world.
IJ: What inspires your designs?
AQ: I draw inspiration from Culture/travel, Nature, Art, Fashion present and past, music of past and present generation. Most of the time culture and nature has had a huge impact in my design. For nature inspired design I look to great artist such as Monet, Gustav Klimt and Robert John Thornton as well as the ever changing beauty that surrounds nature the tone, patterns, placement and proportion.
IJ: Would you say your point of view as a designer has evolved over the years?
AQ: Definitely yes, I have enjoyed and embraced every change in my design career. Each year is different. I have matured creatively and I have learnt to appreciate my work a lot more. Also I have learnt and discovered new exciting techniques and materials.
IJ: You harnessed your talent and took time to perfect your craft by gaining substantial experience before starting your own label. How did your prior experience prepare you?
AQ: My training at Chelsea College of Art and Design London helped me build a foundation in what I am doing today. It provided me with good support system, it exposed me to facilities and exhibitions that enabled me to broadened my design skills and discover who I really was as a designer. I had the creative ability, but I really needed that guidance and my course definitely pointed me to the right directions.
Also my collaborations with the designers have taught me to appreciate my work a lot more. I have learnt a lot from working and liaising with them. I learnt a lot from them. Their expectations and their style of working allowed me to push my creative level to the extreme, to be freer, yet structured in my design style creating a sumptuous piece that is textural with a contemporary edge.
IJ: Your designs are expressive, what do you hope your jewellery should say about the wearer?
AQ: I like to believe that every woman who loves, appreciates and buys into my designs especially jewellery wants something that makes them feel good, powerful, sexy, elegant, regal. And most importantly pieces that are rare, luxurious, exciting, breathtaking and most importantly individual. Because it is a contemporary design label, which focuses on superior craftsmanship, this makes it different from the rest
IJ: You use vintage materials; what is it about fusing the past with the present with your designs?
AQ: I love to tell a story with each piece I design. So I love the challenge of combining old with the new. The vintage materials I use in my work have so much history, which I hope to preserve and intertwine with that of the new to create pieces that one can cherish and make their own. Hopefully start their own modern day history, which they can pass down to loved ones some day.
IJ: What are your future plans for your label?
Firstly, I want to continue making people more aware of recycling especially in fashion.
Secondly, I hope to have made the brand more successful, and a house hold name, have designs both fashion, interior and jewellery stocked in African Boutiques, and big department stores worldwide. But most importantly, to maintain the value of my craftsmanship and keep my creative spirit alive.
View her latest Jewellery & Fashion Collection: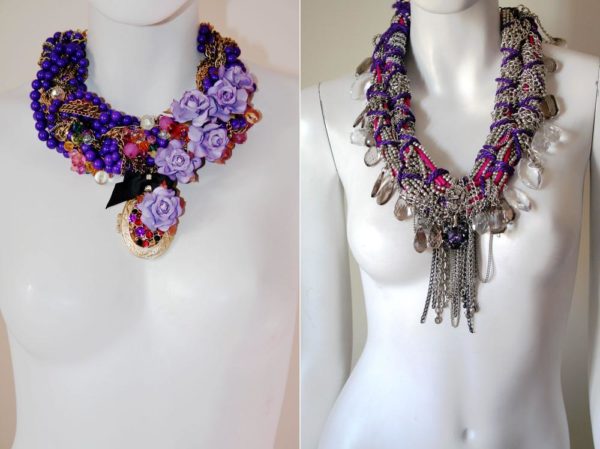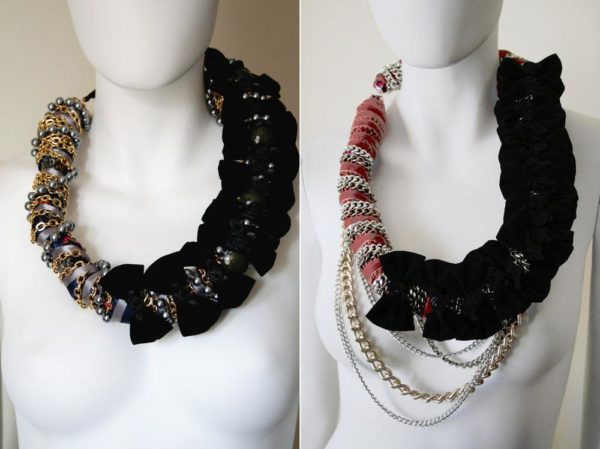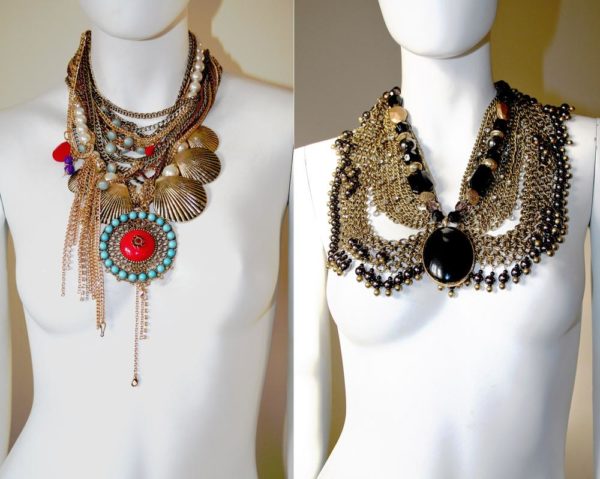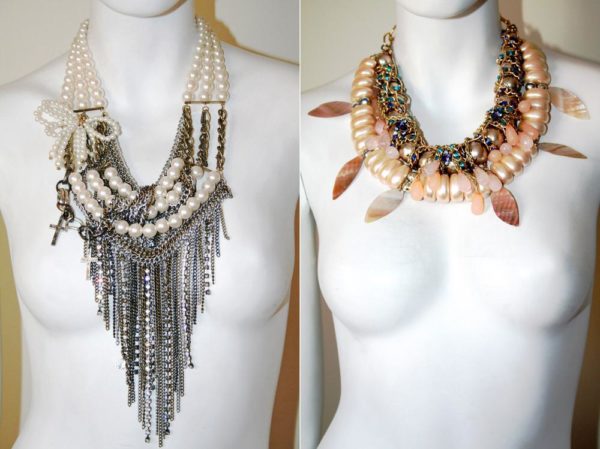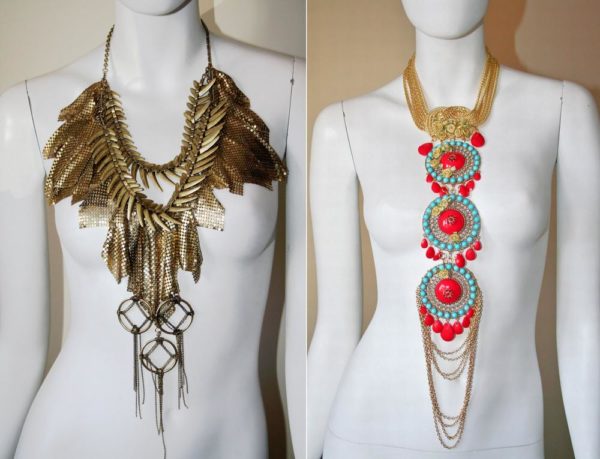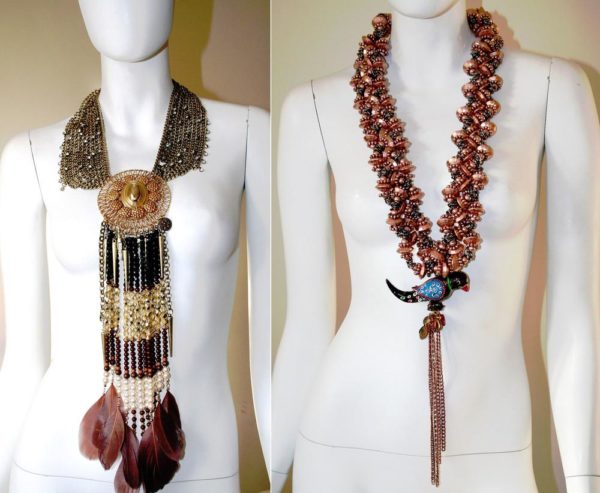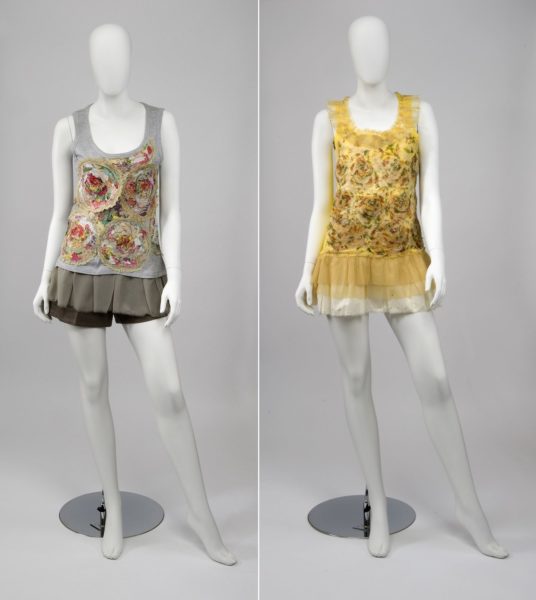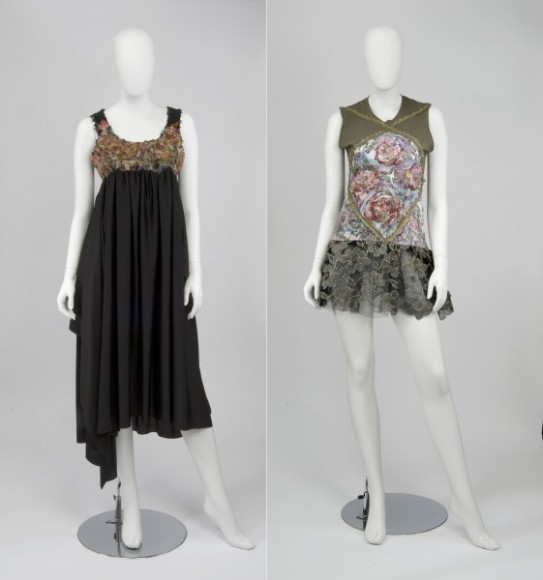 For private commissioned work contact Anita Quansah directly via her website: www.anitaquansah.com
Shop Anita Quansah Online @:
Not Just A Label
My Sugarland boutique London
Shrimpton Couture
Credit: Anita Quansah