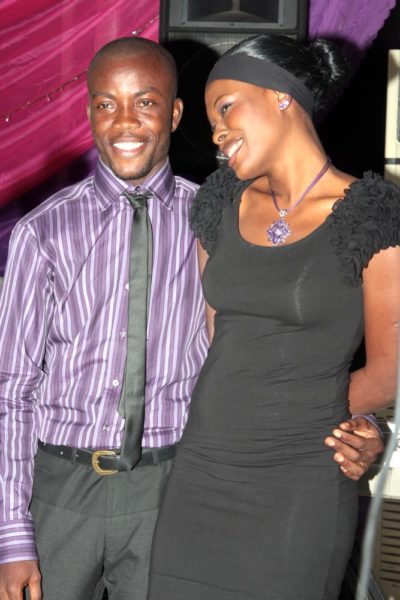 The launch of www.namywedding.com and the unveiling of the Dream Wedding Splash competition winner was done amidst a lot of fanfare at the Lagoon Restaurant.
The Top 10 couples were put through some Trivia questions to test their compatibility and how well they know themselves, the questions includes 'What was she wearing on your first date', 'if stranded on a deserted island, what is the one thing she can't do without'. At the end of the day, Oluwatimilehin and Temitope were the undisputed winner for the 2010 Na My Wedding.com Dream wedding splash competition with 220 points, they have won for themselves a Dream Wedding valued at over N4, 000,000. Aaron & Mfon and Boladale & Rotimi were close behind with just 210 and 170 points respectively. The Other Five Couples – Oluwatosin and Oluwatosin, Adetola and Adewale, Chuks and Adaku, Uyi and Joseph and Rukayat and Olumide all got consolation prizes. The Dream wedding winner and the runners-up will get Free DSTV Decoders with One year Subscription, one Hundred thousand Household Gift Voucher and a Wedding website, while the other Top 5 couples will get One Hundred Thousand Household Gift Voucher and a wedding website from namywedding.com
The event was planned by Zapphaire Events and Furtullah consultants decorated the hall in beautiful and tasteful colours, photography was done by Camara studios and Spice TV provided video coverage for the event.
The Winning couple will get a dream wedding package with make-up by House of Tara, event planning by Zapphaire events, hall décor by Furtullah consultants, wedding cake by UpperCrust, photography by Camara studios, wedding catering by Wine & Gold caterers, bridal wardrobe by Yes I do Bridal, Groom wardrobe by Wardrobes, a $2,000 Debit Visa card by Zenith Bank, honeymoon packaged by Obudu cattle Ranch Resort and Media coverage by Spice TV.
The event was well attended with guests from across various industries. Music was provided by Sunny Neji and his band with special artist appearance by Obiwon.
According to the John Ugbe, GM- iWayAfrica Nigeria Ltd, 'the event was very successful and the wedding plans for the winning couple will be put in place by next week.'
'Our best wishes to the dream wedding winners Oluwatimilehin and Temitope and to all the other couples, and our profound appreciation to all our partners and sponsors', he concluded.
The namywedding.com website contains an extensive wedding directory, wedding advice section and provides planning tools to enable prospective couples find wedding vendors, keep track of their wedding plans, interact with other couples and find useful information to guide them through the process. Every bride (and indeed groom) wants to have the most memorable and beautiful wedding day and also achieve this within a budget. NaMyWedding.com answers their questions of finding the best wedding fashion providers, read reviews on the new trends, creating a free wedding website and share pictures on namywedding.com with their families and friends.
NaMyWedding.com is an initiative of iWayAfrica Nigeria Ltd.