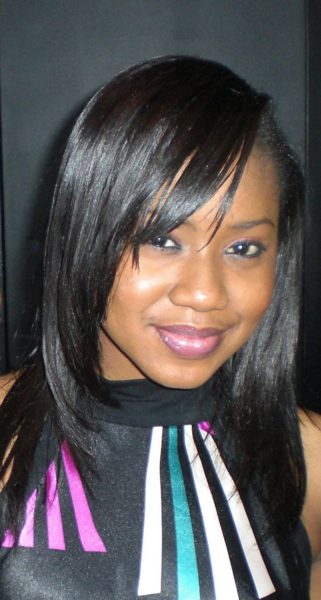 The 2010 edition of the Future Awards was the best yet. At the awards ceremony, it was a double whammy for Ifeyinwa Aniebo, the young malaria researcher bagged awards for Scientist of the Year and the most prestigious of the awards, Young Person of the Year.
Less 'popular' than most of the other nominees (Her co-nominees for Young Person of the Year included superstars Asa and Cobhams), Ify Aniebo's resume reads quite differently from one typically expected of a Future award winner.
She has a first degree in Medical Genetics from Queen Mary's University, An MSc in Applied Biomolecular Technology from Nottingham University and went on to receive a scholarship from the Prince's Trust. She is currently a PhD student at Oxford University on a fully funded scholarship from the Wellcome Trust, the Tropical Network Fund and the Bill and Melinda Gates Foundation. She has carried out research at the Wellcome-Oxford-WHO unit in Thailand. Passionate about finding a cure to Malaria, this has been her main area of research, her goal is to discover a vaccine to the biggest killer disease in sub-Saharan Africa. Her passion for healthcare goes beyond the world of academia,  she hopes to start her own health care magazine in the future with as much glamour as any fashion magazine out on the market.
BellaNaija.com caught up with Ify to find out a bit more about her and her desire to bring the sizzle from the laboratory to the world stage.
Did you think you stood a chance to win the Young Person of the Year award, Also what was going through your head when your name was called?
Honestly I did not think so. When I saw the other names in that category including Asa, Cobhams, Toyosi Akerele and Tolu Ogunlesi, I thought, never in a million years would I stand a chance because all of them are immensely talented and inspiring people. When my name was called I wasn't even expecting it. I was busy reading the certificate I was given  for the  Young Scientist of the Year award and was really waiting to cheer someone else on. I was absolutely gobsmacked when I heard my name. I couldn't believe it. It was a wonderful moment I tell you. l was so happy and was in tears.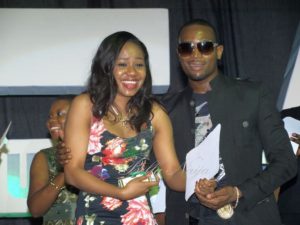 Do you think receiving two future awards will have any significance to your career?
Yes. Science is a very tough field to be in and often people need motivation or else a career change will ensue. I get motivated by a myriad of things but receiving two awards to me means I have the full support of a lot of people which I find motivating and encouraging. Winning those awards has given me the strength to continue in my path. The strength also comes from the fact that so many people have been inspired from this experience. I get a lot of messages on facebook from people telling me how inspired they feel and how they want to do something great for the country. I also received a few saying they want to get back into the field of science. I love to inspire people in every way and that to me is the most significant thing in my career.
Your area of research is malaria. With other diseases that have been placed as more important by the international health community, what made you choose Malaria?
My interest was first sparked after I had suffered multiple infections from the bites of anopheles mosquito during my childhood and adolescent years. I noticed that the drugs administered both for treatment of the infection and for prophylactic use always changed. For instance I remember quinine used to be administered then a couple of years later, chloroquine became the chosen drug.
In West Africa today, none of these drugs are used because the parasite has become resistant. The drugs popularly administered are Halfan (halofantrine hydrocholoride), Fansidar and artemisinin. I find it both disturbing and fascinating that a disease which has been around for half a billion years still kills millions of people each year. What's more intriguing is that no efficacious Vaccine has been developed. Malaria was neglected by the international community in the 90s and interest was only taken up a few years ago. There were no grants or funds to study the disease and millions were dying. Today there are some grants available but not as much as is expected. It is also saddening that there aren't a lot of African scientists leading most malaria research programmes considering the fact that it greatly impacts our continent. It is disheartening that most of the funds donated are from foreign organisations. I want to be part of the movement to eradicate malaria and effect a change positively because at the moment Malaria kills more people everyday than HIV/AIDS.
How close are you to finding a malaria vaccine?
Finding a vaccine to malaria involves collaborations within the scientific community because one person really cannot solve the problem. This is because the disease is multifaceted. For instance, I work on the molecular biology and genetics of the parasite but I still have to collaborate with bioinformaticians, biochemists, epidemiologists, physicians and statisticians. Basically it has to be a combined effort. Our group in Thailand have started a clinical trial in Kenya but then again other groups in other countries have done clinical trials in the past and are currently doing one now. Honestly, the lifecycle of the parasite is not a straight forward one to decipher and to make matters worse it keeps evolving and mutating. Whenever we think we are close to finding a vaccine, something else crops up. Its very hard to say how close we are to finding a vaccine because the parasite keeps mutating all the time making it harder for the scientific community to control. But we are working very hard and hopefully one day we would get there.
What was the attraction to doing you research in Thailand?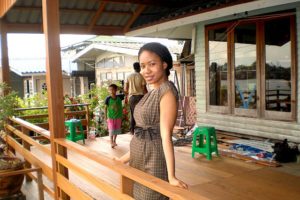 Thailand has the best tropical disease institution in the world and that was an immediate attraction. Also Oxford has an excellent relationship with the institution so that makes it easier for students to go there and carry out research. I also liked the fact that it was going to be a challenging experience for me. I don't speak Thai so carrying out scientific research in a non-English speaking country seemed abysmal at first but it's awesome. I'm also the only black person there which personally I think is great. Lastly, Thailand has lovely resorts and beaches with loads of tourist attractions. I love to have a good time too.
What would you say to people that say you are more at an advantage to access funding for your projects and research?
I will let them know it is difficult. It's particularly more difficult if you are not British , An EU citizen or a US citizen because a lot of the funding organisations only cater to their citizens and rightfully so. The scholarships that are open to all nationalities are so difficult to get because one would have to compete with thousands of students from all over the world making it highly competitive. I was not born in England and unfortunately Nigerians have a negative reputation in certain circles. I applied for the scholarship like thousands of other students from around the world and after four stages of interviews and tests I got it. I think its by the grace of God I won it because winning a full scholarship in the UK is a rare occurrence especially for Nigerians. I actually consider it to be a miracle and gave thanks to God and testified in church.
Science in an industry that never receives much publicity (particularly in Africa), what do you hope to achieve with all the publicity you have received so far?
I hope to inspire more young people and lobby the government to emphasize the importance of science and research to the development of the nation. I hope to bridge the information gap in terms of health education and I plan on doing that in my own little way. I will like to encourage the study of science in schools and universities and as a career choice. I want to prove to young people that what everyone calls geeky can still be very chic. You can get a buzz from watching an organism mutate under a microscope just as much as you can watching Deola Sagoe's new collection at the New York Fashion Week.
Why do you think more young people especially in Nigeria are steering away form careers in areas of science and technology
There hasn't been so much focus or emphasis on science in Nigeria. The youth are not thinking about science when they go to school simply because the industry in Nigeria is not developed enough and there are very little opportunities. The youth tend to pursue degrees in areas such as accounting/finance and Engineering simply because they are inspired by a future career in the two main industries, notably Banking and Oil & Gas. These days also you get young people wanting to be entertainers, models, journalists e.t.c and that's because they have role models in these fields and are inspired by that. Science in Nigeria I can imagine does not pay as much as other careers do and in a country where people are suffering i think they would rather opt for the money option rather than passion because in the end it is survival of the fittest still.
How do you think we can attract more young people to science as a career. Many seem more interested in the seemingly glamorous careers such as Investment Banking and Fashion.

I already think science is a glamorous career that just needs to catch on in Nigeria with time (like everything else). Glamorous is anything that is full of excitement, adventure and unusual activity and that is what science is. Broadcasting cooperations know this which is why you have shows like CSI which has made forensic science a popular career choice. Heroes on TV is all about genes and mutations (Genetics), House is a show about Doctors that already have PhDs (MD/PhD) which is why you see them diagnose and do further analysis in labs just to name a few. Scientists globe-trot doing what they are passionate about and that to me is exciting. With all the infrastructure in place it should not be a problem making science a glamorous career.
How will you encourage young Nigerian scientist that despite not having a foreign education, all their efforts and hard work isn't going to be futile?
I would say passion, hardwork and dedication always pays off irrespective of ones geographical location. Nigeria is a developing country and I'm optimistic that the science sector will start to flourish in a few years. All hope should not be lost.
What are your future career plans?
For now, I look forward to completing my PhD. After that I intend going into Public health where I will be able to contribute to the development of the health sector in Nigeria by implementing new health policies, monitoring the health of the population, identifying its health needs, evaluating health services and generally ensuring a health system that actually works.
You have a health blog, what do you hope to achieve with via your blog.

With my African health blog, I  focus on health issues young Africans can relate to. I try not to make it so complicated with medical terms people don't understand and I try to make it less tedious and boring. I hope the blog will get people more interested in health and wellness because at the moment a lot of people are not bothered. The website is being designed at the moment and I have a few writers (medics and non medics) who are passionate about health willing to contribute. The website would cover areas like men's health, women's health, pregnancy and childcare, mental health, sexual health etc. For now we are focusing on an e-magazine because a lot of young people spend time online these days. Hopefully if it becomes a success we might start printing and then target a wider audience. For now it's one step at a time. You can check out Ify's blog, its www.mutant-geek.blogspot.com
Let's get a bit more lighthearted. Most people see scientists as nerdy characters. What do you say to that?
It is just a stereotype. I am not a nerd and a lot of scientists I know are not nerds either. I represent the neo- scientists. The ones that cycle in stilettos and still reduce their carbon footprints. The ones that wear red lipstick and faux-fur and go out to a trendy bar to drink a glass of carbenet sauvignon packed with polyphorins (which by the way is good for your heart). The ones that know how to work hard and play harder. The ones that queue outside Selfridges for hours on boxing day in the blistering cold just to lay their hands on half price designer goods (Okay I'll stop Now). Science like I said earlier can be chic. Gone are the days of stereotypes.
I actually consider science to be sexy – it is mysterious and exciting. I love the fact that with science you never know where the journey would take you. It is very adventurous and unpredictable. You find out new things as you go on and that is what's very engaging and exciting. I love it!
Your research appears intense. Outside science, what do you enjoy.
I mostly hang out with family and friends and I really love having a good laugh. I love going to the spa, indulging in Thai massages, going to the theatre, listening to live music. I enjoy very good food. I like dancing which I do every week, I love pilates, I enjoy shopping especially at thrift stores as I find fashion on the high street a tad nauseating. I  really love to sleep. Infact my sisters think I am very lazy.
As the 2010 Future Awards Young Person of the Year, you are a role model to many Nigerian youth. What is your message to all?
I feel humbled to even be referred to as that. I am honoured.
My message to all would be to stop talking and start acting. Enough of the facebook updates, facebook groups wanting change, twittering, BBing etc. I do understand we haven't had the best leaders but we need to stop dwelling on that and move on. What I'm saying is the future of the country does not just lie in the hands of our leaders, it lies in every individual as well. We all need to look in the mirror and start affecting change where necessary. We need to be more positive and supportive of each other. We need to be more helpful to our neighbours and communities. We need to stop being selfish. We need to be the change we want to see in the country because we would become leaders one day and if we do not start doing all these things now then we would be no different from our leaders. We might even end up being worse. A vicious cycle really. Stop waiting for someone or a group of people to change Nigeria. We all can start in our own little way. I'm not saying you cannot pop champagne or fix your hair, all I'm saying is do something positive and impact visible change around you.