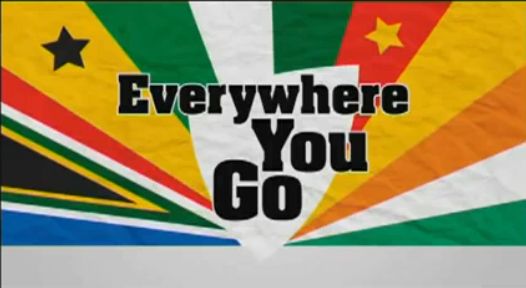 Except you are living in a remote cave somewhere, you know that the 2010 World Cup is going on right now! For the first time ever, the competition is being hosted in Africa – South Africa to be precise.
Music and sports have always been complimented each other so its no surprise that a slew of 'Official World Cup' songs have been released.
These include K'Naan's 'Wavin' Flag' which was a hit before the competition but was adopted for the competition. Others such as Shakira & Freshly Ground's 'Waka Waka' were specially written and performed for the World Cup.
Another track specifically written and performed for the World Cup is this one. Kelly Rowland Ft. 2Face, Awadi, Chameleone, Crotale, Jozi, Kwesta, Rola, Samini, Slikour and Zuluboy – "Everywhere You Go". We brought you the audio some weeks ago, now here is the video.
Must say we are rather underwhelmed. The video is good but we are not wowed. We understand wanting to give the song global appeal by using an international star but wonder why the African stars could not have headlined the track with Kelly singing just the hook. It was less obvious on the track but now with the video, its clear the African stars bring much more life to it. Maybe we were distracted by Kelly's outfit. Understand wanting to put her in something 'ethnic' but the dress is not flattering! We have a host of African designers. A short Ituen Basi dress would have done the trick.
Check for our Naija Boy, 2Face at the 3:24 mark!
Watch the video below.