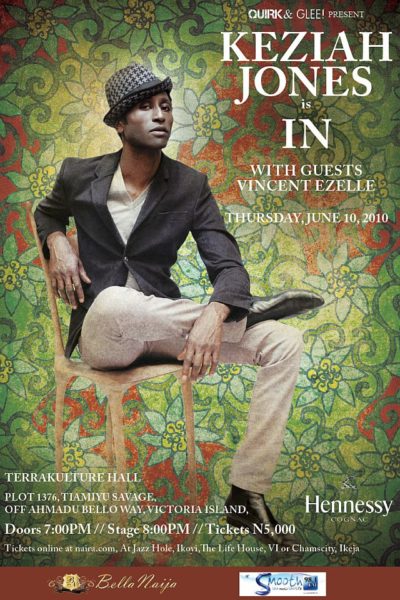 Mr. Jones is IN! For the fourth concert by Quirk and Glee!, we're escaping the rain and going indoors at Terrakulture. We're bringing the great Keziah Jones, one of the most exciting Nigerian musicians performing in or out of the country to town for a night of amazing bluesy, funky, soulful music.
Keziah Jones, born and raised in Nigeria, moved to France in the early 90's and has been making waves there ever since, returning to Lagos now and then to perform some of his highly original and very funky music for us. A guitarist without peer, Keziah is a dazzling performer with great stage presence and an easy rapport with the audience. He recently performed at the Jazz Hole where he totally charmed the audience and convinced us that we had to bring him back and give our favorite audience the chance to see him perform.
Our favorite new wonder group, Vincent Ezelle will open the show. Led by the soft yet rich voice of singer Chuma, Vincent Ezelle is a lush mix of soul, folk music and soft rock. Their dreamy single, 'Signs and Wonders' is causing a stir on the radio and Smooth FM's already snapped them up for a live acoustic session. They'll be performing a great set of songs about loving and living in Lagos.
There'll be a swank Hennessy lounge with bartenders making Hennessy cocktails as quickly as you can buy and drink them all night.
Quirk & Glee! Present Keziah Jones is in Lagos
Thursday, June 10
Terrakulture
Plot 1376, Tiamiyu Savage,
Victoria Island, Lagos
Tickets: N5,000
Buy online at www.naira.com
The Jazz Hole – 168 Awolowo Road, Ikoyi
The Life House – 33 Senari Darinjo Street, Off Younis Bashorun, VI
Bogo Biri – 9 Maitama Sule Street, SW Ikoyi
Terrakulture – Plot 1376, Timaiyu Savage, VI
ChamsCity Ikeja – 2 Isaac John Road, Ikeja

http://quirktheworld.com
http://keziahjones.com
http://vincentezelle.com
Listen to some music by Keziah Jones, Vincent Ezelle and some
musicians making similarly cool music at:
8tracks.com/tomiwathequirky/blufunk-afrobeat-soul-explosion