We had so much fun bringing you the exclusive shots of 'Nollywood's New Look' featuring E4 PR stars all through last week.
Today, BellaNaija.com presents the final pictorial and it features Nollywood star, Chioma Chukwuka-Akpotha.
Chioma Akpotha has had a long and successful Nollywood career so far. She won the prestigious AMAA award for Best Actress in a Lead Role in 2007. Chioma recently featured in the reality TV show, Gulder Ultimate Search – Celebrity Showdown. Most importantly to her, she is happily married and the proud mother of two beautiful children.
Chioma is a fan favourite and has had a scandal-free run in the limelight.
We absolutely love Chioma's shoot! Our favourite is the 'surprise' shoot! Its great to see Chioma take on a new persona that is so different from her 'sweetheart' image! Love it!
You'll need to scroll down to see what we are talking about.
Hope you enjoyed the series!
BellaNaija.com bring you more special features periodically.
The Surprise Shoot – Chioma's Motorcycle Diaries
From Egor Efiok of E4 PR – With Chioma Akpotha's rock chic makeover shoot, I was very worried that it may not come out exactly how I wanted it and the shoot had to be cancelled until  I was sure that everything was in place. The reason I was so particular about Chioma's shoot was because I wanted the public to see another side to her other than the "angelic/goody two shoes" image that people have of her. Chioma is a very good actress, so it was important for people to see that she can also be sassy. When I was planning Chioma's look, I said to her "please just allow me roughen you up for a day", and my oh my did she nail it! Chioma gave the correct attitude and was a proper Ruff Rider/Ride Or Die Chick during the shoot. I could not believe how good she was and was so impressed. The guy that brought the bike and other bikers, Davies Bassey, was also a pro. He helped direct the shoot and even helped Princess finish off Chioma's tattoo. You know, Princess is an artist as well as a make-up artist, so fancy meeting another artist that turned out to be one of the bikers! It was really awesome.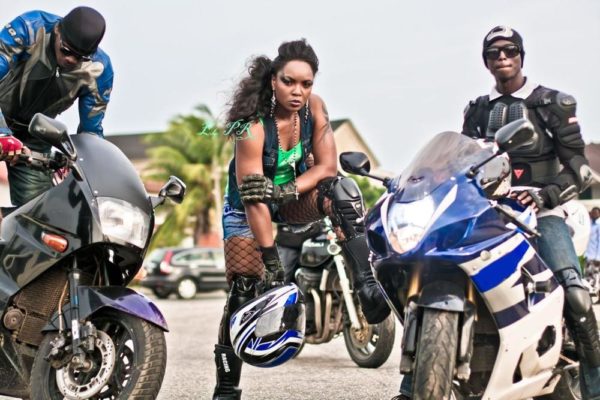 Photoshoot Direction & Concept: Egor Efiok
Photoshoot Direction for Motorcycle Shoot: Davies Bassey
Styling: Yolande Okereke
Make-up and Body Art: Princess Amayo
Photography: Obi Somto of Orbit Imagery and Moussa Moussa
Ladies' Clothing: Duchess
Final Group Shot


**
All photos are owned by E4 PR & the respective photographers. Any unauthorized use is prohibited