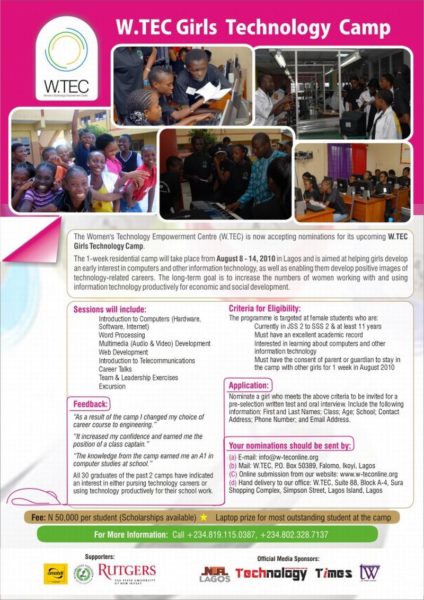 Over the last few years, W.TEC has held a Girls Technology Camp to introduce and promote technology to secondary school age girls in Nigeria.
The 1-week residential camp will take place in Lagos from the 8th to the 14th of August 2010. This W.TEC initiative is aimed at helping secondary school girls (JSS 2 to SSS 2) develop an early interest in computers and other information and communication technology (ICT), as well as enabling them develop positive images of technology-related careers. The long-term goal is increased numbers of women working with and using information technology productively for professional and leadership activities.
This camp has been free in previous years, but this year we will be charging a fee of N50,000.00, which will cover the tuition, course materials, feeding and boarding costs of each girl at the camp. A limited number of scholarships and fee waivers will also be available for girls who are accepted to the camp, but whose parents/guardians are unable to afford the fee.
This is a really great initiative! If you know any young ladies that might benefit from this, encourage them to apply!
As mentioned above, there are scholarships available. However, you could also sponsor a deserving young lady gain this experience!
Who qualifies to apply?
* Female students currently in JSS 2 to SSS 2 and no younger than 11 years of age
* Must have a goods academic record
* Interested in learning about computers and other information technology
* Must be available in August 2010
* Must have the consent of either parent or guardian to stay in the camp with other girls for 1 week
Please nominate girls who meet the above criteria via:
1. E-mail: [email protected]
2. Mail: W.TEC, P.O. Box 50389, Falomo, Ikoyi, Lagos
3. Online submission from our website: www.w-teconline.org
4. Hand delivery to our office: W.TEC, Suite 88, Block A-4, Sura Shopping Complex, Simpson Street, Lagos Island, Lagos
Please include the following in your nomination:
* Name of the applicant
* Class
* Age
* School
* Contact Address
* Phone Number
* E-mail
Feedback from our previous camps indicate that our alumni developed new technology skills, improved their understanding of factors to consider for future careers, gained a broader knowledge of technology-related career options, and increased their confidence.
The best performing student at the camp will win a laptop prize.
If you have any questions, please contact W.TEC by email [email protected] or phone, +234.819.115.0387, +234.802.328.7137, +234.1.850.9782.