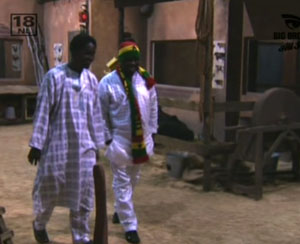 There seem to be way too much happening in the Big Brother Africa All Stars house that we can barely keep up!
Evictions
Hannington & Sammi received the lowest votes and were "evicted" from the house. But wait….they were not really evicted! They were tossed into the barn.

The Barn
Hannington & Sammi are no longer housemates, they are now 'barnmates'
The Barnmates are still in the game. The life-style in the Barn will be different from the Big Brother House as the comforts won't be the same.
The Barnmates will still perform tasks, and wager for luxuries but their basics will be supplied. There will still be Diary sessions and there is a Barn Rulebook available for the Barnmates.
IK mentioned to the Barnmates that they will be sharing their humble abode with animals, and the Barnmates responsibility will be to make sure no harm comes to the animals.
The Barnmates will still be covered by camera's 24/7 that will be viewed across Africa. There is hope for the Barnmates to return to the House but this will be influenced by their performance in the Barn.
Housemates that are Evicted from the All Stars House proceed to the Barn and there is a possibility that Barnmates can return to the House. However if Barnmates attempt to communicate in anyway with anyone outside the Barn, they'll be punished. The punishment could extend to "complete Eviction" from Big Brother Africa. Complete Eviction means the Barnmates will go home and will no longer be in the running for the Grand Prize.
Most importantly, the Barn mates are still in the running for the Grand Prize.
This Week's Daggers
The first Dagger was thrown by Hannington at Sheila. This means that an entire week, starting the very next day after the Dagger was thrown, she cannot drink any alcohol.
Sammi was next to throw a Dagger. The Dagger he threw would make one Housemate bake three large loaves of bread every day for a week, also starting the day after the Dagger was thrown. Sammi decided to throw his Dagger at Lerato.
Hookups?
Mwisho and Meryl have shared some intimate moments – Meryl refuses to disclose more but they have kissed.

Confessions
Meryl shared that she has been with 30 men and dated 5. The other housemates seemed surprised, however she was quick to point out that Mwisho has been with about a 100 women.
Fights
Munya and Tatiana had a verbal spat which ended with Munya crying and hyperventilating.

Nominations
Tatiana and Munya had the most nominations.
Photo & News Source: Big Brother Africa Website
What do you think about this season of BBA? Don't know if its just us but somehow we feel 'bad' for the housemates. Considering they have experienced the rejection of losing out on BBA before, it seems extra painful to be subjected to it again and the whole 'barn' concept just seems cruel!