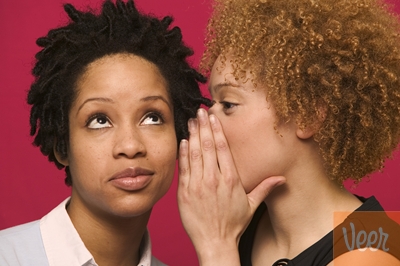 A few days ago I had a very interesting BB conversation with an old friend and during this conversation a few things came to light. You might wonder what the big deal is about a few things coming to light in a conversation. The answer is that the information and opinion shared by my friend were of considerable import; if only they had been shared say five, six years ago! I asked my friend why she was just telling me this and all that she could say was that it was not her place to make such comments at the time! I was a bit disappointed and told her that as my friend it was her place to let me know details about the person I was dating at the time. OK now you get what the hullabaloo is all about, don't you? So my question is why do people wait until an issue is no longer an issue before they make comments that would have spared you a lot of grief and pain?
In reality, I know people generally do not like to get into other people's business especially if it has to do with relationships and other such sensitive issues but I feel that if you call yourself a friend you are duty bound by the tenets of friendship and fraternity to spill your guts whether or not there might be repercussions! I hear things like "No be from my mouth he go hear say Yar'adua don die o!" or "When dem com settle na u dem go face, com dey accuse of being a home wrecker!" Not to be too hard on them I do understand their position. But again like I asked my friend, "If you knew I was putting my hand to the flame, why didn't you try to stop me?"
Sometimes it might be an issue of divided loyalties. I was once in a relationship with a simply fabulous girl. We met just after secondary school and dated for a couple of years. Unfortunately, I schooled in the Mid-West while she attended school in the South. Now, I was completely over the moon and naively overconfident in my relationship but long story short, she broke up with me at the end of my second year saying she was tired of the relationship. After plenty begging with no success I grudgingly let go only for me to find out later that she had been dating some other guy who was supposed to be "just a friend." Yeah it happens everyday but what added insult to injury was the fact that a classmate and friend of hers who was also a very good friend of mine had the opportunity to give me the heads up but did not because he was also friends with the other guy in question! When I heard I was mad, disappointed and hurt and all he could say was a stupid "Guy, I thought you knew!" Knew what?! Well, needless to say my friendship with the guy dissolved into thin air because he should have had my back.
To yarn or not to yarn, that is the question. Personally, I subscribe to the school of thought that says "yarn and damn the consequences!" I once yarned and saved my friend from becoming Mugun No. 2. What's the point of being a friend and not being able to speak your mind and prevent him or her from going into what might be a disastrous venture? And it might not always be about relationships or matters of the heart, it could be about a life changing decision. If you have a doubt, voice it. And no, it is not aproko if you tell the person that is directly involved. It is only aproko if you and some other people sit down to discuss it behind the subject's back!
So if you do find yourself in a position where you can share a little information that may save a friend from making a poor choice or taking a bad decision, please, please do. You might just save him six years of emotional, psychological anguish, pain, blackmail and trauma, missed opportunities, irrecoverable love, a misplaced bad rep and considerable financial misappropriation!!!
Photo Credit: www.veer.com