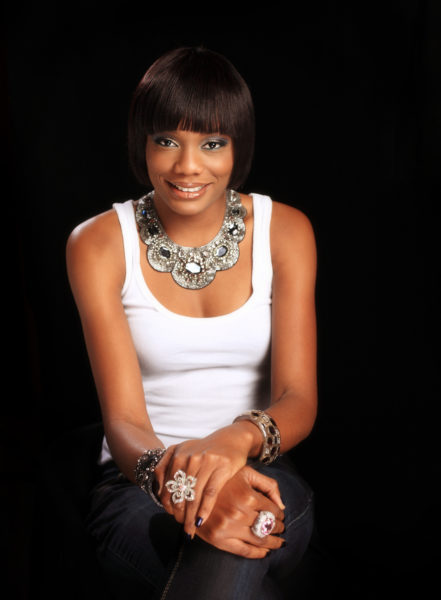 In Fashion, we are more focused on what we see, the outward projection of the industry which offers us gorgeous designs to lust over, beautiful models to envy, Designers to join their fan pages and Editors as role models. We rarely see what goes on behind the scenes, and the people who make fashion as appealing as we have come to love it.
Ono Bello is one of those people, deep in fashion yet on the edge of the reality. She's worked in fashion for ten years, once as a model, but for someone who prefers to work at a distance from the limelight, she found a profession which perfectly expressed her passion for fashion and allowed her to indulge in her sense of privacy.
"I work with THISDAY and have been with Style for about 6 years and still contribute for Style and now with Arise magazine. So I am well versed in what it takes in working in a newspaper and in a fashion magazine"-Ono Bello
Although gaining a considerable amount of experience in fashion, with editorial writing and being a stylist, Ono Bello has worked across the board as a Business Correspondent, Strategist, Marketing Officer, Project Manager and Human Resources Advisor which has provided her with the opportunity to stretch her portfolio and branch out to other sectors within the Industry.
This she did, by starting up her own PR Firm, PR UNO with clients like Lanre Da Silva Ajayi Couture. But Ono is not willing to give up all her loves; she loves doing PR, adores writing, and transforming people through styling and is in the process of launching an online magazine (onobello.com) to ensure she feeds passionately into all her loves simultaneously. Who said you can't have it all?
BN talks to Ono Bello about Fashion, PR UNO, her soon-to-be launched website, and just…simply Ono.
How it all began
Ijeoma Ndekwu: So what made you decide to work in the fashion industry?
Ono Bello: I guess you could say fashion choose me. I have been in love with fashion forever and have done a few things in fashion while I was studying. I tried modelling a few times but it wasn't just for me even though I was encouraged by family/friends. I have never been comfortable in front of a large crowd.
IJ: What was your first job in fashion?
OB: My first real job after school came at the time I was preparing for my final first degree examinations, I got word through a family friend that THISDAY was going revamp the Style magazine so I applied for the job and the rest is history.
IJ: How have you found the THISDAYexperience  so far?
OB: Working for THISDAY has been amazing. I have met a lot of people, gained a tremendous amount of experience and exposure in the industry.
Styling
IJ: Who has been styled by Ono Bello?
OB:In my line of work, I style or assist in styling most times. I style for Lanre da Silva-Ajayi couture and styled the 2010 Elite Nigeria Look. My individual clients I like to keep private.
IJ: What do you love about styling?
OB: The ability to transform people, making them beautiful and confident.
Branching Out
IJ: What is PR UNO?
OB: PR UNO encompasses a public relations agency that seeks innovative solutions in lifestyle PR cutting across different spheres of the society from business and politics to entertainment and fashion. The aim here is to stay ahead of the game which is the number one priority that is why I always make use of diverse strategies that provide the best service possible to our clients.
IJ: Why did you decide to start  PR UNO?
OB: I decided to start a PR UNO because I noticed that most Nigerian PR companies see public relations as simply media exposure (putting their goods or services in the different forms of media) and this is just a part of what Public relations is really all about. Apart from being in the media industry, part of my educational background is in Business as I have an M.A in Human Resource Management so I possess a very good understanding of the complexity of business organisations and how people and companies should achieve their visions, meet goals and get their businesses out there.
I love to work with people and I want to represent brands, develop customized strategies, implement the plan and evaluate what's working and not along the way, all to make the client happy. I want to do things properly as it's done in other parts of the world. Ultimately I want to prove to be a measuring stick of what's driven and cool for emerging and established brands alike.
IJ: What's the catch in PR for you?
OB: It is working with brands I believe in, will grow with and can provide solid results for, that is what I love the most.
IJ: What should readers expect from your online magazine?
OB: Readers who log on to my website should expect a quirky take on fashion, entertainment and general lifestyle news and stories. I will be bringing you what's new on the scene from PR tips on how to get your business out there and meet your goals to job vacancies cutting across all spheres. Also look out for fashion show reports, trends, styling tips, wardrobe advice, features and news on people and parties. It 's bringing what's hot out there just at a click of a button.
IJ: When will it be launched?
OB: At the end of November 2010
Simply Ono
IJ: What motivates Ono Bello?
OB: Success. No matter the number of times I may fail, I never give up because the feeling of success is the prize for me.
IJ: What do you prefer, styling, writing or PR?
OB: I can't choose one over the other, I love doing it all and they are all woven together somehow.
IJ: What does style mean to you?
OB: Style is a certain elegance that comes naturally. It can be improved on for those who don't have it.
IJ: Describe your personal style?
OB: Chic sophistication with an underlying quirkiness!
IJ: If you could, whose closet would you raid?
OB:Serena van der Woodsen from gossip girl.
IJ: Your experience in Nigerian Fashion, More good ones than bad?
OB: The Nigerian fashion industry has grown a lot in a very short time. Looking back five years ago to where we are now I would say we have achieved a lot. Designers are springing from every corner even if I may add that a lot of them are tacky and some others are in for what the glamorous side or just using it as a hobby. However, there are a lot of people that take it seriously and invest a lot into it.
Nigeria is a core part of African fashion and we see designers hyping their ante every day. There are people like me who have come to make serious careers out of this same industry. I am happy to be part of this growing industry, working and living in fashion has given me immense exposure and fulfillment that a lot of people dream for all through their careers.
According to an article in the New York times, Nigerians are rated among the top five spenders in the world "several luxury retailers and stores in London, for example, already count Nigerians among their top five spenders, trailing only Chinese, Russians, Americans and Arabs from the Persian Gulf". Thinking about this, imagine what spending the money we spend abroad on our own brands will do to our economy.
I must still confess that we still have a whole lot of catching up to do with the rest of the world and hopefully we will get there.
PR UNO
Website:http://onobello.com/ (coming soon)
Click to be a fan of Ono Bello on facebook
Click to follow Ono Bello on twitter