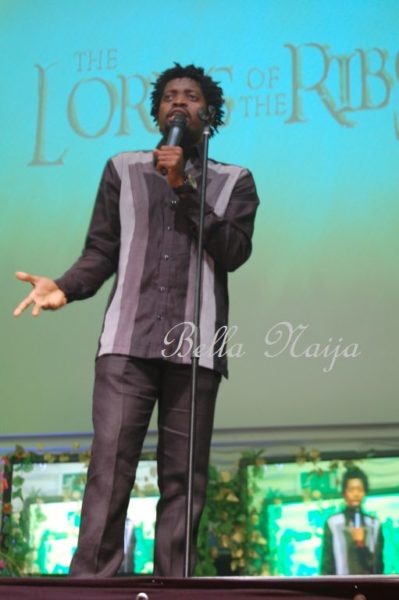 I was really excited when BN's editor called me up and said that I would be representing the team at the 'Lord of the Ribs' event. On Sunday 10th of October 2010, armed with my VIP table ticket, I was good to go. While we are on it, everything in Nigeria is taken the max isn't it? There are regular tickets, then VIP then VVIP or in this case, tables…what next. Anyway, I was happy to be a VVIP, even if it was just for the day.
My first observation was on the red carpet, just a week before this event – the 2Face event took place at the same venue and based on the photos we saw on the BellaNaija.com, some people might have just gotten lost as they were dressed for a different night out. However,  they must have read your comments, as it seemed as though most people got the memo right this time as they were dressed in various casual chic looks (though some people still rocked cocktail dresses and heels, don't ask me who…). I was seated at my table with a few good looking young men, note to ladies and gentlemen, perhaps these concerts are a good place to meet HIM or HER.
The event was kicked off by the 'Lord of the Ribs' himself, Basketmouth, he got the event off to a raucous start with a series of jokes. Things progressed nicely from that point with comedian after comedian hitting the stage to perform their act. The distinctive feature of this event was the variety of comedians present from Onyeabuchi, Bovi, Kevin J, I Go Dye, Gina Yashere, Ali Baba, Gordons, Okey Bakassi and Ndumiso. I thoroughly enjoyed all the acts.
Then it was time for the giveaways, Coca Cola sponsored a 'Million Naira' giveaway and despite my VVIP ticket and my 2 regular tickets (Don't ask…ok I really wanted to win!), I did not win the prize. Another guest, Nnamdi Nwabara was the lucky winner. There were also other prizes including tickets from Virgin Atlantic and South African Airways but those involved going up on stage and I was too shy for that. Congrats to the winners though.
Finally, things progressed to the music and we were reminded that Nigeria has got talent! Terry G, Naeto C, M.I, 2Face, Banky W, Sound Sultan, Eldee, Jesse Jagz, Killz, Ice Prince, Wizkid and Durella all delivered.
It was a fun night out. Would have loved to see the music interspersed with the comedy rather than two separate segments. However, I had lots of fun! Kudos to Flytime Entertainment, Silverbird Events and Baron's World Entertainment for a great event.
Till the next time, see you in the VIP….sorry I mean VVIP.
___________________________________________________________________________________________
On Stage & In the Audience
Celebrity Guests on the Red Carpet