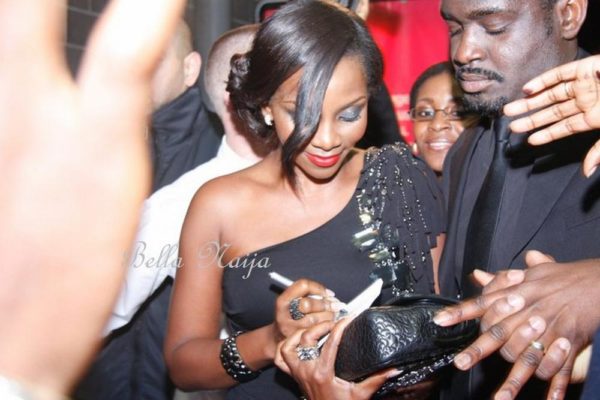 No one could possibly have anticipated the magnitude of fan excitement regarding this event. The Odeon Cinema in Greenwich, London hosted Nollywood as Emem Isong's movie "Bursting Out" premiered there on Friday, 29th October 2010. The event was hosted by Nollywood Movies SKY 329 and the purpose was to give the fans an opportunity to connect with their favourite stars.
Long before the screening started and even before the stars arrived, the red carpet area was filled with fans, photographers and video crews. As the stars including Ghanaian actor, Majid Michel, Susan Peters, Rukky Sanda, Monalisa Chinda and Genevieve Nnaji arrived, the entire area was drowned with screams from the elated fans. The stars signed autographs and posed for photos before they proceeded into the cinema. Inside, they mingled with fans and other stars who were at the venue including Jackie Appiah and musician Ashley Stephanie.
The screening rooms were filled to capacity and two additional screening rooms had to be added at the last minute to handle the high demand for tickets.
It was a fun night and another illustration of the massive potential that Nollywood holds.

Photo Credit & Special Thanks: DJA Media / Flash Focus | Nollywood Uncut