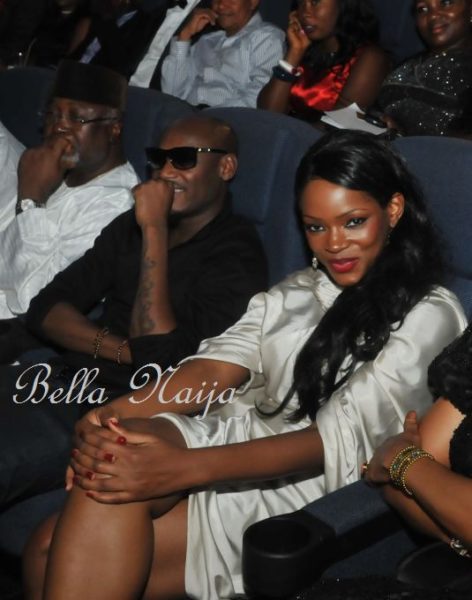 Nollywood has been growing from strength to strength, with producers and directors learning to take their time to tell a story, instead of trying to knock four movies out in two months as they used to. These days the quality of the cinematography, editing, casting, and all-round feel of the movies have improved and the fact that they are now showing in cinemas makes the 'movie watching' experience even better.
INALÉ is one of these gems in the Nigerian film industry. Based on an old folk tale, this musically inclined movie has all the ingredients of a future epic. It was recently premiered in Lagos at Genesis Deluxe Cinemas, with a veritable bevy of beautiful stars and starlets coming to celebrate the great achievement which was INALÉ. About a week later, on Friday 29th of October 2010, INALÉ held its Abuja premiere.
The entire INALÉ project came to fruition at the hands of three major players: the living legend Bongos Ikwue, his daughter and producer Keke Bongos, and one of Nigeria's most talented directors, Jeta Amata. With the three of them at the helm, there really should have been no doubt that this was going to turn out as a successful venture.
It all started when Keke was set with the task of finding a way to promote her father's music. Bongos Ikwue and his melodic tunes have been like staple food in the lives of many Nigerians for as long as I can remember and whilst working on his new album, one track struck a nerve in Keke's mind. The track was titled "Inale" and with this she approached her friend, Jeta Amata. Having met about three years earlier and decided then that they should surely work together in the future, Keke was determined that the time had come.
A year later and we see the picturesque, intense story on the big screen. It still amazes me to think that this entire project grew from the seed of an idea to the tall Iroko tree in just one year and also that I got to see it all in Abuja's Silverbird cinema hall amidst some of Nigeria's finest (Omawumi, Keppy, 2Face, and Caroline Chikezie).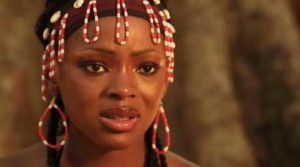 This, Nigeria's first ever musical shot on celluloid, is a wonderful story where honour, true love, family, betrayal and African heritage all intertwine effortlessly. The movie starts in America, as a grandfather puts his granddaughter to bed with a story that teaches her where she comes from. As the tale begins, we are transported from a cozy dim-lit room of a pre-teen to the rustic red sands of Otukpo in Benue state where the village tradition dictates that all eligible men in the village can choose to display their strength and wisdom in order to compete for the hand of the princess of the land. King Oche (Dede Mabiaku) is a fair king and with this competition showed his people that anyone can fulfill their destiny if they only tried. The winner of the competition not only becomes a future leader, but wins the hand of the ever so beautiful princess.
It all opens on the two leads declaring their love for each other, "Ode" (Hakeem Kae Kasim) is telling the princess "Inalé" (Caroline Chikezie) how he will win her hand in the competition tomorrow and they can begin their lives together. As the trials begin "Ode" is the victor of every challenge set in his way, but of course something must get in his way. Just before he is declared victor a shadowy masked man appears and challenges him and with this comes the twists and turns that no one in the kingdom of Otukpo or even us, the viewers could have ever foreseen.
The music by Bongos Ikwue envelopes the movie and takes you deeper into the story. You find yourself smiling or holding back tears before you even know it. Gone are the days of Mary Poppins singing how a "spoon full of sugar makes the medicine go down" but I must say the songs wrap up the already amazing acting with further depth bringing the tale into your heart.
Keke Bongos-Ikwue said the experience of working on this project was like being in school again, as she learned new things everyday and Caroline and Hakeem's love of the positive story played a big part in getting them on board with the project. The tale teaches people about our culture, "Our culture is not about wearing jeans and having a house with an elevator in it; that's not our culture. Yes, we are living large now, but we did come from somewhere and people need to remember that". During filming, they all stayed in the family-owned hotel (Double K) in Otukpo, and the entire cast and crew became one happy family (just one evening with them showed how close they had all gotten). "Even those actors who have been on sets for a lot of years felt like this was the most different experience they have ever had".
This movie brings together the classic musical magic of Bongos Ikwue, with the acting prowess of international stars and home-grown gems like Keppy, Dede, and Omawumi makes the transition to acting with many more. Under the watchful eye of renowned Jeta and the organizational wizardry of Keke, INALE is an epic movie full of culture, love and life. From where I'm sitting I can only envision many more great things from BIK Entertainment and their Abuja premiere just showcases that.

Red Carpet