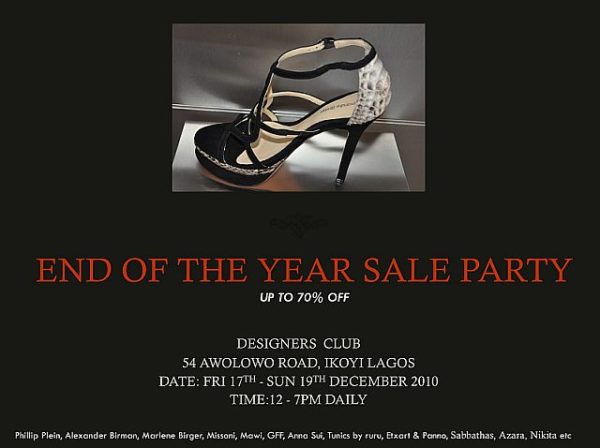 Designers' Club, luxury clothing and accessories retailer invites you to their 'End of Year Sale Party'.
Designers' Club is renowned for its selection of apparel, footwear, jewelery and bags from many of the World's top fashion brands.
Here is your opportunity to give your closet a Christmas makeover – DC will be holding a major sales event this weekend. Pieces from brands including Missoni and Anna Sui are available at majorly discounted prices! Up to 70% off these luxurious pieces. Whether you are seeking that showstopping 'xmas dress', sexy heels or jewelery that will make a statement, this is where you will find it!
Designers' Club – End of the Year Sale Party
Save up to 70% on your purchase at the End of the Year Sale Party!
Date: Friday 17 December 2010 to Sunday 19 December 2010
Time: 12PM – 7PM Daily
Venue: 54 Awolowo Road, Ikoyi, Lagos
___________________________________________________________________________________________
Sponsored Content