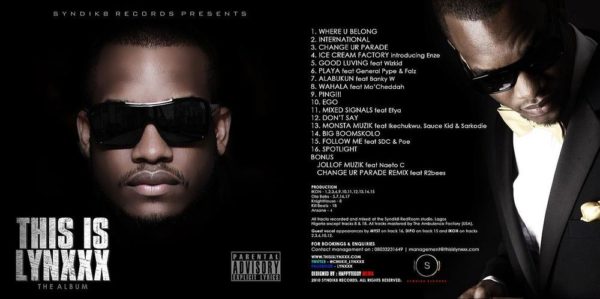 When Lynxxx hit the scene, noone was sure what to expect – over the past year, Nigerian rapper Lynxxx has steadily built his fanbase and climbed up the charts with hits including his debut single, 'Change Your Parade' and follow-up 'Good Luving' which featured Wiz Kid. Today, global drinks giant, Pepsi signed an endorsement deal with Syndik8 Records artist, Lynxxx. He is the first Nigerian musician to receive such an endorsement with the company, joining a list of stars that has over time included the late Michael Jackson, Beyonce, Britney Spears and more recently Akon and Rihanna.
An official press conference will be held on Sunday, December 19, 2010 at 1600 at the Federal Palace Hotels and Casino marquee, followed by a private concert to launch the debut album from Lynxxx titled, THIS IS LYNXXX at 1800.
Besides headlining act, Lynxxx, the concert will also include performances by Banky W, Waje, Wizkid, Naeto C, Efya, Dipo, Chukky P, Rilwan and SDC.
Lynxxx is the flagship artist of Syndik8 Records, a Lagos based recording label. With 'This is Lynxxx', he is inviting audiences into the world of a talented young performer who refuses to be pigeonholed, as this multifaceted body of work shows.
With majority of the production crafted by label mate, Ikon, the unique Syndik8 sound is brought to the fore for listeners to explore.
Since the release of hit single 'Change Ur Parade' in November 2009, Lynxxx has been serving up little doses of his Jollof music and after a year of tireless hard work, the full course menu is ready for general consumption. Featuring some of the most exciting acts in music today, THIS IS LYNXXX is layered with classic Hip-Hop, soul musings, R&B stylings and a dash of garage for good measure, promising a satisfactory experience that will leave you coming back for more.
The album – 'This is Lynxxx' features Lynxxx alongside music stars including  Mo'Cheddah, General Pype, Ikechukwu, Ghanaian songstress – Efya, Naeto C and many others. The tracks on the album were produced by Ikon, Ola Babs (Syndik8 Records affiliated), DJ Klem (Knighthouse) and Killbeats from Ghana.
This is Lynxxx – Album Tracklist
1.WHERE U BELONG
2.INTERNATIONAL
3.CHANGE UR PARADE
4.ICE CREAM FACTORY introducing Enzé
5.GOOD LUVIN' featuring Wizkid
6.PLAYA featuring General PYPE & Falz
7.ALABUKUN featuring Banky W
8.WAHALA featuring Mo'Cheddah
9.PING!!!
10.EGO
11.MIXED SIGNALS featuring Efya
12.DON'T SAY
13.MONSTA MUZIK featuring Ikechukwu, Sauce Kid & Sarkordie
14.BIG BOOMSKOLO
15.FOLLOW ME featuring SDC & Poe
16.SPOTLIGHT
17.JOLLOF MUZIK featuring Naeto C
18.CHANGE UR PARADE (REMIX) featuring R2Bees
Lynxxx Feat. Wizkid – Good Luving
[audio:https://www.bellanaija.com/wp-content/uploads/2010/07/GOOD-LURVIN-MASTERD1.mp3]
Lynxxx feat R2Bees – Change Your Parade (Remix)
[audio:https://www.bellanaija.com/wp-content/uploads/2010/11/CHANGE-UR-PARADE-REMIX.mp3]
Lynxxx – International
[audio:https://www.bellanaija.com/wp-content/uploads/2010/08/LYNXXX-FT-DJ-CAISE-INTERNATIONAL-MXD.mp3]
Lynxxx – Change Your Parade video

Click to preview & purchase the album via NotJustOk