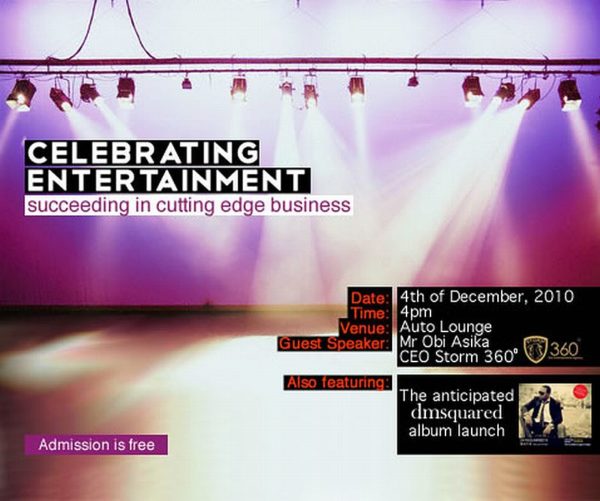 Next Generation is a business and strategy networking forum for upwardly mobile professionals, and business owners; with the aim of enhancing, grooming, and bringing forward the next generation of mentors and leaders of industry.
The event is hosted by Go2gurl Ltd, and has had five previous editions and themes with speakers such as Fela Durotoye, Gbenga Oyebode (Chairman Access Bank Plc), Bola Akingbade (Chief Marketing Officer, MTN) and many more. Various brands have also been part of the event such as; Future View Financial Services Limited, Svengali, UBA Prestige Bank, Livewell Initiatives (LWI), Healthcare International (HCI), Venivici Spa, MTN, Access Bank Plc, Visual Impact, Neimeth, Accuchek, Decourvrez, Mode Men Magazine, Almonds 'n' More, Allspice, Artisan Lagos, Ajapa and much more.
Edition 6 features one of Nigeria's top entertainment entrepreneurs Obi Asika (CEO, Storm 360) and an album premiere for DMSquared.
Obi Asika needs no introduction! He is a titan in the entertainment industry and has accumulated a wealth of experience in the banking, oil & gas, music, TV production, marketing and private equity sectors among others. He sits on the board of several companies, and has produced mega shows such as Big Brother Nigeria, The Apprentice Africa, Glo Naija Sings, Dragons Den Nigeria, the Etisalat One Million Dollar Show and many more. Storm Records has also signed on artistes such as Sasha, Tosin Martins, Sauce kid, Jay Martins, Naeto C, YQ, General Pype
From the artiste who brought you Maya, & Domi Siwaju, DMSquared (real names Bayo Oyenuga), will be in the house to present 'Naked Ring Finger'. DM notoriously refuses to define his music as he believes music is an art that shouldn't be boxed up, but his sound is definitely a variant of Naija Hip hop and his themes are Entertainment, Social Justice and Religion. He attributes it to the journey of his life and suffering he sees on a daily basis in Nigeria.
Date: December 4, 2010
Time: 4PM (red carpet)
Venue: Auto Lounge – 1089b Agoro Odiyan Street, Victoria Island, Lagos
MC: Teddy Don Momoh
Admission is free (with business card)
For more info –
Email: [email protected]
Text: 07089094474
For sponsorship & branding opportunities contact Go2girl as specified above
___________________________________________________________________________________________
Sponsored Content