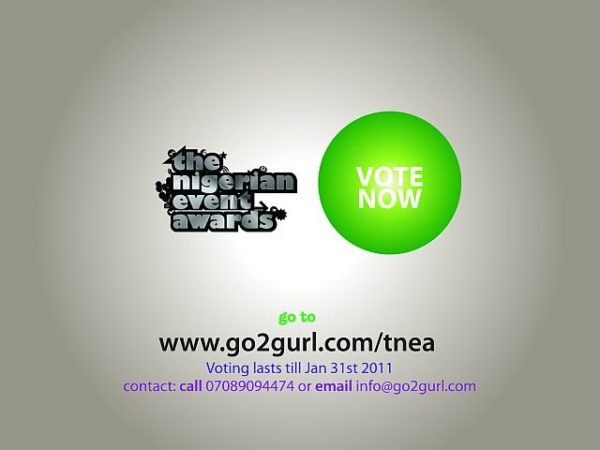 Go2gurl (G2G) is excited to announce the debut of The Nigerian Event Awards 2011 – TNEA 2011. The Nigerian events industry is on the rise and what better time than now to take things to the next level. The awards will concentrate on all events which took place between 2009 till now; rewarding outstanding achievements during the duration. TNEA presents an ideal opportunity to enhance the key players involved in the decision-making process for the Nigerian Events and Entertainment industry.
The NEA will:
– Reward outstanding achievements in the Nigerian events industry
– Encourage innovation, flair and professionalism in the events industry
– Encourage event organisers and suppliers to raise the standards of
working practices in the events industry
– Act as a benchmark for all event professionals
The 1st edition of TNEA, will take place in the first quarter of 2011 at a prestigious gala dinner in Lagos. The brand new 'The Grandeur' in Ikeja, is set to be the venue for the Gala event.
The gala dinner will allow diverse players in the the events industry to come together and celebrate its achievements.
Voting commenced on Jan 2, 2011 at the Go2gurl website (www.go2gurl.com/tnea), and will run for 30 days. The nominations will be collated by the audit arm of Sola Oyetayo & Co, and announced on at the Awards Gala.
Award Categories & Nominees:
1) Event Manager of the Year:
– Tsoule Events
– Zapphaire Events
– No Surprise Events
– Sara O
– Elizabeth R
– On and One Events
2) Best Events Coverage of the Year (Magazine)
– City People
– National Encomium
– Ovation
– Genevieve Magazine
3) Best Events Coverage of the Year (TV)
– Silverbird Television
– AIT
– Biscon TV
– Sound City
4) Best Events Coverage of the Year (Online)
– Bellanaija.com
– Niyiayibiti/Gistmaster.com
– 360nobs.com
– Lindaikeji.blogspot.com
– Ladybrillenigeria.com
5) Best Charity/Cause Related Event
– Pink Ball (Breast Cancer)
– Jeans for Genes II (Sickle Cell Awareness)
– Fashion for Jos (Jos Victims)
– Eden Charity Auction (Genesis House)
6) Wedding of the Year
– Adenuga/Disu Wedding
– Diya/Adeboyejo Wedding (Maryland)
– Dokpesi/Karunwi Wedding
– Okposo/Mkparu Wedding
– Shagaya/Tukur Wedding
– Okpocha (Basketmouth)/Uzoma Wedding
7) Best Hotel/Events Venue
– Eko Hotel & Suites, Lagos
– Federal Palace Hotel
– Nicon Noga, Abuja
– Oriental Hotel, Lagos
– AICC, Abuja
8 ) Best Purpose Built Venue
– Landmark, V/I
– J-Ville, Oniru, Lagos
– ThisDay Dome, Abuja
– KFA Events Place, Lekki, Lagos
9) Nigerian Event of the Year
– Hip Hop World Awards 2010
– The Future Awards 2010
– Hennessey Artistry 2010
– ThisDay (Nigeria @ 50) Awards 2010
– Elite Model Look 2010
– MAMA 2010
– Face of Africa 2010
10) Professional of the Year
– To be awarded by ASSOCIATION
11) Best Marketing Campaign for an Event
– The Experience 2009
– Ovation Red Carol 2009
– Lagos Carnival 2010
– MTN/FIFA World Cup
– The Future Awards 2010
12) Best Creative Use of Event Lighting
– Celebrity Takes Two
– Okpocha (BasketMouth)/Uzoma Wedding
13) Best Event Achiever in Catering
– Wine & Gold
– Astoria Caterers
– Osho Celebrations
– Kemabom Caterers
– Tastee Fried Chicken/TFC
14) Best Meeting/Conference
– Nigerian Computer Society (NCS) Annual Conference – RESDEMIT, 2010
– Nigerian Economic Society (NES) Annual Conference 2010
– Women in Management & Business (Wimbiz), 2010
– Nigerian Bar Association (NBA) Conference 2010
– Nigeria Oil and Gas (NOG) 2010
– Dare to be Different (Rise), Abuja 2009
15) Best Comedy Event
– AY Live, Implication 2010
– Crack Ya Ribs 2009 (Julius Agwu)
– Lord of the Ribs, London 2010 (Basket mouth)
– Jedi Live, in LWKMD 2010
– Nite of 1000 Laughs, 2010 (Ali Baba)
16) Vendor of the Year
– Eko Hotel & Suites (Venue)
– TY Bello (Photography)
– House of Tara (Make-Overs)
– Ade Bakare Couture (Fashion)
– African Exhibition Services (Exhibition)
– Linensville (Decor/Rentals)
– Acabado Cakes (Cakes)
17) Best Innovative Idea
– Mushin Makeovers
– MTN 50s Festival (Music of Yester Years)
– Le Petite Marche – Grand Marche
18) Best Corporate Product/Service Launch
– GT Bank Postage Stamp Launch (20th Anniversary)
– MTN/Nokia DSTV Launch
– Peak (More than just Milk)
– Coca-cola (Open for Happiness Promo)
19) Best Resources Website
– Namywedding.com
– Oakendirectory.com
– Naijaweddings.net
– Kilonshele.com
– Sugarweddings.com
20) Outstanding Contribution to the Events Industry
– Newton & David (Mrs Uche Majekodunmi)
– Eventful Ltd (Mrs Yewande Zaccheus)
– Zapphaire (Mrs Funke Bucknor-Obruthe)
– Wine & Gold (Mrs Deola Fadase)
– Wedding Centre (Mrs Odusola)
– The Wedding Store (Mrs Dupe Koya)
21) Young Achiever of the Year
– Morsi PR
– Fruitopia
– 9 Yards Juices & Cocktails
– Babasola (Aso-Ebi)
– Dash (Catering)
22) Best Trade Exhibition
– Water Africa & West African Building & Construction Expo
– NAICE 2010
– Interior Design Show 2010
– Lagos Motor Fair 2010
– Abuja International Motor Show 2010
– Nigeria Oil & Gas Exhibition 2010
– Kaduna International Trade Fair, 2010
23) Best Music Event
– Asa Live @ The Palms 2009
– Tuface Live 2010
– PSquare 2010
– Star Mega Jam 2010
– The Green Concert, 2010
– MAMA 2010
– Sound City Music Awards
24) International Vendor of the Year
– Ade Plumptre
– Segun Gele
25) Best Event Designer
– Newton & David
– Oaken
– Victoria Green
– Sara O
– Open Hands
– Rare-flowers
– Dunamis
26) Best Government Event of the Year
– Lagos Festival 2010
– Calabar Festival 2010
– Lagos State (Nigeria @ 50) Photo Exhibition
– Eyo Festival Celebrations
**
Vote for your favourites via www.go2gurl.com/tnea