The 2nd edition of the Nigerian Event Awards took place on Friday 24th August 2012 at the Havilah House of Events, Next to City of David Church, Victoria Island, Lagos.
The award show organised by Go2Gurl Limited, is a platform for honoring, acknowledging and supporting events as well as the entertainment and hospitality industry in Nigeria.
The event  hosted by N6 and Omoye Uzamere, kicked off at 6 PM and saw in attendance some of the nominees as well as some of the known faces in the entertainment industry including TV presenter Adora Oleh, On-Air-Personality Karen Igho, Event Planner Funke Bucknor-Obruthe, Stylist Ezinne Chinkata, Make-Up Artiste/Beauty Entrepreneur Banke Meshida-Lawal, BETH Model Creative Director Elohor Aisien, Veteran DJ Jimmy Jatt, Mr Nigeria 2011 Deji Bakare, Nollywood Actor Zack Orji and Musician Zaki Azzay.
Among the winners of the night included Wizkid for event performer of the year, Basketmouth for the MC of the year, Ade Bakare for bridal designer of the Year, Cakes by Tosan for Cake Extra-Ordinnaire and yours truly, BellaNaija.com for best online events coverage of the year.
We would like to thank everyone that voted for us, we truly appreciate you all and we promise to always deliver the best of entertainment every day of the week.
If you missed the event, not too worry, we've got the photos!
Photos
Getting the Venue Ready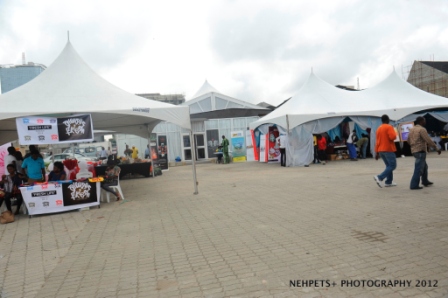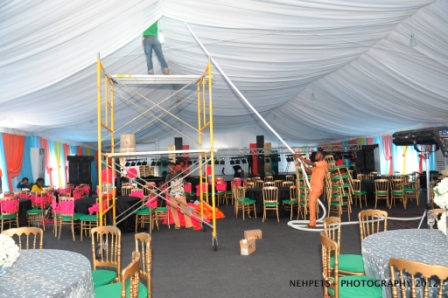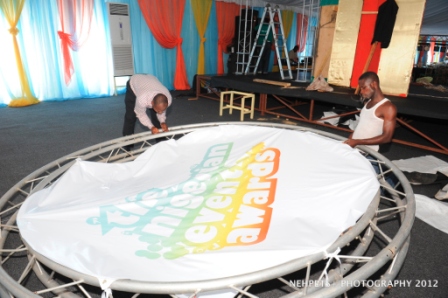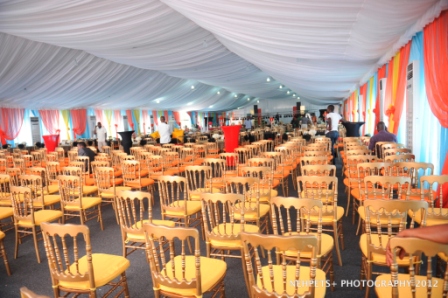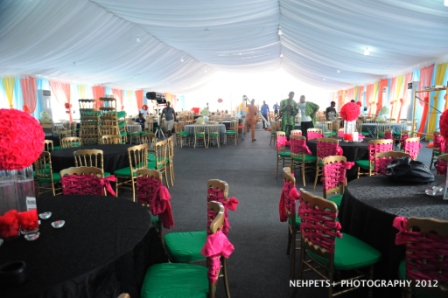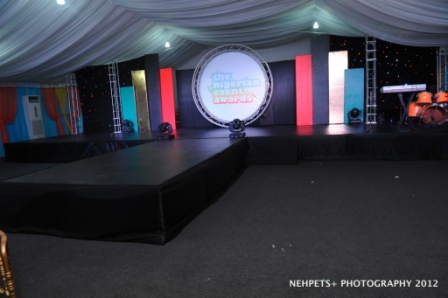 The Nigerian Event Awards 2012
The Full List of Winners of the 2nd Edition Nigerian Event Awards
Event Manager of the Year – Red Diamond Events
Best Events Coverage of the Year (TV Show) – Studio 53 Extra– M-Net
Best Events Coverage of the Year (Online) – BellaNaija.com
Best Charity/Cause Related Event – "Pink October" (Breast and Cervical Cancer Awareness) by Pink Pearl Foundation 2011
Best Hotel/Events Venue – Eko Hotel  & Suites, Lagos
Best Purpose Built Venue – The Civic Centre, Lagos
Nigerian Event of the Year – African Movie Academy Awards (AMAA)  2011
Best Marketing Campaign for an Event – Calabar Carnival 2011
Best Event Achiever in Catering – Kavod Foods
Best Comedy Event – AY Show Comedy Crusade London Invasion 2011
Vendor of the Year – MyPassion MyLife Photography – Onye Ubanatu
Best Innovative Idea – Le Petit Marche
Best Corporate Product/Service Launch – MTN "Choose or Lose" Campaign
Best Resources Website – Vconnect.com
Outstanding Contribution to the Events' Industry – Dupe Adeniran (Wedding Planner/Inside Weddings Magazine)
Young Achiever of the Year – Temmie Amodu – Tsoule Events
Best Trade Exhibition – Le Petit Marche, Grand Marche 2011
International Vendor of the Year – Vintage Ivy Events
Best Music Event – MTN Project Fame Opening Gala
Event Performer of the Year – Wizkid
Best Government Event of the Year – Calabar Festival 2011
Best Event Designer – Red Diamond Events
Best Event Sponsor – MTN
Best Fashion Event – Arise Magazine Fashion Week 2011
Photographer of the Year – Buki Tijani
Cake Extra-Ordinnaire – Cakes by Tosan
Best Ushering Organization – Zapphaire Events
Best Make-Up Artist – Banke Meshida-Lawal
Best Bridal Designer – Ade Bakare
Accessory Designer of the Year – Verche L'Art Cessoire
Outstanding DJ Performer – DJ Exclusive
Most Unique Rental Organization – KFA Rentals
Most Unique Gifts/Souvenirs – Party In A Box
MC of the Year – Basketmouth
Merit Award of the Year – Maldesa Nigeria Limited
Vantage Award of the Year – Quorum Experience Managers
Special Recognition Award: Publicist of the Year – Cornel Udofia
Special Recognition Award: Entertainer of the Year – DJ Jimmy Jatt
Special Recognition Award: Personality of the Year – Karen Igho
Special Recognition Award: For Fashion and Design – Tese Onokala (CEO NeedleKraft Couture)
Special Recognition Award: For Party Decor – Tsoule
Special Recogniton Award: For Cutting Edge Concept – Twiterave
Special Recognition Award: Entrepreneur of the Year – Emy Cargo Services Nig. Ltd
Special Recognition Award: Overall Best Production Crew – Total Consult
The organizers of the event would like to thank the following people.
Special Thanks to The Hon Commissioner for Commerce & Industry Ogun State, Bimbo Ashiru for representing the Min. Of Comm & Industry, Hon Commissioner of Health Jide Idris, Mr & Mrs Bright, DJ Jimmy Jatt, Karen Igho (Big Brother Africa Winner), Zack Orji, Tese Onakala (CEO Needlekraft Couture), Uche Pedro (CEO Bainstone, BellaNaija), Victoria Pepple (STV), BASH, Nino of Nino Music, Kore Brown of Top Radio, The entire Rainbow FM crew, Brownie of 93.7FM, N6 of Cool FM, Jombo Uche (City Peopla), Banke Meshida-Lawal (BM PRO),  Zackie Ajay (Top Music Artiste), Cornel Udofia (Image & PR Extraordinaire), Adora Oleh, Deji Bakare, Leo'nel Orji, Ezinne Chinkata (Fashion Editor, WOW Magazine), Elohor Aisien (MD Miss Nigeria/Elite Model Look), Banwo & Ighodalo (Top Law Firm), Duupe Adeniran (Editor in Chief Inside Weddings/Wedding Planner Magazine), Funke Bucknor (CEO Zapphaire Events/Furtullah), Tope Akande, Temmie & Jennifer Amodu (Tsoule Events), Sola Oyetayo (CEO Sola Oyetayo & Co) and all attendees.

Special thanks also to our partners Nuvox Communications, Livewell Initiative (LWI), Thgirb Ltd (IT/Web/Data mining), The Mix Oil & Water (Strategy/Oil& Gas Consulting), iwantairplay.com, Maldesa Nigeria Limited, 7up Nigeria PLC, Total Consult Nigeria, Rainbow FM, LASAA, Cedarwood (the fabulous antique chiavari chairs), Linensville, KFA Rentals, Tsoule Events (Official decorators), Zapphaire Events for the outstanding ushers, Our fabulous table decorators – (Furtullah, Red Diamond Events, Yvent Kouture, Simply Rexcraft, Oaken Events), Deefrent Communications (social media/marketing), The fashion crews – Omakin Lagos, Always Fresh Clothing & Co, and Zherb Rillers, Bunnad Sumptuous Catering, Distinct Band, DJ Galvin, Nephets Photography, Havilah Events Centre, Exotic Smooth Cocktails, Swift Nigeria, House of Tara (Official make-up artists), Bemil Nigeria Limited, 360 Nobs, Bellanaija, Glam and Essence Magazine, Delibakes, Chit Hub, and Kavod Foods.
Photo Credit: Kola Oshalusi for Insigna
_____________________________________________________________________________________
BellaNaija.com is an official media sponsor of the 2012 Nigerian Event Awards