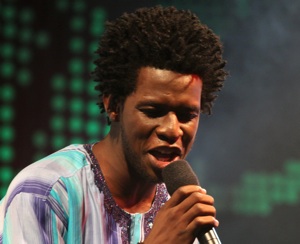 It was an exciting finale of a thrilling competition. As we sat glued to our TV screens on Sunday night, 27 year old Casey from Warri in Delta State was announced as the winner of the second season of Glo Naija Sings.
The finale was definitely interesting to watch. Superstar Nigerian musicians P-Square lit up the stage with their performance of their hits "E No Easy" and "I Love You". The audience was singing and dancing along with the duo as they figuratively tore up the stage. "Ekaette" singer, Maye Hunta also performed to the delight of the Glo Naija Sings audience. Naija Sings Season I winner Jon Ogah made a "comeback" to the Naija Sings stage as he performed his new single.
The final 3 acts, Da Brodas, Rasine and Casey all performed alongside upcoming Nigerian musicians. Casey performed "Zuchiya Daya" with neo-soul singer, Bez. Rasine performed "Kele Kele Love" with Tiwa Savage and Da Brodas hit the stage with Wizkid and performed "Holla At Your Boy".
And then the moment they had all been waiting for, the winner was announced.
…Casey
We wish Casey all the best and hope he makes the best of this opportunity. Casey's prize includes a $100 000 cash prize, a Toyota Rav 4 and Glo Ambassadorship.
After he was declared to be the winner of the competition, Casey said "I intend to invest with the money and get back to school and take care of my family. I want to learn something in a music school. I just don't want to win this money and disappear into thin air. I want to do something big in music."
Are you glad Casey won? Will he make an impact on the Nigerian music scene?
Let us know your thoughts.
E No Easy with P-Square! – The twins set the house on fire!

P-Square 'Luv U"! – Africa's hottest double-act deliver one of their biggest hits

Masterful Maye – Some authentically Naija vibes from rising star Maye Hunta


Jon Performs – Bump along with first season winner, Jon Ogah's "Tonight"

Kids' Play! – The contestants team up with resident judge Tosin for a stunning show-opener

Rasine + Tiwa Savage Duet Collabing – "Kele Kele"

Casey + Bez Duet – Collaborating on the sweet "Zuchiya Daya"

Da Brodas + Wizkid Duet – Holla at the boys!

Casey sings another one for the ladies, his track "First Lady"

___________________________________________________________________________________________
Sponsored Content