Loy Okezie was born in Lagos, and grew up in a small town along the Badagry Expressway. He has traveled around Africa and Europe, with a passion for technology, start-ups and new media communication tools for business success. As a digital media strategist, technology blogger and startups analyst, he has consulted for several small and mid-size companies, helping to startup CareersNigeria.com, one of the leading job portals in Nigeria, in 2007. Loy works full-time as a Content Developer for ConnectNigeria.com, an information search portal for Nigeria similar to Yahoo! and AOL. He is a contributor to Memeburn, a technology news and analysis site. As a conference speaker, he was at the Mobile Web Africa conference in Johannesburg, South Africa in 2009 and 2010, and is billed to speak at the 2011 edition in Nigeria next month, as well as the 9 Ideas Conference in Douala, Cameroon, in the following month. He also moderated the panel session at the Bar Camp at the University of Lagos in 2010. In this In-depth interview with BN Editorial Assistant, Gbenga Awomodu, Loy tells us more about his passion, how to make money legitimately from the internet, and web technology prospects in 2011.
Please, tell us about yourself.
I like to describe myself as a self-motivated, fun-loving and fashionable person, though my fashion style sucks sometimes. Maybe that's because I studied business from the University of Abuja, and fashion style there 'dulled' my sense of fashion. (Laughs). Not even my brief stint in Paris, France, the home of fashion helped. That's sad. Good thing BellaNaija.com features fashion and style. Well, I guess should be reading more of Bella Naija than my Bible, yeah? Talking about reading, the inspiration for what I do comes from several books I read on how technology companies such as Google, Yahoo! and eBay started. Not to mention the technology blogs I read every day. As a result, I've developed more respect for entrepreneurial people and consistently seek ways to engage with like-minded people, embrace new technologies and empower early-stage startups. All of these have helped me gain more experience in starting online ventures, mentoring young people, and consulting to several organizations over the last couple of years.
When did you start using the internet and how has your experience been ever since?
I grew up with computers and although I didn't have my first PC until I was in the University, I developed a lot of interest in the technologies (I use every day), the companies (that innovate them), the people (behind them) as well as emerging internet technology developments. That said, I officially started using the Internet actively in 2000 and have been engaging with online communities such as TakingITGlobal since 2003.
My experience has been worthwhile since it has afforded me the opportunity to connect with (and start) online friendships that have resulted in online partnerships for several online ventures. I've also been opportune to meet one-on-one with some of the guys (and ladies) behind some of the innovative and inspiring online ventures in Nigeria and around the world.
How well do you think Nigerians are tapping into the various opportunities to create legitimate wealth via the internet?
With an estimated 60 million Nigerians on the Internet, there is definitely a huge opportunity to reach a critical mass of people with an online product or service. Interestingly, Nigerian Internet entrepreneurs are exploring various ways to create wealth legitimately online. From web design and hosting services to online forums; from social networking sites to classified sites; from web and business directories to music and entertainment sites; from online dating services to online job sites, just to mention a few. There are in fact some notable online ventures that have turned their passions into profits, thus making money online legitimately. Some have equally attracted investments from external sources, and some have acquired (or been acquired by) other online ventures.
Can you confidently say you have been making good money through online business?
(Laughs.) I would say I've made 'money' through online ventures, but not as much as I'd love to make. As a blogger, my wealth has been built around my influence in the online media industry, my authority around specific topics and my credibility amongst an ever-increasing online audience.
What progressive initiatives have you been engaged in since you started internet business?
Having followed the global technology scene for some years and watched trends in the African tech space, I've become obsessed with tracking tech and social media news and how Nigerian celebrities use online tools such as Facebook and Twitter as well as how technology is driving online music and entertainment in Nigeria. That's why I co-founded a social media lifestyle brand called Sowambe, together with Francis Oghuma, CEO of Qubestreet Media & Entertainment. With Sowambe.com, our goal is to impact positively in the emerging digital media industry in Africa by showcasing social media talents, celebrities and brands in Nigeria and Africa. Sowambe is simply an acronym for: Social Web Addicts in Media, Business and Entertainment. In the yoruba language, it means "Are you there?". So we're asking: Are you there? Are you in the social media space? Are you a social web addict?
In 2008, I founded Startups Nigeria, a technology startup news-related blog with an international focus on Nigeria. The blog eventually became very popular, influential and highly respected within the Nigerian and African technology and social media space. Today, Startups Nigeria is being re-branded as 'TechLoy', with the goal of becoming the leading provider of online media content, events, and research for local technology innovators. Since 2009, I've been involved with ConnectNigeria.com, an information search portal for Nigeria similar to Yahoo! and AOL, where I work full-time as a content strategist. My role has been to develop and implement a content strategy that would support the portal's mission to organize all of Nigeria's information, in one place, thus making information easy to find and easy to use. Though initially perceived as a herculean task, the mission matches one of my career goals: to make local content available online. Working closely with the web and business development team, my role has become very instrumental to the web portal's success.
What challenges have you encountered so far in your online start-ups and how have you been able to surmount them?
One of the biggest challenges has been access to relevant local data and information that is useful to the online audience. Also, because we don't have a record-keeping culture in Nigeria, it has become difficult to provide insightful analysis and forecasts in various topics/markets. But with a strong network of sources, including real-time information networks such as Twitter and Gistcaster, as well as an organized database of information, I've been able to manage information seamlessly. Again, building and maintaining credibility in an online environment where suspicion and criticism are so much has been quite a challenge. Although, criticism makes you better at what you do, it can be discouraging at times. But I've remained focus on my goal to improve on my brand, while improving on other people's brands.
What are some of your predictions for the tech scene and internet start-ups in 2011, especially in Nigeria?
Actually, I've been working on a series of predictions for the web and mobile space in Nigeria. It'll be published soon via my blog at www.loyokezie.com. Generally speaking, expect more android devices and usage than last year, expect more mobile payment solutions for Nigeria, expect Nigerian internet entrepreneurs making more money this year, expect broadband price crash, and expect government internet censorship.
What are the key areas many Nigerian youth can be involved in to make legitimate earnings from internet business opportunities?
Well, we've seen some online businesses fail particularly because they didn't have the right focus and strategy. One of the best strategies in exploring internet business opportunities is focusing on solving a need or a local problem using existing and emerging technologies while thinking of ways to add value to global consumers. Simply put, the Nigerian youth should create web and mobile solutions to the problems and needs of the Nigerian audience. The money will come in multiple streams. You could start a Consumer Reviews or Public Complaints blog to provide consumers/users the opportunity to share their opinions and experiences about a product or service. Apparently, an ATM machines/ATM card online forum will be a mega hit. Nigeria's Sturvs helps share content around the web, but there's something that Sturvs is not doing (well) – Social Bookmarking. A Nigerian site that allows users to create bookmarks for local web items will really fly.
Editing & Proofreading blogs that provide students and researchers with proofreading and editing services for a fee can be experimented. People who value good grades will pay for a service like that. Nigerian culture and tourism is very rich, but yet untapped. There are monuments, rocks, wildlife, waterfalls, beaches, resorts, parks, hotels, festivals, carnivals, world heritage sites, and more, that need to be explored. A blog that covers these features could attract potential tourists, people interested in cultures, exhibitors, advertisers as well as investors. A blog about the Nigerian Premier League or any other sport in Nigeria could get a lot of attention – the championships, teams, players, and the business side of sports can be highlighted. Photography, Aviation and Interior design are other options. I've written a great list of 50 online business ideas that can fetch you money on my blog and I'm sure you'll find it a great read!
How do you mentor other young people who want to be engaged in skills development for web and other technology services?
After several years of talking with different young people, it was obvious to me that most people were not pursuing their passions in life. So I published an eBook that'll help people to improve their skills development. Some parts of the e-book were compiled from career articles I have published online in the past. The e-book is the result of several of my mentoring/coaching sessions with young people from different backgrounds. As a result, I respond to a lot of emails weekly on different online business ideas and offer my expertise. Besides, I attend events where I meet and discuss with these passionate young people and provide them with advice on their online business idea.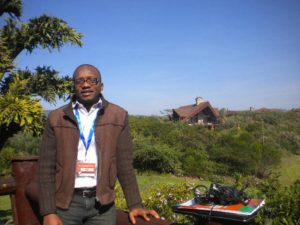 How can the Nigerian government encourage healthy use of the internet and other related technologies by young Nigerians for business and development purposes?
We need to see a lot of innovative thinking and approach in the way the Nigerian government is handling the Internet and ICT industry. First, our Universities should start teaching emerging web and mobile app technologies. The University is one of the best places to create a business incubation programme where students are planning to make the next move in their career lives. Universities should also develop entrepreneurial programmes that would identify top students, and enable them build relationships that ultimately result in ideas getting funded or student entrepreneurs graduating from the incubation programme into technology companies. On their part, state governments can create a 'Venture Capital Fund' that would follow through with investments and possibly provide "free money" (in form of bursaries, loans or grants) to students to explore ideas that could become great online ventures.
With so much attention on diversifying the Nigerian economy from over-dependence on oil, to tourism, agriculture, and other sectors, what a better time to focus on developing the "knowledge economy" driven by massive ICT infrastructure development, University entrepreneurial programmes, as well as government grants and low interest loans to technology businesses. Finally, the Federal government should take a cue from the Chilean government and their initiative called Start-Up Chile, a program designed to attract world-class early stage entrepreneurs to start their businesses in Chile.
Do you have other things/ideas you'd like to share with our esteemed readers?
Well, I love the vibrancy of the BN community. They keep coming back for more. In my opinion, the Bella Naija community is the most interesting and engaging community after the Nairaland community.
How do you relax after work?
Watch movies a lot. Play on the Playstation. Hang out with my friends. Play football at times. I dey try!
___________________________________________________________________________________________
Gbenga Awomodu is a freelance writer and editor. He blogs at Gbenga's Notebook!, a repository of his thoughts and other works.