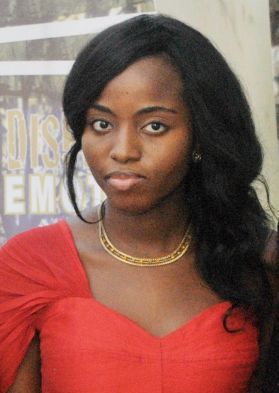 Big Brother Housemate Geraldine Iheme officially launched her first novel "Disfigured Emotions". The book launch event took place on the 29th December 2010 at the Oriental Hotel in Lagos.
Basketmouth was on hand to compere the event. The author's sister, Jacqueline Iheme introduced the book by going through the the synopsis, a brief story about the writer and the process of publishing the book. Geraldine's happy mother, Mrs. Iheme took her turn to praise her loving daughter. "She reminds me of her late father'", she said. She then encouraged all the guests to support the book. The next item on the agenda was a review of the book by Mrs. Obasi.
The launch continued with support from Chief Emeka Etiaba, Chief Mrs. Nina Ekechi, Mrs. Ify Anasomu Akerele and several others. Mrs. Fisayo, Principal, Christ the Cornerstone International School ( CTC), also praised her former student for following her literary dreams. Several short verses from "Disfigured Emotions" were read by Doyin Fisayo, Odunayo Balogun and Mitchell Udeze.
Then it was Geraldine Iheme's turn to speak about her book. In her speech, the author shared that it took three years to write the book. She decided to write it because a lot of issues are not being talked about in our society and it is hurting in every sense. In her words "it is a (fiction) novel, it's in a world that exists only in my head", and she invites everyone to come experience that world. To Geraldine, it's a captivating and intriguing story of unspoken truth and a definite 'must read'.
Fellow Big Brother Africa housemates from South Africa and Mozambique were present to give their support.
The night was blended with comedy by Basketmouth and Fx, and musical performances by super vocalist Bez and sensational Modele and Chike.
It was indeed a memorable evening and a book launch experience.
"Disfigured Emotions" is a story of love, emotions, neglect, pain and abandonment, focuses on the untold story of rape from a boy's perspective, it's a fictional novel that is certain to captivate the minds of its readers.
_____________________________________________________________________________________________
Sponsored Content