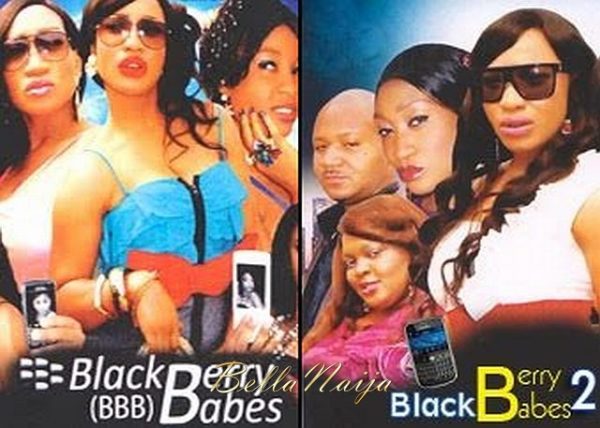 For the past few weeks, a movie poster for a Nollywood movie titled "BlackBerry Babes" has been making the rounds on social networking sites and Nollywood fan sites all around the web. The initial fascination was based on the assumption that "Nigerians have become so addicted to BlackBerry devices that we just had to make a movie about it". However, as clips of the movie began to emerge online, the questions got a little bit deeper. The story follows a very common theme that we have seen in a thousand and one Nollywood movies – wayward young women trying to live above their means. In this case, the focus is BlackBerry smartphones. The movie "premiered" via YouTube last night as has received over 27,000 views. It seems as though having a "BB" has become a "standard" that Nigerians expect people not fall below. Case in point, several young ladies and gents have mentioned that rather than asking for your number, intending suitors ask for their BB Pin and if they don't have one, they get a blank look and then "see you around". A young entrepreneur with a budding business also noted that prospective clients ask for his BB pin and since he doesn't have one, he has lost significant business because of that. Anyway, back to the movie.
The official movie synopsis
From the Producer behind the Nollywood Hits – "Beyonce and Rihanna", "White Hunters", "Girls Cot" and "Life Partners". Simony Pictures Introduces BLACKBERRY BABES (BBB) Damisa (Oge Okoye) and her friends (Tonto Dikeh, Mary Remmy, Annie Macaulay) are the Blackberry Babes, their economic, social and dating lives are organised and pay homage to a connected mobile world. Witness the lengths that girls will go for the love of material wealth…
The question is, what does this say about our movie industry and most importantly, what does it say about our society?
Clips from the movie – BlackBerry Babes



BN has received confirmation that NollywoodLove is the legitimate online distributor for the movie, therefore, here is the full-length movie link. Thanks.