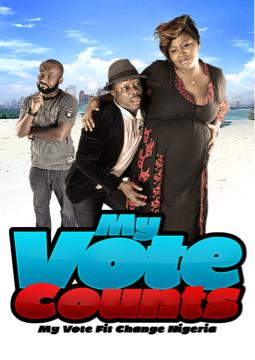 As the 2011 Nigerian General Elections approach, various advocacy groups and non-profit organizations are taking action and encouraging eligible Nigerian to "make their voices heard" by voting during the elections. Voting numbers relative to the number of eligible Nigerians were unimpressive during the last general election in 2007, therefore it is important that we do not let this happen again!
"My Vote Fit Change Naija" is a short film directed by Alex Mouth and produced by Kingsley Bangwell and Julius Agwu as part of a non-partisan citizen-led initiative by the Youngstars Foundation in partnership with the Julius Agwu Foundation for Youth (JAFFY). The project is funded by National Democratic Institute (NDI) with support from USAID.
The film is a simple yet stark reminder of the challenges and struggles that Nigerians face each day due to the lack of infrastructure and deep malaise of our public system including the health, education and power sectors. The film stars comedian Julius Agwu, actress Adaora Ukoh, musician 2Shotz and Yomi Onanuga. In the film, Julius plays the role of a young unemployed man, he graduated from university 4 years ago and has been unable to find a job. He comes home and finds his brother's wife in distress – she is pregnant and has gone into labour; as he tries to get her help, they face various challenges that we are sure most people who have lived in Nigeria can relate to….You'll have to watch the video to get the rest of the story.
The film officially launched in Abuja on Thursday 3rd March 2011 at the Rockview Hotel in Abuja. After the launch, the cast and crew were hosted by the US Ambassador to Nigeria at the US Embassy House in Abuja. The ambassador and delegates encouraged everyone in attendance to vote then lauded the initiative and the film. 200 Nigerian youth were also present at the event and received free copies of the film DVD.
The short film is available to view on YouTube, screenings will be held across the country between now and the elections in April, in addition, DVDs/VCDs will also be distributed for free. To promote the cause, the Youngsters Foundation and JAFFY have introduced the Best Use of Video Youth Challenge 2011. One voting advocate will win an all-expense paid trip to United Kingdom sponsored by Julius Agwu. To enter the contest,  entrants will need to use the video to conduct a voting awareness activity in any part of Nigeria between March 5th and April 15th 2011. Visit the Youngsters Foundation website –  www.youngstars-foundation.org for more details.
BN is glad to premiere this short film on BellaNaija.com and we encourage you to vote! The message may seem "obvious" but it needs to be heard and reinforced.
___________________________________________________________________________________________

Photos from the launch of "My Vote Fit Change Naija"
[nggallery id=270]
www.youngstars-foundation.org | www.adaoraukoh.com | www.alexmouth.com | www.adaoraukoh.blogspot.com | www.julius-agwu.com