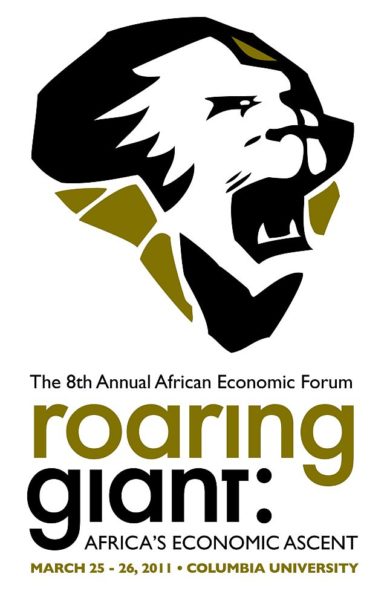 The 8th African Economic Forum at Columbia University in the city of New York will take place on March 25-26, 2011. With over 400 participants last year, the forum has grown to be the largest Africa-focused event on campus and seeks to highlight opportunities and challenges through stimulating discussion, insights and strategies for a prosperous Africa. This year, the theme is Roaring Giant: Africa's Economic Ascent.
A number of distinguished keynote speakers have already confirmed attendance including Danny Jordaan, CEO of the 2010 FIFA World Cup Organizing Committee, J. Kofi Bucknor, Managing Partner of Kingdom Zephyr Africa Management, Charles W. Brumskine, Senator and Liberian Opposition Leader, Dr. Shatayanan Devarajan, Chief Economist – Africa Region at the World Bank, Fola Adeola, co-founder of Guaranty Trust Bank/ Vice-Presidential Candidate for the 2011 Nigerian General Elections and Dambisa Moyo, NY Times Bestselling Author and Economist.
There will be several panel discussions covering the areas of business, law and government. The forum will also include a gala dinner with a concert and an African-inspired fashion show. Most events will take place at Jerome Greene Hall at Columbia's Law School located on W. 116th Street and Amsterdam Avenue in New York City.
The African Economic Forum is jointly hosted by the SIPA Pan African Network (SPAN) at the School of International and Public Affairs, the African Business Club at the Graduate School of Business and the African Law Students Association at Columbia Law School. For more information and early registration before March 13, 2011, please visit www.aef2011.com
"Roaring Giant: Africa's Economic Ascent" – The 8th African Economic Forum (AEF2011) at Columbia University
Date: March 25th to 26th 2011
Venue: Jerome Greene Hall at Columbia's Law School located on W. 116th Street and Amsterdam Avenue in New York City
Register via www.aef2011.com