We only launched our first edition of the BN book Review Section last month and already we are receiving great feedback. In this second edition, we have taken things a notch higher by reviewing two books; Kemi's Journal and its sequel, Zack's Story, by Abidemi Sanusi. In both books, Abidemi makes a bold attempt at highlighting various issues which tear at the heart of the moral decisions many of us can relate with- pre-marital sex, race, unplanned pregnancy, religion, etc. But what is significant in both books is how Abidemi infuses these tough issues into the lives of simple characters. Nkechi Eze and Chiedu Ifeozo from the BN Book Review team give their candid reviews on both books.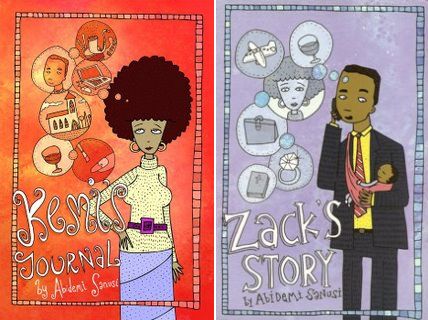 About the Book: "Kemi's Journal"
Kemi's Journal is about a twenty-something-year-old highflying, born-again Christian advertising executive who must reconcile her new found faith with a demanding career, pleasing her mixed-race family, trying to get over a non-believing ex-boyfriend Zack and living in the shadow of her best friend Vanessa with her perfect fiancé Mark. Kemi's faith is sometimes very strong and can resist temptations and other times God takes a back seat as the arms of Zack appear more alluring. How does she cope with being a Christian in the cutthroat world of advertising, being intimate with Zack and experiencing the joy of a personal relationship with Jesus?
Nkechi's Review
'Kemi's Journal reads as a first-person account of its protagonist, Kemi's life. Kemi is a 28-year old mixed race Nigerian woman who recently became a Christian. The novel details Kemi's struggles in life; at home and at work in London. A close family member falls ill in the course of the novel, and Kemi uses her faith to overcome these tough times. At work, clients, co-workers and upper management test her patience, but Kemi is able to keep her cool, all thanks to her newly found Christian values. In matters of the heart, however, Kemi is not as self-assured. She is still in love with her ex-boyfriend Zack from life BC (Before Church). Zack seems to be perfect in every way, but opposes Kemi's newfound religious loyalty. Inevitably, this poses some problems, including the author's hilarious term, 'sexual relapse'. I need not say more!
What Nkechi Loved
Although quite a relatively short novel of 140 pages, Abidemi manages to explore various contemporary moral issues in both an endearing and relatable way. In Kemi's Journal, it is her sincerity that draws us into her world. Through her, issues that challenge the single Christian woman come alive and are given raw meaning. Pre-marital sex, the quest for self identity, and competing with the perfect friend are all issues every 21st century single Christian woman has had to grapple with at some point.
"I love Zack and I love being intimate with him. Does God understand the kind of challenges people like me face everyday?"-pg 33
These lines are brazen, and highlight the struggle the modern Christian woman faces in life, but rarely articulates. Kemi's relationship with her best friend, Vanessa, is also especially intriguing. Every woman can relate to having that perfect friend – with the perfect looks and perfect boyfriend to boot. When this perfect friend, such as Vanessa, is a perfect Christian as well, it breeds endless frustration to watch her give you advice on things she does not understand. Vanessa, for example, scolds Kemi for having pre-marital sex, when Kemi's mother, who scoffs at Kemi's newfound religious values, does not even do so!
"I don't care what Vanessa says about breaking all ties to anything standing in the way of God's glory. What does she know? She's Jesus' blood sister."-pg 39
"Watching Vanessa, all pink and white and beautiful… I felt sort of sad. I was really, really wishing I'd waited like her… How I longed to be in her white satin shoes."-pg 139
Although Kemi never says these words out loud, her thought process does mirror many women in similar situations. What is perhaps confusing is that Kemi does not realize the possibility that Vanessa is under the same societal and religious pressure as she is, to appear coy and devoid of sexual feelings.
What Chiedu loved
If I had to be honest, Kemi's Journal is clearly aimed at a certain demographic, and it wouldn't have been my choice of reading material. However, the issues it addresses do give it the ability to become a topic of discussion amongst groups of people. For instance, pre- marital sex and its effects on Kemi's state of mind, is a major theme. As the story develops, the reader will almost certainly begin to wonder deeply about this issue. For many, they would be no grey area, just right or wrong, but this grey area, is where Abidemi tries to bring our mind to focus on.
"Shouldn't faith give you peace", is a question Kemi's mother asks on pg 75; the reply to that question continues to be a complicated one because, in today's world, faith should act as a guide when, as humans often do, we make mistakes. Growing up in the twenty first century is tough, and more so for women who seem to bear the brunt of most of society and religion's ever demanding norms. Abidemi, through the voice of Kemi, asks some very frank questions about what it means to be a 21st century Christian woman in a relationship with the opposite sex.
"What part has a believer with an unbeliever?" pg 37
"I love Zack and I love the lord. I love being intimate with Zack and I love the personal relationship I have with Jesus. Why can't I have both?" pg 65
"What are you doing? If you don't want to marry him, why are you with him?" pg 78
Finally, one particular line stood out to me amongst the many bible passages included in the book.
"So whether you eat or drink or whatever you do, do it all for the glory of God (1 Corinthians 10:31) p73
What Nkechi could have done without
I could have done without Kemi's incessant complaining!
Here's a little challenge: Buy the book. Open any two pages. If you don't find Zack's name or any reference to him, 'Congratulations!' you may have just come across one of the few pages where Kemi is not criticizing herself for seeing him. In real life many women face obstacles to love and trust- past heartbreak, lack of experience and more. But some women place these road blocks to love all by themselves- one of such women is this book's protagonist, Kemi.
If being a Christian is so enjoyable and fulfilling to Kemi, then her restraint would be understandable. However, it seems Kemi is not fully satisfied with her relationship with God- she hopes it can give her all the love and comfort she needs, but deep down she longs for an altogether different emotional and physical experience. Because she is guilty at the slightest enjoyment that does not derive from her relationship with God, she keeps mentally flagellating herself throughout the novel.
Kemi's struggles are relatable to many, but seeing her go through the same problems over and over is tiring. Perhaps the author could have cut out some of Kemi's complaints about not being able to have sex with the man she loves. After the first ten times, I think I got the point.
As her complaints increase and her guilt at loosing her virginity become even more glaring, one cannot help but question Kemi's maturity. Would a 28 year old, career focused woman really feel this guilty all the time? It did, at times, seem a bit far fetched.
What Chiedu could have done without
Kemi's journal is not the best book I've read this year. However, it does well to deal with weighty issues, a convergence of everyday life and a life lived through God's word, but it also got quite repetitive in the middle of the book, with Kemi's constant crisis of faith when it comes to Zack. Also, the office storyline did not inspire much interest from me and ends up being forgettable compared to the other issues at the heart of the story.
_______________________________________________________________________________________________________________________________________________________________________________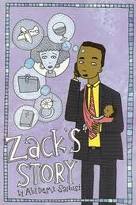 About the Book: "Zack's Story"
In this much awaited sequel to Kemi's Journal, readers get to hear Zack's side of the story. Welcome to Zack's world: he didn't plan to be a father, but now that baby Yanis is on the scene, he's determined to take parenting seriously, dealing with some of the dark shadows of his past en route. As for being a husband, he's wanted that for a long time – but the volatile Kemi he loves so much doesn't make life easy. And neither does the office temptress, Maxine! Then there's a career to be built as a big shot corporate lawyer. Zack's determined to be a success, but will he have to learn the hard way about choosing between personal integrity and compromise? As a new born-again, is Zack just trying to please the Bible-hugging Kemi, or will he make sense of the whole God thing for himself?
Chiedu's Review
There are always two sides to a story and in 'Zack's Story', we get to read how Zack feels about the many changes that are occurring in his life. Zack's story is a touching one, abandoned at an orphanage at only 48hrs old; he's been through many ups and downs. He has fought hard to become successful, but is still haunted by many ghosts from his past. The portrayal of Zack as a newly awakened Christian is one that endears as he battles to understand his new found faith, and thus it's easy to notice that a part of him is really only doing it because of his love for Kemi.
Zack's story is a gently unwinding drama in which he deals with Kemi's desire to go back to work, a search for his mother, getting married, becoming a father and a quest to become an even more successful lawyer. This quest is likely to ensue in a debate in the mind of the reader. Is Zack's career more important than Kemi's? Or is Zack simply still a caveman at heart?
Zack's story, like Kemi's, isn't simply a Christian one; it is also a human story. It's one that teaches us that sometimes it's important to make sacrifices for the ones we love. It speaks to readers without explicitly dictating how they should live their lives. It sounds more like, "Hey, we're all going through the same things" and, no matter what it looks like on the outside, no one is really ever perfect.
What Nkechi Loved
In Zack's Story, the issue of identity really comes to the fore. As a mixed-race man who never met his parents, Zack questions his son's place in the world. On the very first page, Zack's description of his son is reflective of his own personal struggles, "his skin colour and hair were – for lack of a better word – indeterminate. His mother called him a 'rainbow coalition' … 'Well in England, the word for people like him is other,' I replied."
Zack's efforts to be a good Christian fiancé are not only admirable but are quite frankly, adorable. You can't help but feel some form of empathy for him as he reads Bible verses with Kemi and discusses male Christian challenges with Mark (Vanessa's man) and Pastor Michael. Zack also faces temptations to have sex outside his relationship, which is realistic, especially if he is as great as Kemi describes him in her journal. Since Zack isn't getting any physical intimacy from Kemi, it seems understandable that he does not outrightly dismiss Maxine's advances.
What Chiedu Loved
One of the issues that the novel addresses is the balance and effect of a working mother in today's society. How can couples effectively manage their careers as well as their homes at the same time? However, the issue never really becomes as controversial as Kemi's battle between sex and faith. For me, Zack is pretty much like the average man, if ever one could use such a description. He feels it may not be the best for Kemi, but she should put their child first. However, both parents are just as important in a child's life, and that's a notion that wasn't present in previous generations, but something that men like Zack are only beginning to learn. At a point he says, "One of the verses (in the Bible) talked about the husband being the head of the wife because Jesus is the head of the church and he died for the church.
I'll die for you, Kemi, but I'm not your head. I think men and women are equal." pg 66.
Abidemi's choices of bible passages are again exemplary, even non-Christians would give most of them a second read. On pg 101, she quotes, "You, therefore, have no excuse, you who pass judgment on someone else, for at whatever point you judge the other, you are condemning yourself, because you who pass judgment do the same things". I enjoyed reading them.
What Chiedu could have done without
Again, as with Kemi's journal, this isn't a book of many pages, however some sections of the story felt like a dampener. I don't feel Abidemi was entirely successful in her effort to infuse some tense drama through Zack's past catching up with him and all in all, Kemi's journal seemed more of a thought provoking book while Zack's story seemed a bit flat by the end of the book.
From the above reviews it is clear the Abidemi manages to capture the moral struggles of the 21st century man and woman. In our fast paced world, it can be somewhat of a relief to know that you are not alone in your struggles. But what are your own views? Have you read the any of the books? If you have, do you think the author successfully manages to articulate these issues? Are the characters relatable or are their issues and Kemi's constant guilt too far fetched? Does the book lean towards any kind of appropriate solutions for the moral struggles it highlights? If you are yet to read any of the books, does our review encourage you to do so? Let us know!
____________________________________________________________________________________________________________________________________________________________________________________________
April Edition of BN Book review
We are taking the BN Book Review to the roots in our next edition! Next month's BN review will be dedicated to Africa's Afro Beat legend and musical impresario, Fela! As the award-winning Broadway Fela crosses over to the Nigerian shores, we at Bellanaija.com will be reviewing his unabridged and authorized biography; "Fela: This Bitch of a Life" by Carlos Moore. As usual, two members of our book review panel Wana Udobang, a self-confessed Fela addict, and Glory Edozien will be providing their candid thoughts on what promises to be an exciting review. We encourage everyone to read the book before the next review so we can all share our thoughts.
As usual BellaNaija.com, in conjunction with the publishers of this book, Cassava Republic, will be giving away two copies of "Fela: This Bitch of a Life" by Carlos Moore to two lucky readers. To stand a chance of winning a copy, answer the following questions
What is the name of Fela's Cousin who won a Nobel Prize for Literature?
The author, Dr Carlos Moore, hold two PhDs. In what fields are his PhDs in?
Send your name, address and telephone number along with the answers to the above questions to [email protected] Please make sure the subject of your email is BN BOOK REVIEW COMPETITION. Only successful entrants will be contacted. Winners MUST be able to pick up their prize (or arrange for their prize to be collected on their behalf) from Bella Naija office in Lagos. Employees of BainStone & Bella Naija and Cassava Republic may not apply.
The winners of our last BN Book Review competition are Udeme James and Gbeminiyi Idowu. Congratulations! You will be contacted shortly by a member of our Contest team.