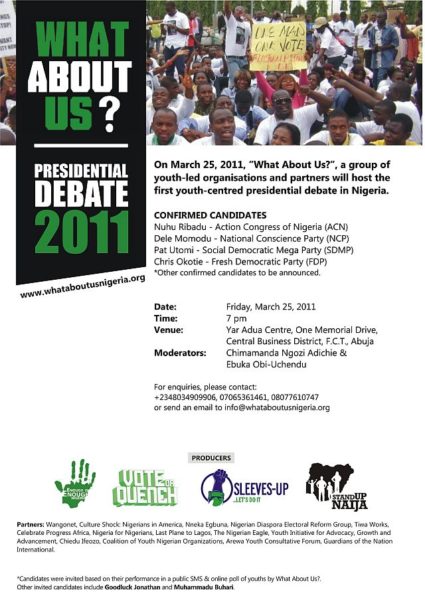 Young Nigerians represent 70 percent of the population yet their concerns and issues are not present on the national agenda. A confirmed tally of 73.5 million registered voters will participate in this year's election – a 20 percent increase from 2007. Of these, an estimated 65 percent are voters under 35 years of age. Across Africa, the youth are grasping the potential of their generation and have emerged as a political force of change. In Nigeria, the youth will not sit silent and let this moment pass us by. Together, we are asking the presidential candidates, "What About Us?" This time, we want answers.
Nigeria youths made their voices clear on www.whataboutusnigeria.org with more than 8000 votes in just 11 days for the top six candidates they want to see debate on March 25th at the Shehu Musa Yar'adua Centre. In ranking order, President Jonathan Goodluck (PDP), Mr. Nuhu Ribadu (ACN), Gen. Muhammadu Buhari,(CPC) Chief Dele Momodu (NCP), Professor Pat Utomi (SDMP) and Reverend Chris Okotie (FDP) emerged as the candidates of choice. Education, poverty, power, security, corruption and the economy were also identified as the issues that are of significant concern to the youth.
Over the past few weeks, organizations involved with "What About Us?" have also worked tirelessly with a cross-section of electoral stake holders on the national and international stage, making useful contributions to increase the likelihood of free, credible, transparent and participatory elections, including Independent National Electoral Commission (INEC), Christian Association of Nigeria (CAN), Nigerian Supreme Council for Islamic Affairs (NSCIA), The Federation of Muslim Women's Association in Nigeria (FOMWAN), Policy and Legal Advocacy Centre (PLAC), National Democratic Institute (NDI), Democratic Governance for Development (UNDP), the Commission for Presidential Debates, and the US Embassy. The campaign has also held several discussions with the top candidates' campaign managers and even some cases, the candidates themselves to ask them to answer the youth's call.
Please tune in to Channels TV at 7pm (GMT) 2pm (EST); For viewers outside Nigeria, watch it live here on BellaNaija.com or via www.youtube.com/channelsweb and send all commentary & interact during the debate on www.whataboutusnigeria.org's Google Moderator page and tweet #whataboutus as the show airs.
The debate will be moderated by Chimamanda Adichie and Ebuka Obi-Uchendu.
Watch the "What About Us?" 2011 Nigerian Presidential Election Candidate Debate
Video Recording of the Debate