After months of speculation, the stage is now set for the much-awaited premiere of the Amstel Malta movie, which will star Ivie Okujaye, the winner of the last edition of the Amstel Malta Box Office reality TV show. The movie titled "Alero's Symphony" will premiere on April 21st 2011 at the Genesis Deluxe Cinemas of The Palms Shopping Mall in Lagos.
The new movie is the first musical movie of its kind in Nigeria. Following the award-winning AMBO tradition set by African Academy Movie Award winning movies including "Sitanda" and "White Waters". A preview of the film reveals an excellent feature film based on a well-written script and stellar performances by the cast.
Alongside Okujaye, the film also features Nigerian musician Faze. Faze in his acting debut, stars alongside veteran Nigerian actors including – Bimbo Manuel and Victor Olaotan. Other actors in the movie include Matilda Obaseki from M-Net's Tinsel, Jibola Dabo and Nelson Orah.
Faze who plays a lead role in the movie shared that he is "so excited to be a part of this groundbreaking effort …I learnt a lot from everyone on the project. Acting is really fun and I thank Amstel Malta for giving me the platform to exhibit my hidden talents, it is really a brand that makes individuals to be the best they can be."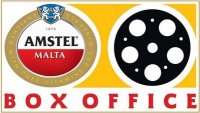 The brand manager, Adedoyin Owotomo stated that the movie premiere is the last phase of the AMBO sponsorship platform for the brand. "AMBO was a platform which not only gave opportunity for the target audience of Amstel Malta – the discerning Nigerian youth who has a preference for the brand's unique low sugar formulation – to experience the brand world but also to showcase their and exploit their acting talents"
The AMBO winner, Ivie Okujaye, is a 24-year old graduate of Economics from the University of Abuja. She won the fifth and last edition of the Amstel Malta Box Office (AMBO) in 2009. Ivie loves singing, dancing, script writing, playing basketball and football with the primary aim of becoming a successful actress in Nollywood.
___________________________________________________________________________________________
Sponsored Content