My Style is one of our favorite features on the BN Style page, and judging from the responses it gathers, I can safely say, it has our readers interested. This year, we would like to have our fashionable BN readers featured regularly, so I encourage you all to please send in your entries.
If you are interested in appearing on My Style, simply send two pictures of yourself or that of a friend depicting a typical Day and Night Look with a short summary of your style to my email box: [email protected]
When your entry is approved, you will be required to send in more pictures and personal commentaries on your style or that of your friend as the case may be! Thanks to everyone who has participated so far, keep the emails coming.
Let's remember that this feature is about appreciating an individual's expression through clothing!
BellaNaija reader, student and fashion blogger, Omowunmi Wemi-Akinsola, is a girl of few words when it comes to talking about her style. But who needs words, if your style is expressive and eclectic as hers.
Omowunmi's Style:
I am a bit of a tom boy, as I'm sure you will point out as you look through, other times you can see the "wannabe lady" side of me. I believe that everyone should be able to wear whatever they want without having the fear of being judged in a negative light because you really do not know their situation. Unfortunately, most parts of the world we live in doesn't tolerate my opinion. I always quote this particular saying of mine from my old blog : "Whatever you see as appropriate is what is appropriate for you. It might not be deemed appropriate for others and what others see as appropriate may not be deemed appropriate for you."
Why I Love My Style:
I like my style because I wear what I feel comfortable in, regardless of what others think. Most of the time, I'm out and about in heels solely for the purpose of a confidence boost. I still want to look like a regular girl but, slightly different (not crazy different )and I also like to stand out without seeking attention as I can be rather shy.
Style Philosophy:
Your style is one important aspect of you, because it usually shows your personality.I love expressing myself, So I do it on my personal fashion blog at http://www.daisy-mak.com/.
Hair:
Most of the time, I have a weave in, sometimes long and wavy, obviously It gets boring, so I change it up a little bit to short bobs, fringes, straight & long or just an up do/bun with my natural hair.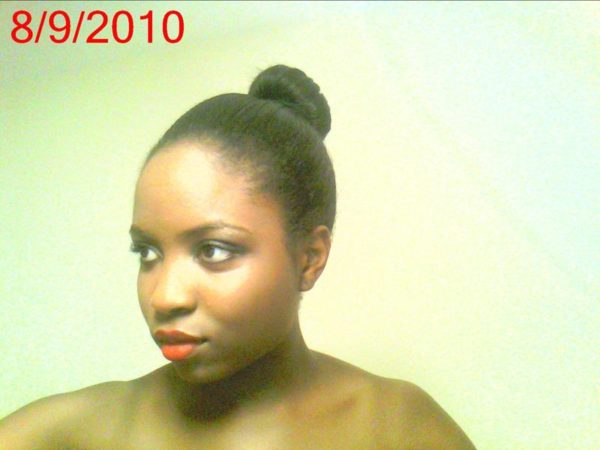 Make-up:
During the day, I usually keep my makeup subtle. Thin strokes of eyeliner, blush, pink lipbalm/lipgloss/. At Night, I love to go with dark eyes and red lips, sometimes plum. Occasionally, I have clear/pink lips but that's only when I have no choice. Majority of my makeup is from MAC, I have a few bits and bobs from random places e.g Rimmel and sleek eye-shadows, YSL touché E'clat & mascara and Benefit eyeliners. Most important of all, my favorite eyeliner which I always demand from somewhere in Lagos. I am not aware of its precise origin but it's one hell of an eyeliner so who cares.
Day Look:
My day looks are constantly changing. Ladylike, punk look, casual, colourful.
Shopping Habits:

I shop anywhere, It really doesn't matter where it's from to me, they are just clothes; as long as you can come out looking like a human being you shouldn't be too picky. Also, as long as the price is right as I'm still a student… You know? High street stores, online boutiques and stores/ Vintage(I have lots of Vintage)/ ebay/ thrift stores/flea markets… e.t.c…. EVERYWHERE! Treating yourself occasionally is allowed.
Wardrobe Staples
Sunglasses: I use sunglasses a lot, primarily because I'm prone to migraines on sunny days, but, with the bad comes the good right?
Black Shoes: You just have to have them. You can never be stuck with them.
Night Look:
To be honest, sometimes I wear day dresses out at night. But accessorizing obviously plays a big part in the end result of your look.  So sometimes it doesn't matter.
Click to visit Omowunmi's fashion blog – http://www.daisy-mak.com/
___________________________________________________________________________________________
Follow me on twitter: @ijeomandekwu