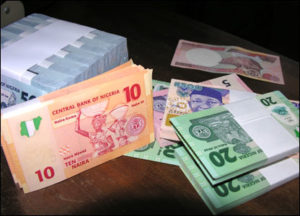 If I hear that phrase one more time, I may just have an incredible hulk moment and go crazy on someone. Maybe it's just me, maybe I'm not fully accustomed to the way things run in Nigeria. You see, I am used to tipping someone who has actually done something extra for me. For example a waiter/waitress who has given me exceptional service at a restaurant or a cab driver that has made my journey very pleasant. Given this, it would (and still does) surprise me when someone randomly says to me 'Aunty, anything for the weekend', when they have done absolutely nothing to deserve any form of tip.
I'm not talking about the homeless person waiting outside a supermarket; I'm talking about the customs officer who makes no attempt to help you carry your suitcase on/off their 'searching' table. They calmly watch you struggle to lift your suitcase onto their table, go through it in an aloof manner, watch you struggle to zip the now scattered suitcase and carry it off their table and after actually have the guts to say 'anything for me aunty'! Oh! I definitely have some choice words for you sister/brother Customs Officer, but I shall refrain from causing a scene. Still at the airport, I've just been violated or 'searched' by another member of airport staff, as I recover from what I truly consider to be a gynecological examination with my clothes on, the uniformed lady utters those dreaded words to me, yet again 'Anything for me aunty?' At this stage, I'm thinking surely me paying you for what you just did would classify as prostitution?
Anyone who knows me well will testify that I am a firm believer in voicing your opinion in a calm and respectful manner. So usually, when I find myself such situations, I find myself asking the offending party, the following question; "Why? You didn't do anything for me, so why do you expect me to give you anything"? Almost always, my question is met with a stony gaze, and I'm certain that the offending party is cursing me mentally (I rebuke them IJN).
On a serious note though, I wonder how we will improve this society if people constantly get tipped just for doing their job. Call me tight-fisted, stingy or whatever, but I honestly believe that I need a good reason before I part with 'MY' money. Some business owners need to be very strict on this issue, and know that they will lose customers if their members of staff are constantly harassing customers for tips. For example, there's this bakery in Lagos, which I visit often because they have really good pastries. This is what happened the last time I went there;
I had a quick look around, decided on what I wanted and proceeded with my order. The first lady that took my order (they have different sections for different items) did so and eventually caught my eye to say 'happy weekend'. I ignored her. The same thing happened when I went to a different section to pay for my order, I ignored those requests and paid for my items and left. As I was about to start my car, a security officer/parking attendant magically appears – I hadn't seen him when I got there earlier, and neither had he 'assisted' me with my parking. Anyway, he also asks for something for the weekend. I was so put off by the whole incident that I haven't been back there since. Imagine going to a restaurant/bakery and being harassed for money by at least 3 members of staff – very bad customer service I say.
I know some people might say 'chill now, these people are probably on minimum wage and are just trying to make ends meet'. True, but it shouldn't stop them from actually earning this tip. When I was in college and was working part-time at a restaurant, I wanted to get tipped plenty, so I would greet customers warmly, check on them as they enjoyed their meal etc and generally made sure I gave them great customer service, and more often than not they would tip generously.
So am I right, or is it wrong for me to be against people demanding tips?