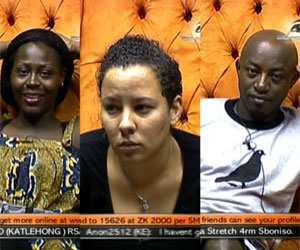 Last night, the first live eviction show of Big Brother Amplified kept the continent and housemates alike, guessing, as Big Brother threw the biggest curveball in the history of the show. As the credits rolled, the housemates found themselves randomly split into two groups, in two separate houses – and competing for the USD 200 000 grand prize!
IK teased viewers with video of an empty house as the live eviction show kicked off, hinting that Big Brother had something up his sleeve. As the show progressed, the housemates were all summoned from the house and onto the stage, with uncertainty the order of the day after 'Audition Week' left some of them doubting their future in the game. Once on stage, IK asked them to randomly pick different-coloured gloves from a bag. Once all the housemates had each fished for a glove, the group of 26 found themselves wearing 4 different colours. The first group of 15, wearing green and yellow gloves, were asked the leave the stage – and soon found themselves back in the house they'd just left! Shortly after the departure of the first group, the remaining 11 housemates had been asked to leave the stage too, fearing that they may have been eliminated from the game. Seconds later, they emerged into a completely new house – and their relief was palpable!
After giving them time to settle in, Big Brother then informed each group of housemates that they would now be competing for the USD 200 000 grand prize. The group of 15 in the original house will be known as 'Heads', with the second group of 11 in the new house called 'Tails'. In-between the intrigue and drama, the first live eviction show also saw stellar performances from Namibian star EES and South African rap sensation AKA and some dynamic dance routines from the Amplified Crew. The winner of Big Brother Amplified will be named on 31 July 2011, after 91 days of head-to-head competition – and the power to award the USD 200 000 prize rests in the hands of the viewers.
Big Brother Amplified fans can catch all the latest news, video – and all-important voting information – at www.bigbrotherafrica.dstv.com. Tweet Big Brother via @BigBroAfrica, send SMS messages to the on-screen strap and visit the Big Brother Africa Facebook Group to get the low-down on the continent's favourite reality show. By simply pressing the OK button on their DStv remote (on Channel 198) viewers can get updated news and information from the Big Brother Amplified house and also choose between two different television feeds from inside the houses.
____________________________________________________________________________________________
Sponsored Content