We are so excited about the "premiere" of our favourite monthly market – Le Petit Marché at the Silverbird Galleria in Victoria Island Lagos today.
The LPM team and all their vendors are looking forward to hosting you!
Enjoy a fabulous day filled with networking, shopping, music, drinks and lots of yummy treats.
Vendors
Cam Cam Sweeties, JJ Arts & Craft, PoloCity, Fifemayo, NS1463, La'Tush, Virtue by FocusWear, Na'Tees, Beadazzle Accessories, Retrospective, Biddy's Mondo, Aurora Collection, Llanis, Phoenix Online Clothing, Republic of Foreigner, Y. Craig, DivaNista, Prima Rouge, H.O.M.E. Designs, Oyanj Lingerie, Eznira Couture, Kuddy Cosmetics, Marayaho and Rouge Vallari.
Also, tickets for Music Meets Runway (hosted by Amber Rose) will be sold at LPM this Sunday.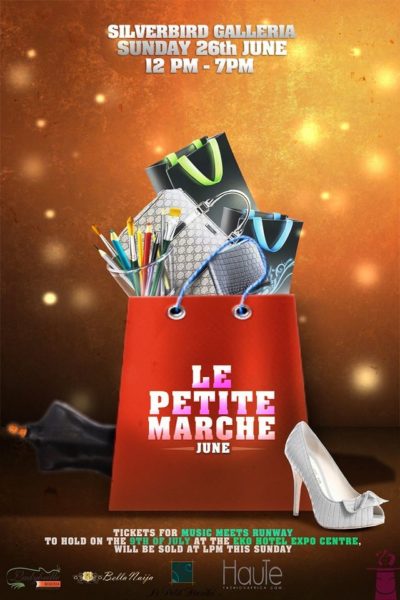 LPM June 2011
Date: Sunday 26th June 2011
Venue: Silverbird Galleria, Ahmadu Bello, Victoria Island, Lagos
Time: 12Noon