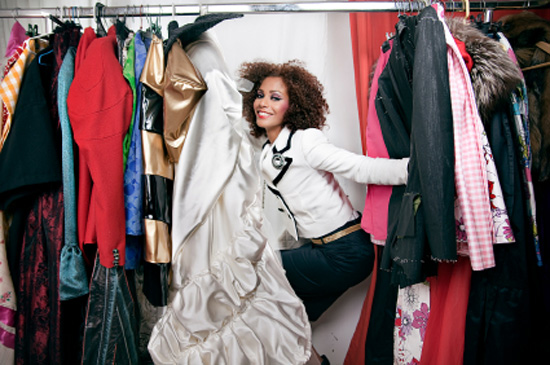 An individuals choice to work in the creative industry is never an easy one, there is the likelihood that ones parents may not embrace  their child's urge to pursue their passion, and then there are the challenges that come with the path we choose to follow. Stylist Ezinne Chinkata reflects on her career path and the turbulent feelings that come along with it.
***
Some days, I wake up in the morning, petrified, afraid to face the reality of the life I have chosen to live. Sometimes, it makes great sense and other times it feels like a big gamble. What have I chosen? What is this path that seems so reckless? I have chosen the path of a creative, to work in a field I feel passionate about. I have rebelled amidst my dear Daddy's dire warnings, I have become a Fashion Stylist/Image Consultant/Writer/ Fashion Editor. It seems like a pretty straightforward profession, albeit slightly new aged, right? Tell that to the conventional Ibo family I sprout from, or even to most of Nigeria's straight laced society, where the only stylist they understand is a hair stylist "local saloon" !
The life of a stylist is filled with loads of excitement, color, interesting people, high adrenalin, high stress, mad insecurities and above all deep contentment. I love working as the Fashion Editor of Wow! I also love the satisfied look a client has after a successful styling stint, which further strengthens my resolve to continue at this. I love strutting round in my stilettos and wearing all manners of outfits my mind decides to conjure, depending on the size of my thighs at the time, the weather or even my haircut. I play dress up all the time. As I sit writing this memo, I am dressed in a sharp green vintage dress I bought from Iceland with silver sky high stilettos and a very over the top fascinator I purchased recently from Leila Fowler's store. I almost had a dizzy swoon when I saw it, my tongue fell out and my hands clutched like a "chain reaction" to my cheque book and biro, I signed off instantly for its possession, even if It makes me bear a fuzzy resemblance to Hitler's evil grandma .It expresses my creativity and at this point, that is all I need to set my turbulent heart at rest.
Working for oneself is a myriad of mad unknowns. However, it is up to you to make it successful. You have to constantly develop yourself, constantly try and carve something special for yourself that gives you your own unique style and personality. You have to have long term goals. You have to stay grounded, you have to stay positive. You have to let all the negativity slide. You have to stay consistent! It is such a tall and hard order! You get developed harder and faster than you realize. You may discover new wrinkles on your face in the morning as a result of regular pondering. However, amidst all this turbulence, there is joy and satisfaction.
In life, we all choose different paths, some go the straight forward way and get a 9 to 5 in an already structured organization and build their career from there. Others take my route and strike out on their own. Which is the preferred option? I would like to believe that there is no preferred option; we make decisions that suit us! Make the bold step; choose the option your heart most actively yearns.
Photo credit: wardrobeadvice.com
___________________________________________________________________________________________
Ezinne Chinkata is a leading Fashion Stylist/Image Consultant/Writer/ Fashion Editor in Nigerian Fashion. She has styled numerous lookbooks and editorials and is the current Fashion Editor at WOW! Magazine. Contact: [email protected]