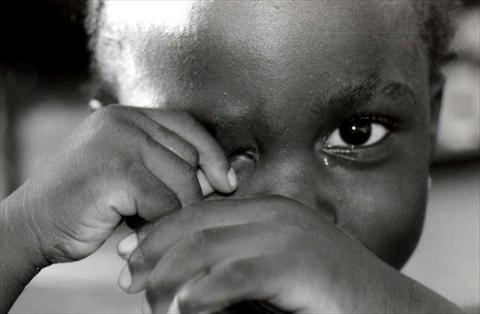 In recent years, we have seen a raise in the social consciousness of many Nigerians. Various organizations, all seeking to better the lives of the less privileged through various forms of social entrepreneurship.
The Children of Haggai (COH) Foundation is one of such organizations. Set up in August 2009, by Sheffy Belo-Osagie, the COH vision is to partner with members of the society and educational institutions to provide education for under-privileged children, fostering the social imperative to assist the less fortunate.
The COH Story by Sheffy Belo-Osagie
Following regular visits to orphanages in Lekki, I noticed from my interaction with the children that they lacked basic communication skills. Knowing that their lack of proper education, at a foundational level, implies that they miss out on their passport to a future, which thrives on competition and progress compelled me to action.
It was clear to me that at their current (and possible) future level of education would lead to possible social issues in the future. For example, how would they compete with their peers for jobs? How would they develop socially with bad grammar and possible resultant low self-esteem? Moved, I decided to make a difference. No longer was I going to drop by with a shopping bag full of chocolates, fruit juice and cookies. Instead, I started soliciting scholarship offerings from good private schools in the neighbourhood.
The search for a modestly-priced school in a highbrow neighbourhood like Lekki was the first hurdle. Fortunately, I was introduced to the proprietress of Valour Schools who offered an extremely generous rebate for each orphan (God bless her). After raising enough funds to sponsor 10 children, prequalification tests where conducted for the children in the home aged five to 12 and the top 10 were enrolled at Valour Schools. Today, there's a marked improvement in their speech, charisma and level of confidence. These results have encouraged me immensely and convinced me of the need to roll out this programme further.
A deficit of educated people in a society hinders its future progress. These children are part of Nigeria's future and they must grow! Nigeria must grow! And we can all do it together!
The 1-2-1 Initiative
As the name suggests, this involves a one-on-one arrangement where an individual is financially responsible for the education of a child. The fees (rebate rate) are paid directly to the school and report cards are sent to the sponsor. The sponsor may also choose to take active participation in the child's academic growth i.e. attending PTA meetings, occasional visits to the orphanage or school (where child is enrolled in boarding school facilities).
This type of interaction allows the sponsor to track progress of the child, while the legal rights remain with the orphanage.
The Event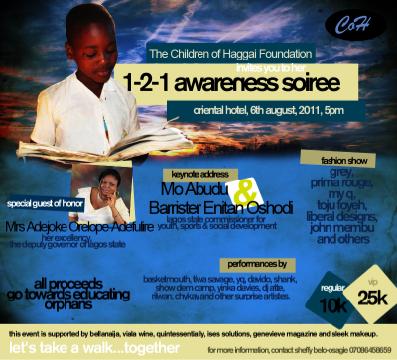 To commemorate the launch of this worthy cause, the Children of Haggai Foundation invites you to a Black Tie Awareness Soiree for her 1-2-1 initiative which aims to pair orphans with individual members of society as educational sponsors.
Venue: Oriental Hotel, Lekki, Lagos
Date: 6th August 2011
Red Carpet: 5-6PM
Soiree: 6-8PM
Special Guest of Honor: Her Excellency, The Deputy Governor of Lagos State, Adejoke Orelope-Adefulire
Keynote addresses: Mo Abudu and Barrister Enitan Oshodi, Lagos State Commissioner for Youth, Sports & Social Development
Hosts of the day: Uti Nwachukwu and Eku Edewor
The event will also feature a fashion show featuring some of Nigeria's finest designers i.e. Toju Foyeh, Be Grey etc
And performances by Basketmouth, Tiwa Savage, YQ, Davido, Shank, Show Dem Camp, Yinka Davies, DJ Atte, Rilwan, Chykay and other surprise artistes.
Tickets Prices: N10,000 – Regular and N25,000 – VIP.
Ticket Purchase Contacts: Sheffy on 07086458659, Omas on 08033072811 or Ose on 08028440220 for ticket bookings.
This event is hosted and supported by BellaNaija.com, Viala Wine, Quintessentially, ISES Solutions, Genevieve Magazine and Sleek Makeup.
Let's make a difference…Together!
Photo credit: http://4.bp.blogspot.com