On Saturday July 9 2011 at the Eko Hotel, the first annual (hopefully) Music Meets Runway held at the Expo Center. The décor of the hall was beautiful. Purple, evoking royalty and luxury was used to accent the black chair covers and tablecloths. The show was supposed to start at 6 pm but trust Naija, the show started fashionably late at around 8.30 pm.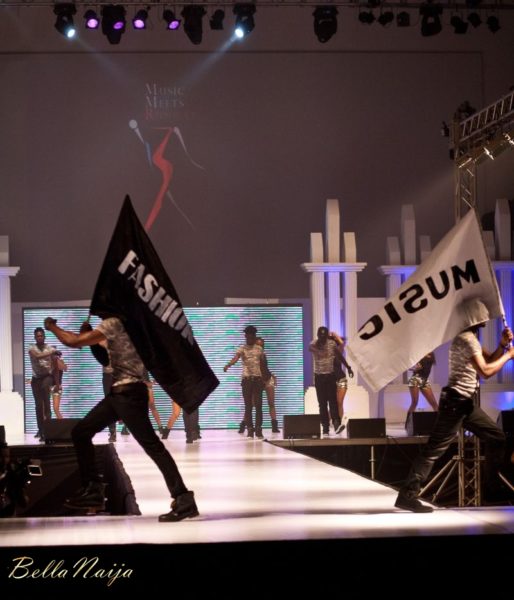 A group of male and female dancers performed to Beyoncé's 'Run The World', carrying two flags – one saying 'Music', the other 'Fashion'. The performance was energetic and commanded the attention of everyone, who had been previously gisting with their friends, taking pictures, or trying to buy hors d'oeuvres, which cost a thousand Naira each. Yes o that's one k for 1 samosa or 1 spring roll or 1 measly stick of suya. Eko Hotel no try o.
After the animated performance, a loud voiceover introduced Banky W as our host for the night. Mr. Capable walked out in his signature look- a black cap and sunglasses. He also wore a tailored black and gold kaftan and blue jeans with black pointed leather shoes.
Banky W introduced himself to the audience amidst cheers and screams. "Amber where are you?" he called out. The crowd fell silent. "What?", people asked themselves. "I thought she wasn't coming," someone close to me whispered. All of a sudden, a bald Nigerian model in a little, and I mean little black dress sauntered next to Banky. "Ehen, Amber! Who needs Amber Rose when we have Amber nwanyi oma here?" The silence broke. Whispers turned to laughter and the show began.
'Amber' walked backstage and most people thought Banky would fly solo. But Banky and the MMR organizers had more in store for us. He introduced his co-emcee, still a mystery, as the "Most Endowed Girl in Nigeria". Who was he referring to? It was Toolz, Beat FM DJ. Miss Toolz walked out in a red silk fishtail dress that hugged every curve. Although her demeanor was demure, as she kept blushing and looking down at the mic, her outfit was far from it revealing the more sultry side of the well-spoken DJ. Her flame red hair shone as well as her bright pink perfectly manicured nails that framed her hands as she held the mic to her red lips. After a quick glance at her, we all agreed with Banky- Toolz is Miss MEGN, all she needed was a crown.
The first act was D'Prince. Handsome in his sunglasses, waistcoat, white button down long sleeve shirt and unknotted bow tie hung loosely around his neck, with black pants and black leather shoes. Soon after Vonne Couture models strutted their stuff down the runway as he sang 'Omoba', 'Give it to Me' and his other Mo'hits (get it? lol). At the end, the designer, Yvonne Nwosu, ever vivacious, wore a pink polka dot dress with long braids trailing down her back and danced along to D'Prince's music.
Second was Show Dem Camp with Viv La Resistance. The gentlemen, singing, "What's your pum pum size?" 0_o looked like they were having fun on stage.
Next was Shank who gave us the slow mix of 'Julie' and his more recent jam 'Salute' as Toju Foyeh's designs came down the stage. His line, "Me ah hear say you are model and tings," couldn't be more appropriate! To conclude the act, the designer came out with two stunning models that walked down the runway together. Stunning!
Next up was It artist Wizkid who performed lesser known songs off his album as Obsidian models walked the runway. The crowd was excited as to be expected as any Wizkid song is sure to get a crowd moving.
Any act after Wizkid would surely be a hard act to follow, so one can only imagine how much pressure was on upcoming act Davido accompanying designs by Grey. Word from the grapevine is that this was Davido's first show. If so, congratulations are definitely in order as he did not disappoint. Him and his backing singer komoled under those hot runway lights to his catchy new tune 'Back When'. Grey did not disappoint either and not only in the clothes department. For the first time there were male models. Yesss! Finally eye candy for the ladies. Spotted amongst the models was a Mr. Nigeria runner-up from last year. Most of the models wore either 'nerd' glasses or sunglasses so Davido blended right in with his dapper jacket, suede loafers and of course, sunglasses. The designing trio, ever effervescent, danced with Davido when they graced the stage.
We all know Mo'Hits dominates the charts, but they also dominated the stage at MMR as Dr. SID and K-Switch performed alongside displays of Republic of Foreigner fashions. Soon after, there was a short break where lucky audience members won Samsung phones. Too bad I didn't win any, so I just went on a short touch-up break as many other ladies at the show.
After Banky W and a Samsung rep handed out the prizes, Toolz was re-introduced on the stage. She was wearing a near identical outfit to her first, but this time it was purple and sequined, and had a slit down the front. Banky finally convinced the MEGN to strut her stuff down the runway and all the men were hollering. Women too, hey, no one can say we don't give props where it's clearly due.
But the excitement wasn't only for the fellas. Toolz came out with one of the Grey models with his shirt off. She said teasingly, "Ladies," she paused, "wont you like to do this?", running her hands down his ripped well oiled chest. No-one was shy, many Yeses could be heard from the balcony section to Regular to the ladies at the tables reaching out to touch it, if only in their minds.
Banky smoothly transitioned into his own segment by singing a cappella on the mic. Beautiful! Up till then he was the only artist to sing without a backing track. Banky even went into the audience and sang to the screaming women on a table next to the stage. My best friend literally pinched me so I wouldn't run to where Banky was. Yes, I wanted to 'follow him go' just like the lyrics of his song. Soon after, pieces by London-based designers Virgo's Lounge were on the stage. Sound Sultan then joined Banky for a rendition of 'Very Good Bad Guy'. Omo, see everyone grooving.
After the models were off the stage, Sasha got on rocking the color-blocking trend in pastel colours in a lace jacket, strapless top and pants, and performed a little sketch about Samsung with Banky.
Duncan Mighty and Meena came on the stage. Everyone danced along to his songs, one aptly titled 'Dance for Me'. Then every member of the audience became an honorary Port Harcourt boy (or girl) as they sang along to 'Port Harcourt Boy'. The ladies went crazy when the hot male model who Toolz had touched, came out to 'model' with his shirt off, or *ahem* show off *cough cough* by dancing along to Mr. Mighty's hits.
Then Naeto C performed alongside Babushka designs with his signature glasses and Hausa cap. Naeto rocked parachute pants made from local fabric with a t-shirt and sneakers. He performed his big hits and everyone had their hands up for the 'Ten Over Ten' dance.
For the finale your boy Weezy (the Naija one o) aka Wizkid came out with the Tsemaye Binitie collection. Fierce.
On that note, the first edition of Music Meets Runway finally came to an end.
The after party was announced to be at nearby nightclub Chrome where the party continued to the morning.
Ain't no party like a Lagos party indeed, and our host Banky W was even there till the last to make sure of that.
Photo Credit: BellaNaija.com | Kola Oshalusi
Additional Photo Credit: MMR – Le Reve Events