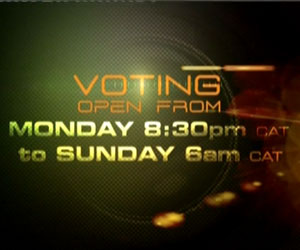 Vimbai, Kim and Millicent all fell one tantalizing step short of a shot at the two USD200 000 prizes on M-Net's Big Brother Amplified last night (24 July 2011) as they were evicted one week before the Finale. That means that Africa must vote this week to decide which two of Hanni, Karen, Lomwe, Luclay, Sharon O, Vina and Wendall will walk away with the Amplified prizes next Sunday! Voting is open from Monday July 25 2011 at 20:30 CAT and runs all the way through until 06:00 CAT on Sunday 31 July 2011.
After a tearful Vina had revealed her 'save & replace' decision to the Housemates, she, Karen and Sharon O were assured of a spot on the Finale.
Vina broke down as she explained her decision to her Housemates. "As you all know, making this decision isn't very easy because the two people are really close to me. I hope the person understands – I chose to swap Lomwe for Karen," she managed to tell them before the tears got the better of her. Karen immediately got up and hugged her and thanked her fellow Nigerian for saving her as Lomwe headed upstairs to pack.
After a stellar performance by young, talented Kenyan artist Nonini – who performed his hit "Kadhaa", it was time for IK to give the Housemates the news. "Alright guys, it's time for that part that neither you or I like. Housemates, when you hear your name, please stand," he said. "Vimbai, please stand. Lomwe, please stand. Lomwe…you're safe, Vimbai please leave the House now," was his message.
When the Zimbabwean emerged on stage, IK broke the news that she was the next Housemate to be evicted from the Big Brother Amplified House. "Tell us about your favourite moment of all," he said. "Oh wow, there are too many to note, but definitely when Ambivalence came to visit, that was the best time," she said "And what was your least favourite moment?" "Just now, walking out of the House was definitely the worst," she said with a rueful smile. "I know you also had your beefs in the House – who were the people you found it difficult to live with?" quizzed IK. "Definitely Karen – Karen constantly provoked me so it's tough living with her," was Vimbai's straightforward answer. "And then there was that whole 'love' thing with Wendall – but I'll get to that later. Apart from Karen, did you have struggles with anyone else?" IK asked her. "You know, I had my ups and downs with everybody. We're human, we're strong characters, it was inevitable we'd have ups and downs with one another," was her reflective response. After showing her who had nominated her, IK asked Vimbai what she would be doing next. "Right now I'm really overwhelmed, I'm going to take each day as it comes, definitely," she said. "And your modeling career?" he asked. "Oh I'm all over that, definitely!" was her upbeat response.
Big Brother wasn't done yet though, and IK took viewers back into the House. "Hello again Housemates… Wendall, please stand. Kim, please stand as well. "Interesting, interesting!" exclaimed Kim as she pondered her fate. "Kim… you've been awesome, please leave the House. Wendall, you're safe," IK told them.
Kenyan star Jaguar performed "Kigeugeu" as Kim collected herself and prepared to join IK on stage. "I hate to be the guy to inform you, but you have been evicted from the House," IK told her. "Quick question. Nic…Lomwe… who you gonna miss more?" he asked cheekily. "Ah, obviously I'm going to meet Nic after this, so I'm going to miss Lomwe," she responded, firmly on the fence. Having checked out her highlights and her nominations, Kim bid the studio audience farewell as IK prepared to deliver more bad news to the Housemates.
Returning to the House, IK told the Housemates: "I wish I could tell you we are done, but… Hanni please stand. Luclay, please stand. Millicent please stand". "Hanni, you've been lovely in the House… and you're safe!" he said, just as the Ethiopian seemed ready to head for the door. "Luclay you have also been awesome in the House, I'm afraid I'm going to have to ask you to leave… all your stuff where it is, you're safe," said IK, faking out the Housemates again. "Millicent, please leave the Big Brother House," was his final and conclusive word.
Once the Amplified crew had performed, Millicent joined IK on stage. "You had a great time in the House, are you shocked to be going home?" he asked her as she frantically readjusted her dress. "Let me show you your highlights before you totally distract me from the show!" said IK. "Who do you think nominated you out of all the Housemates?" he asked her after she had seen her highlights. "No idea," was her low-key response. Unsatisfied, IK pressed her for more. "Come on, you're usually a blunt person, you keep it real, who do you think nominated you?" "Vina, Vimbai, Wendall," she said, trailing off. Her video rolled – and she was right on two counts as only Wendall and Vimbai had nominated her. "How did it feel watching those two?" he asked her. "Well everybody had a chance to nominate, I nominated, so I only think it's fair that people nominated me," was her diplomatic response.
Earlier in the show, viewers had been given the chance to hear from last week's evictees, Zeus, Bernadina and Mumba. Zeus admitted he'd participated in Big Brother Amplified to further his music career and said the hardest thing in the House had been trying to remain true to himself. "It's very easy once you're in that space, to get lost in it all. You're cut off from the rest of the world and feel like you're in a 'tax-free haven' – there are no judgments and you don't see immediate opinions," he said. Bernadina – one of the few Housemates to spend time in both Houses – described her experience as "an emotional rollercoaster". "It taught me to be more positive in my own life – despite the fact that I used to preach about how positive I am," she said. "The person that got on my nerves would probably be Luclay because sometimes he's quiet and reserved and then you think 'oh yes!' and the next moment he's screaming and running around the House". Mumba was happy to have celebrated her 25th birthday in the House. "I entered the show for the money, but aside from that… I want to do something different with my life, something out of the ordinary," she said. She also said she had gotten closest to Karen and Bernadina.
The winners of the viewer prizes for this week were Wasike James (Uganda), who won a DStv HD PVR, Lucy Petra-Tawiaa (Ghana) who won a Samsung Laptop and Metarere Muvangua (Namibia), who won a Samsung Galaxy S. @angelokoh and @esenjoku (both from Nigeria) won a Samsung Laptop each and @skeminie (South Africa) won a Samsung Camcorder – all for sending in the best tweet for the radio task this week.
The winner of Big Brother Amplified, headline sponsored by Coca-Cola, will be named on 31 July – and the power to award USD200 000 each to TWO winners, rests in the hands of the viewers.
Now it's all down to the viewers. Big Brother wants your vote for the Housemates you think are most deserving of the two USD200 000 prizes!
Which means, the more you vote for your favourite nominated Housemate, the better their chance of staying in the house.
When you Vote, you also stand the chance of winning weekly prizes, including DStv Decoders, and from Samsung: Cameras, Camcorders, Laptops, Smartphones and the Galaxy Tab.
The Housemate who receives the least number of votes will be Evicted.
You can vote to keep a nominated Housemate in the house in three different ways:
1. Using MXit
2. Via the website, or the WAPsite on your mobile phone.
3. By sending an SMS
To vote using MXit: open the browser on your WAP-enabled mobile phone, and type in m.mxit.com to download MXit for free. Then locate MXit on your phone in the applications or games section and register. Once in MXit, go to Tradepost -> Entertainment -> Mnet. You will find the Big Brother contact in the M-Net bot. Add the Big Brother contact. Please note that voting on MXit is free and you can vote up to 10 times on MXit per voting period
To vote online: Register on DStv Connect, or use your existing DStv Connect profile details to log in. (www.mnetafrica.com/bigbrother). Please note that voting on the website or wapsite is free and you are allowed to vote once per hour during the voting period.
To vote via SMS: send the word VOTE followed by the Housemate's name to the number for your country. SMS's are charged per specified network tariffs in the various countries. VAS rates apply. Free minutes do not apply. Please note that you can vote 100 times by SMS per telephone number during each voting period.
Angola
Unitel – 43333 – UTT 6.6 per SMS
Botswana
Mascom – 16626 – P2.50 per SMS
Orange – 16626 – P2.50 per SMS
BEMOBILE – 16626 – P2.50 per SMS
Ethiopia
Ethio Telecom – 835 – 5 Birr per SMS
Ghana
MTN – 1477 – GHC 0.60 per SMS
Vodafone – 1477 – GHC 0.60 per SMS
Tigo – 1477 – GHC 0.60 per SMS
Espresso – 1477 – GHC 0.60 per SMS
Airtel – 1477 – GHC 0.60 per SMS
Kenya
Safaricom – 5626 – Kes 30 per SMS
Orange – 5626 – Kes 30 per SMS
Airtel – 5626 – Kes 30 per SMS
Malawi
TNM – 15626 – MK 48.00 per SMS
Airtel – 15626 – MK 48.00 per SMS
Mozambique
Vodacom – 99026 – MT 20.00 per SMS
Mcel – 99026 – MT 20.00 per SMS
Namibia
Leo – 15626 – N$ 3 per SMS
MTC – 15626 – N$ 3 per SMS
Telecom – 15626 – N$ 3 per SMS
Nigeria
MTN – 34350 – N75 per SMS
Airtel – 34350 – N75 per SMS
Glo – 34350 – N75 per SMS
Etisalat – 34350 – N75 per SMS
Starcomm – 34350 – N75 per SMS
South Africa
Vodacom – 33729 – R1.50 per SMS
MTN – 33729 – R1.50 per SMS
Cell C – 33729 – R1.50 per SMS
Tanzania
Vodacom – 15726 – Tsh 600 per SMS
Tigo – 15726 – Tsh 600 per SMS
Zantel – 15726 – Tsh 600 per SMS
SASATEL – 15726 – Tsh 600 per SMS
Uganda
UTL – 6626 – Ugx 1000 per SMS
Warid – 6626 – Ugx 1000 per SMS
Zambia
MTN – 15626 – ZK 2000 per SMS
Zamtel – 15626 – ZK 2000 per SMS
Zimbabwe
Econet – 33334 – USD 0.50 per SMS
NetOne – 15626 – USD 0.50 per SMS
Voting begins immediately after the nomination show on Monday nights and closes at 06:00 CAT on the following Sunday morning.
Find out who has received the least number of votes and will be evicted by tuning in to DStv Channel 198 on Sunday nights for the live eviction show at 19:00 CAT.
___________________________________________________________________________________________________________
Sponsored Content