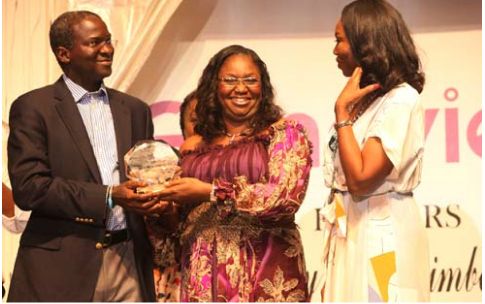 On Saturday 2nd of July 2011, Genevieve Magazine, the leading women-focused print magazine in Nigeria hosted an event to celebrate the First Lady of Lagos State, Abimbola Fashola.
In her speech, editor of Genevieve Magazine, Betty Irabor outlined the reasons why Abimbola Fashola was chosen as the award recipient.
"Abimbola Fashola is a woman who has done a lot about the course of women in the state…Honouring people who have done well for the society is an aspect of our magazine. The honour says a lot of what a person represents. It is a life guide and best friend to our people. We share the same vision with many women who aspire to be role model and those who make the dreams of others realisable. Dame Abimbola is a woman who has taken time out to invest in others. Legacy is described by life impacted. She is one of the women who are living their lives in the service of others."
On Abimbola Fashola's contribution to breast cancer treatment and awareness, Betty Irabor said;
"The early detection of this killer disease and the assistance she renders to finance the medical bills of cancer's patients is a big plus for the First Lady. Her legendary simplicity and her candour of not seeking attention endear her to us. We share Mrs. Fashola's passion to leave this world better than the way she met it."
"
Upon receiving her award, the First Lady of Lagos State expressed her joy and dedicated the award to every individual who worked with her husband to succeed in the first term. She said, "I pray to God that I will maintain my sanity. I ask God to guide my husband. I know that as much as I give, I receive more from God".
The event was an uplifting celebration with musical performances by stars including Lami, ChiDynma, Waje and Tiwa Savage, a fashion show and speeches by accomplished women including Dr. Doyin Abiola.
Red Carpet
Photo Credit: Kola Oshalusi
Additional Photo & Information Source: Office of the First Lady of Lagos State