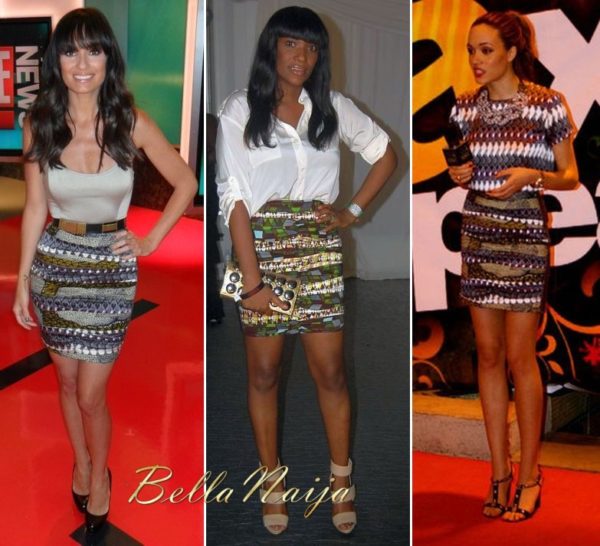 Wow! It has been a while since the last BN Pick Your Fave!
This one has all the elements that we love: One of our fave labels – Jewel by Lisa, an international spin and of course a totally fabulous statement piece.
This ruched skirt by Jewel by Lisa is such a luxe statement piece. The ankara panels and "bandage" effect definitely has the WOW factor.
***
As we now know, JBL has gone international – with celebrities including Solange and Kelis rocking pieces from the label. E! News presenter Catt Sadler wore the skirt on the show last week. She paired it with a slinky tank top and a waist clinching belt. It is hard to believe that Catt is a mum of 2 with that tiny waist line! She completed her look with black platform pumps.
The yummy mummys are definitely inspiring us to keep looking hot after babies. Mother of 5, Bola Balogun looked stunning and statuesque at the 2011 ARISE Magazine Fashion Week in Lagos. She paired her ruched JBL skirt with a silk shirt and bandage heels in the same colour. Her fringed hairstyle added a stylish edge to the look.
Eku Edewor gave this skirt its debut at the Sax Appeal event in 2010. Jewelette Eku always rocks the label so well. She paired the skirt with a graphic print top also by JBL and a statement necklace. Eku pulled her hair into a clean ponytail and completed her look with dressy black wedges.
So…Pick Your Fave