BN Pick Your Fave is back with more fashion fabulousity.
Clothes on the runway are great but the true test is how it makes a "real woman" feel and look!
Viv La Resistance is one of our favourite generation-now fashion labels. Over the past 12 months, we have spotted many more fashionistas rocking VLR on the red carpet. With the launch of their flagship store in Lekki Lagos a few months ago, VLR now reaches a broader spectrum of fashion lovers.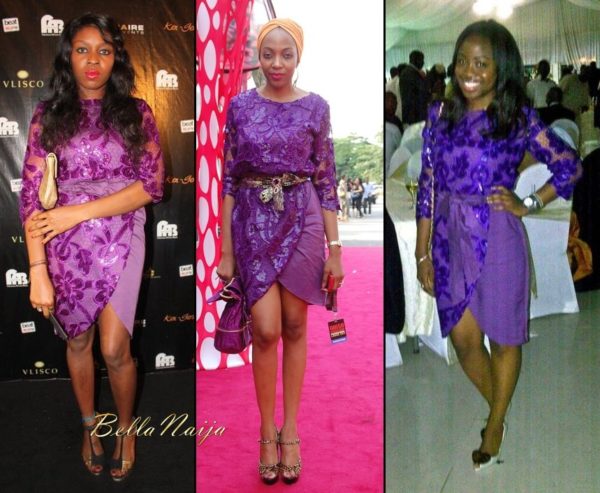 This purple lace dress was one of the first VLR pieces that we spotted on the red carpet when Viv La Resistance designer, Mo Alatise rocked it at the FAB Night Out in December 2009. Mo accesorized her look with black and gold accents – A golden clutch paired with black and gold heels. Her red lippie added a pop of colour to her look.
Up next, Ene Maya Lawani at the 2011 ARISE Magazine Fashion Week – Ene added a waist defining belt and accessorized with a purple bag with gold hardware. Her animal print shoes and turban added an unexpected element to her look.
StyleByQueens blogger, Kike Soyode showed off the versatility of the dress as she looked pretty in purple at a recent wedding. Kike belted the dress with a simple purple sash and accessorized with a chain strap bag and Vivienne Westwood Anglomania For Melissa Lady Dragon Heart Heeled Sandals in Black & White.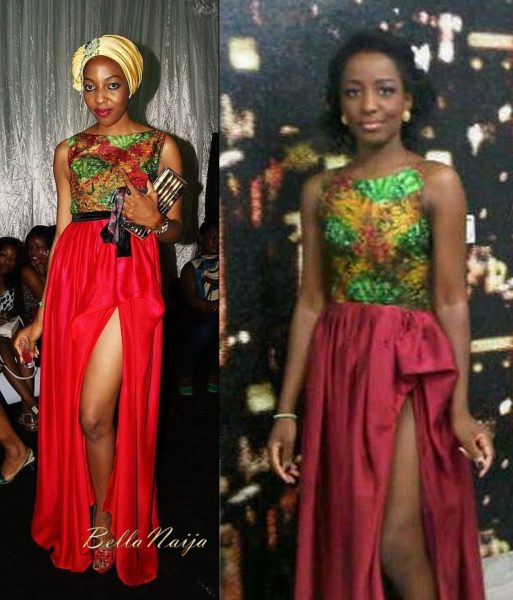 This piece is one of our faves from VLR. We spotted former Miss Nigeria and turban queen, Ene Maya Lawani at the 2011 ARISE Magazine Fashion Week in this statement dress. Ene infused her own flavour to this look by adding a waist sash and her signature accessory, a turban. Her yellow turban with a its green brooch, metallic clutch and red shoes make the look pop!
We searched high and low for a full length photo of Oreka "Rhecks" Godis in this VLR dress but couldn't find one. That said, we couldn't resist this gorgeous look. Oreka is totally working this look! Her ladylike coif, minimalist approach to her makeup and accessories and the skillful way she "worked" the thigh-high split of the dress makes this look standout.
So Pick Your Fave…