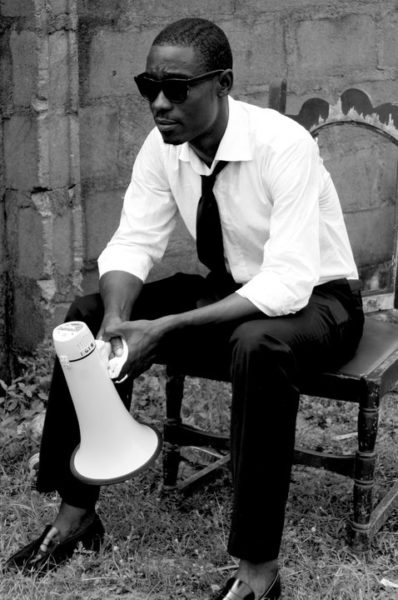 BN continues in our quest to promote the new generation of Nigerian filmmakers who are committed to taking Nollywood to the next level. One of the filmmakers who is on our "ones to watch" list is Abba Makama. His short film "Directoh" will be screened at the Eko International Film Festival.
Directoh is a satire that exploits the phenomenon called Nollywood. From the absurd and creative mind of Abba Makama, DiREC-TOH is an unconventional Art piece that will leave its viewers shocked, entertained and enlightened. Written, Directed, Shot and Edited by Abba Makama. Co-Written by Gabriel Ofor Okafor. Produced by Lani Makama, Benedict Aromeh and Abba Makama. Directoh stars Benedict Aromeh and Dabis Christopher. The movie was shot with a "zero" budget.
Synopsis:
A Nigerian Film maker sets out to make a record as the fastest filmmaker on the Planet. Big Ben a.k.a the light speed champion tries shooting a feature film in one day and all hell breaks loose..
About Abba Makama:
Abba studied Business Management at the State University New York, Fredonia Campus it was there he discovered his passion for Film while sharing a house with an aspiring film maker, immediately after his degree he dropped his suit moved to the City where he enrolled in NYU to study film and has not looked back. On returning to Nigeria he has worked in various capacities with MTV Base, Chanel O, Storm 360 and IBST (Producers of Apprentice Africa,Big Brother Nigeria, Star Trek Star Quest). His shortfilm DIREC-TOH was shortlisted for the Eko International Film Festival and will be screen on the 12th of July at 10am Silverbird Galleria
His previous work includes:
Amebo at 4 with 37th State – A mockumentary tv series – http://www.37thstatenetwork.com/webtv.php?id=343 and a host of other short movies.
Trailer

Screening
Eko International Film Festival
Silverbird Cinema, Victoria Island, Lagos
12th of July 2011 at 10am