On Friday 24 June 2011, leading consumer electronics giant, LG Electronics officially introduced its new Cinema 3D TV, a big departure from the past into the Nigerian market, in a bid to revamp the cinema culture in Nigeria in the most comfortable, enjoyable and social way when watching 3D content at home.
Delighted by the distinction that makes the LG Cinema 3D TV stand in a class of its own, the Managing Director, LG Electronics, West African Operations, Jaeyoung Lee said 'Introducing the brighter, lighter, more comfortable, battery-free and certified flicker-free LG Cinema 3D TV is a high feat which we have gone the extra mile to achieve with the satisfaction of our consumers in mind. We believe it is time for our consumers to welcome the next generation of 3D TV to their living room'. Speaking further he said that with the innovative technology that was used to make the LG Cinema 3D TV, all the problems associated with conventional 3D TVs have been successfully dealt with and has invariably ushered in a new world of complete enter-tainment, relaxation and fun without complaints from the consumers.
On his part, The Managing Director of Fouani Nigeria Limited, Mohammed Fouani used the opportunity to reinstate LG Electronics commitment, to taking the lead in the areas of meeting and satisfying consumer needs. 'It is no news anymore, that LG Electronics is in the forefront of making available to consumers products that suite their aspirations of comfort, innovations and value. The launch of the Cinema 3D TV is yet another testimony of our resolve to make people live and experience a world of unlimited possibilities with our products and services'.
Some of the dignitaries at the star-studded event which held at the Civic Centre in Lagos, Nigeria, include the guest of honour, Africa and Nigeria's first Nobel literature laureate – Prof. Wole Soyinka, ace Nollywood Filmmaker & Director – Tunde Kelani, award-winning producer of Figurine – Kunle Afolayan, Nollywood Actor – Kanayo O. Kanayo, and Nollywood Actress – Stephanie Okereke.
Photos from the Event:
Click the ad below to find out more about LG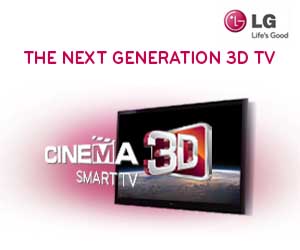 ____________________________________________________________________________________________________________
Sponsored Content