There is  something about a woman in a tux…
This celebrity trend has been making its rounds for a while now and has been surprisingly exclusive to celebrities, with Rihanna being one of its sole pioneers. Riri kicked-off this trend at the Met Gala event 2 years ago, fast forward to 2010/11, it is still trending, albeit subtly.
The menswear inspired look is an incredibly glamorous and classic look that commands attention and inspires confidence in a woman. This look is bold and fearless.
These are key points to be remembered when accessorizing:
Clean-cut pieces (like a well tailored blazer) exude sexy simplicity.
Pair a double breasted  slouchy blazer with stylish shorts or a more  feminine blazer  either with wide leg trousers or boyfriend tailored pants  for more urbane tomboy look.
The most exciting aspect of this trend is the diverse ways it can be exhibited, so whether you are a tomboy or you are daring enough, this look will transform your routine style to dapper chic!
Below are menswear inspired looks that I have put together:
This look is uber glamorous and has a grown and sexy feel to it! Fuse menswear inspired cuts with bright colours, textures and feminne accessories to ooze confidence in all the chic ways possible!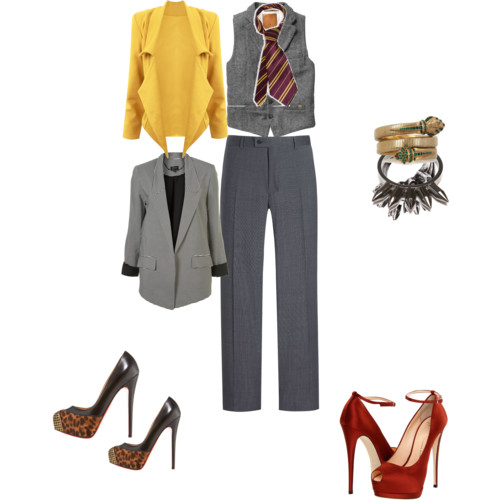 Bold colours attract attention and  give a fresh refined look . If you fancy the mustard blazer with the outfit, your choice of footwear should be toned down (the simple black & leopard toe pumps) and for those who prefer the grey blazer, try something enthralling (the colored pumps).  Clashing prints and colours with this bold look would turn out overbearing.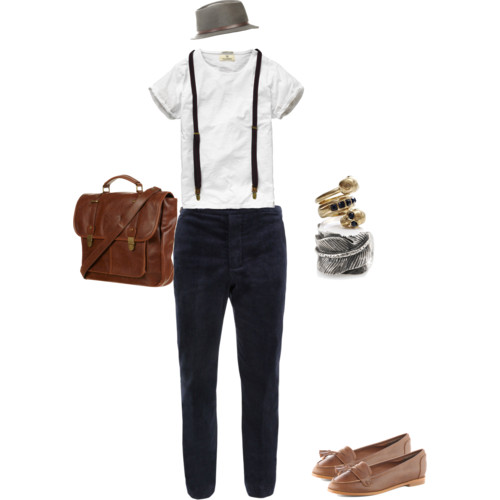 This is an inspired look not a menswear derived look, so you do not necessarily have to go scouting the menswear department only(altered feminine pieces are great). This trend does not always have to give off the 'red carpet ready' look, it works just as well casually. Indulge in accessories that are peculiar to men like suspenders and  men's belt to add a fun vibe to the look.
Accessorizing precisely is paramount in getting the style right. Getting the casual look right is as easy as pairing a boyfriend tailored trouser(above) with a simple white tee and suspenders- which add personality to the overall look. Hats are in this season and this is a good excuse as any to wear one and switch up your look. As with all forms of menswear inspired ensembles, over accessorizing greatly diminishes the effect of the look, keep jewelry to a minimum.
Always keep  a couple of pairs of earrings in your bag in case you suddenly need to give your outfit a lift- Paloma Picasso.
This trend should not be made boring, mix it up, add colors to your look, add a tie, a bow, or even a sash.Wear wide pants for a different look or skinny pants more than a few inches above your ankle, finish it off with a nice lipstick colour or lip gloss and high fierce pumps. This look is bold, so keep it as simple as a small purse(it looks a lot better if the purse is in contrast to your overall look).
Pulling off this look can be tricky but it is a fresh and a great way to break out of the same feminine routine and also a great excuse to try something new.
"It's the stark, sexy contrast that brings out the best of both—the cool chic of the suit and the sexiness of the woman in it"– Tom Ford