In the quest to ensure that all our BellaNaija.com readers obtain the best value for money, we will be publishing information on sales promotions, contests, giveaways and discounts from selected vendors.
Every Wednesday we will publish a group post which will be the place for all the deals, sales and giveaways. Here vendors can give out vouchers through competitions or codes for discounts.
______________________________________________________________________________________________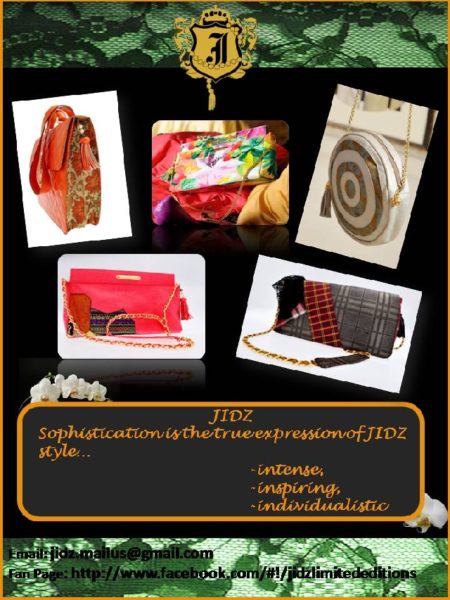 JIDZ Limited
JIDZ a prominent Nigerian bag company is celebrating her anniversary this month and as part of the celebration, JIDZ wishes to give out a bag to a lucky Bella Naija reader.
Have you been yearning for a new handbag, well this is your lucky day. Do you want to know how to win a luxury bag from JIDZ follow the instructions below
To enter the competition,
-First of all you are requested to join the JIDZ  Facebook fanpage
-Answer the questions asked
-And you must put Bella Naija before your answer so as to enable JIDZ know you are BellaNaija.com reader for a better chance at winning the bag from JIDZ
Questions
1) When was JIDZ officially launched?
2) Is JIDZ a distinguished brand? If Yes, what do you think makes JIDZ different.
It is also important for Bella Naija readers to note that a series of questions concerning the brand will be asked in order to identify the winner.
So what are you waiting for, go win that bag!
Contact: To contact JIDZ Limited e-mail [email protected]
_____________________________________________________________________________________________
Sponsored Content
Will you like to have bargain to be featured on BN Bargains? Email us via [email protected]